Danielle and Michael were ecstatic to be expecting a baby, and chose a homebirth midwife for what they thought would be a beautiful, relaxing, and safe delivery. A year on, they are left with a dead baby. What went wrong?
Just a little over one year ago, on February 20, baby Gavin Michael was born. You have probably seen YouTube videos in honor of a baby's first birthday before — they seem to be quite the rage — so there is nothing strange about the fact that Gavin Michael's parents made a video too.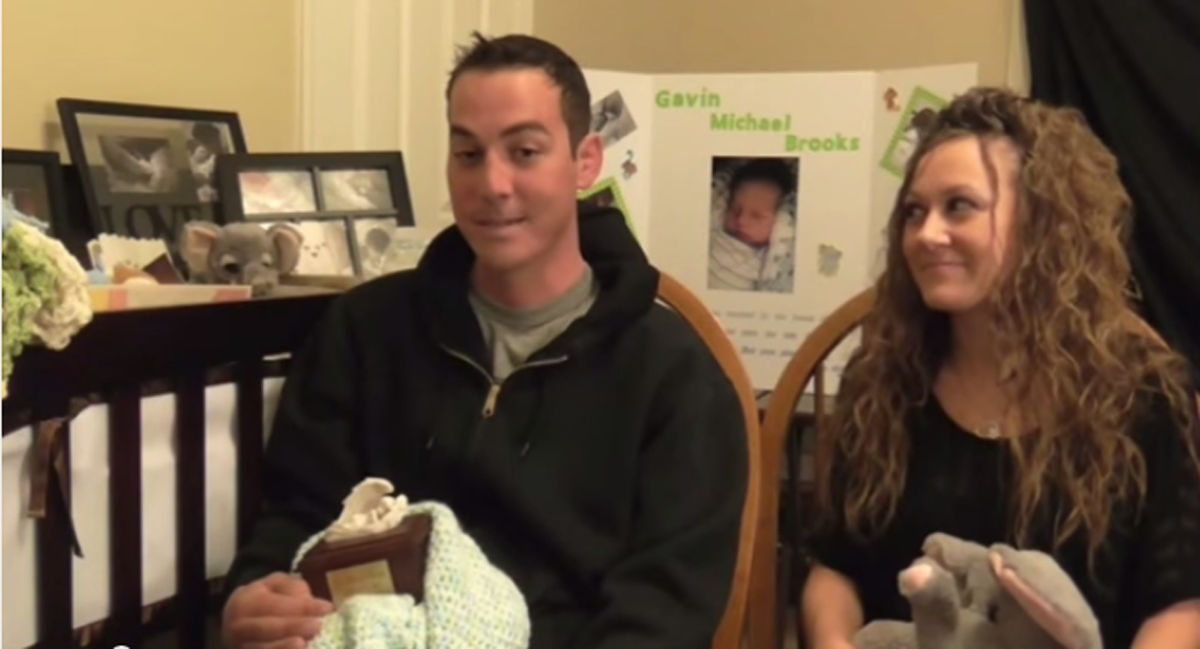 Danielle and Michael's story starts almost like a fairy tale. "She didn't think she could get pregnant, and I didn't think I could get anyone pregnant," Michael says. Danielle, a bright-looking curly-haired young woman, excitedly shares what happened next. A friend had a strong feeling Danielle was pregnant, and told her so. "No, I'm, not pregnant! You're crazy!" Danielle retorted. 
Still, not being sure, she asked husband Michael to buy her a pregnancy test on his way back from his night shift. Michael recounts that his wife was a little upset because he bought the "expensive test" that says "pregnant or not pregnant" on it, and that wasn't what Danielle asked for. She took the test, and found out that she was indeed expecting, Danielle says in her YouTube video.
They're seated in the baby's nursery, in front of the stylish crib, surrounded by baby toys and pictures of their precious son, and excited to share their story with the whole world. Danielle and Michael look like typical 21st century parents, and at first sight they look incredibly happy.
First impressions can be deceiving, though. Gavin Michael's crib is empty, you see, and while Danielle is holding a stuffed elephant, Michael is cradling a small urn. 
Gavin Michael did not make it. What started as a fairy tale ended as a nightmare when Danielle's pregnancy took a turn for the worse and she had zero amniotic fluid at 42 weeks gestation. The homebirth midwife the couple had chosen for their prenatal care and delivery crowdsourced medical advice on the internet, posting the message:
"What would you do? Primip with accurate dates to within a few days who has reassuring NST at 42.1weeks, as well as reassuring placenta and baby on BPP, but absolutely zero fluid seen. 42.2 re-do of BPP and again, mom has hydrated well, but no fluid seen. Baby's kidneys visualized and normal, and baby's bladder contained normal amount of urine. We're in a state with full autonomy for midwives and no transfer of care regulations past 42 weeks. Absolutely no fluid seen…what do we truly feel are the risks compared to a woman whose water has been broken and so baby/cord has no cushion there either. Cord compression only? True possibility of placenta being done although it looks good? Can anyone share stories/opinions?"
See Also: Tragic Homebirth Death Begs The Question: How Skilled Is Your Midwife?
Many of the midwives who responded to this question did not advise a trip to the hospital, and Danielle's midwife gave her and her husband the impression that everything was fine till the very end. 
Danielle and Michael went to hospital anyway, and their precious boy was born alive but died shortly after. 
"Oligohydramnios", low fluid, was the term used on his death certificate. "So he actually died because there was no fluid and he had nothing to swallow but meconium," Danielle says.
Continue reading after recommendations