I am wondering if this could be a sinus infection, or some other disorder of the nose or throat...
DURATION:
infrequently over the last 2-4 years
SYMPTOM:
coughing/sneezing up small yellow globules of a foul-smelling material.
material is stiff and holds its shape, but can be easily smashed.
sometimes accompanied by sinus pain, but this could be unrelated.
usually accompanied by foul-smelling breath.
NOT SURE if material is coming down out of sinuses and into throat, or if it is coming up out of lungs.
i have attached an image of one of the globules for examination.
has anyone had similar symptoms, and does anyone know what this might be?
i had major cranio-facial surgery that involved work in my sinus area three years ago (Le Fort II) to correct an underbite.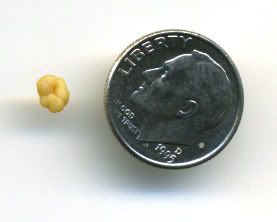 Tonsil liths, or Tonsil stones. Research them @ google. They come from your "Tonsils" and are caused by left over food debris and bacteria that collects in your tonsil pockets. ENT may prescribe antibiotics, but best solution is a surgery called Tonsillectomy. I know this because I had this, and other problems from my tonsils. I see yours are yellow, mine where white, but it varies from yellow to white to sometimes clear grayish from person to person.



Hope that helped you.

Good wishes.
I think small particles of food are getting trapped in the back of your tonsil area (possibly from the previous surgery, little pits collect things) and it stinks because the food has been partially digested by your saliva.

I would've said sinus or even gastric reflux if it hadn't been for the size of that, and it looks just like partially digested food.

Possibly time to see an EENT(?)

This is just a guess based on several years in the health field.
I have the same thing happening to me. I have had this occur every so often for the last 10 years. A doctor also told me it was food but I know it is infection. The smell is horrid. The color is infectionious and is secreated when I push on my tonsil. Occationaly I get mucus with the module. Have you found out any thing?
I have had these for years as well. Mine are actually coming from my eustachian tube.

Keith
I had this problem when i was younger but it only did it once every 6 months or so now its almost everyday!
My Doctor told me it was fat deposit but i'm thin so what is he going on about?
The smell is disgusting and they have made my tonsils have big holes in them, how can i get rid of them ?
HELP!
Google tonsil stones if its comming out of ur tonsil. You have what they call cryptic tonsil. Check tonsil see are they enlarge and if there are pockets.
jdprit - Did you ever find out what this is? I'm sure I have the same thing.

I was recently treated for reflux and things are better now, but this stench is still there. I've coughed with a sneeze and gotten one of these...
Yep, they are tonsil stones for sure. Another name is tonsillar crypt debris. They are nasty- but not a disease!
Thanks for this posting I was really worried and have been experiencing this for the past 5 months. How did you overcome it? have you had surgery or is there an easier way
does anyone here experience a shortness of breathe as well? is it associted with this condition?
I have the same thing. It just started last month, October. I cough it up very seldom or it just comes out. The smell is awful.

I got a look at my throat and the walls inside have that kind of a thing except it's white and round. Also, when I poked it, thinking it might come out it didn't. I did have a cold or something last month. The Doctor prescribes antibiotics every time I have a cold/upper respiratory infection. Is this related?
Hello Everyone,

Reading what everyone has written, I am solely going to agree with getting the tonsillectomy. I have an abberated tonsil that has small holes in them and they collect food particles and come out looking like small yellow balls that are easily crushed and extremely foul-smelling. I initially thought I would have to walk around offending everyone I meet with my bad breath, but I am elated there is a reason for it, and I am not going crazy! No amount of saline nasal spray is going to help, it keeps returning and it is a constant pain in the ask! Now I know what it is and what I have to do! thank you ladies and gentlemen for explaining your problems here, because had you not, I would keep think I am a nasty unhygienic slob.
i also have the same problem, can someone tell me what i should do to get ride of those annoying, smelly little yellow things pls?
I've had this problem for awhile as well though I know it's coming from my sinus cavity. I've had it for at least three years. I don't have a sinus infection and my tonsils are a-okay. I have issues with my stomach and such and I also have allergies. Any thoughts?

Kat