I have been spitting up white pea-size chunks with a foul odor from my throat for over a year. These chunks usually come when I am coughing or sneezing. I have been feeling OK, with no fever or any other symptoms. Doctor told me that this is related with allergy and sinusitis. I am a non-smoker. Nothing really helps me.



Your condition is most likely related with allergic or chronic sinus problems. I have this conclusion, considering the fact that it is very persistent and that nothing helps you, as you say. Sometimes it is very difficult for x-ray to pick up chronic sinus infection. The cause of this condition can also be inflamed tonsils. They develop "pockets" in them that trap the food that eventually produces foul odor. I know all this because one day I used to have the same problem. I started with tiny, hard, white and rubbery thing that I had just coughed up in consternation. I was thinking that white chunks that came out of my throat were something that I have eaten during the day. Also I was talking to my friend and with the doctor. No one knows what that could be and no one seems to be worried about it. Check with your doctor if your white chunks in throat are harmful or not, there is anything else you could do.


I have had exactly the same problem for about 6 months, and have been on antibiotics to try and stop the symptoms, which have failed. I have just found out that it is most likely a form of 'oral thrush' caused by an increase in the level of yeast, or the killing of friendly bacteria in the throat.... not entirely sure what im supposed to do with this information but thought you might like to know.... If you do find a solution, please let me know!
I have been doing a lot of research on this issue, as I am having the very same problem. However, I am experiencing the feeling of a foreign-bodied-object in my throat all the time. So I am always coughing and clearing my throat to try and get the feeling to go away.

In the morning, I can scrape out, or contract my throat muscles to extract the "white chunks" from the back of my mouth.

The medical term for this I have learned is TONSILLOLITHS, aka., Tonsil Stones.

The only way to get rid of this for good is to have your tonsils removed. This kind of surgery is painful for adults and can cause you to be on a liquid diet for up to a month. Yet is only sure fire way of ridding the problem.

There are different methods of prevention. You can gargle with salt water, or special mouthwashes that do not have sugar or alcohol. Using sprays and other oral methods that are oxygenated might help too. Including drinking lots of water throughout the day.

Let me know if you find out any other info that may be of interest. Research Tonsilloliths. Take any info found to your doctor and see what methods are suggested.



shygurl
I was reading my local newspaper and there was an article about the same ailment- It says that gargling 50% water and 50% 3% hydrogen peroxide (found in any supermarket) will take care of the white "chunks". I have just heard of this yesterday and am not sure if it works-
I have had the same issue for a couple of years. I have been seeing an ENT for over a year and a half for my ears and my throat. He basically said that there is nothing you can do for the chunks. Just that you need to get them out when you see them. I notice them when I am having major sinus and allergy issues.
It's interesting to note that most people who have written in on this topic have suffered with this issue for such a short time. I've had this problem since I was a child. I've been trying to see if what I eat plays a part. I notice when I eat chips, cookies or anything coarse that these chunks form. They smell horrible & show up maybe every 2-3 days. Once I cough them up, an empty hole remains in its place. I wonder if this is an indication of some sort of condition. I used to suffer with strep throat, but have not had that in a year. Most times I can cough them up, but there have been times when it popped off & I didn't cough it up in time & swallowed them. Is that dangerous to my system? Other than removing my tonsils, is there a permanent cure?
I too have battled with this over the years. In college my roommate was obsessed with getting the chunks out. He and I sort of bonded over it.

I can say with almost 100% certainty that the chunks are at their worst when I eat a lot of cheese. The cheese gets trapped and just festers. For some reason rice seems to be kind of bad too.

What to do about it? First off, don't forget to floss. If you have a nasty festering piece of meat between your teeth then the bacteria can spread to other parts of your mouth, including the tonsils.

To get them out, the best method I have found is to forcefully blow my nose and then before swallowing give the throat a good clearing. That usually works. It is also possible using a flashlight to stick your finger in and sort of push the chunks forward until they are visible. Then they stick to your finger and you can take them out. Alternatively, sometimes a toothpick can be used to pick them loose from the folds of the tonsils. I urge the utmost caution that you don't poke the delicate tissue of the tonsils and that you maintain a firm grip on the toothpick at all times.

It should go without saying, but if you are going to stick your finger into the back of your mouth, by all means wash your hands thoroughly, paying special attention to the nail of the finger that you will be using. If you don't wash your hands expect a nice sore throat the next day.

These steps have made the condition manageable for most part. If I lay off cheese and clear my throat occasionally, it's not a major problem. Colds seem to exacerbate the problem, but mouthwash helps at least cover up the odor temporarily.

good luck. keep the hints coming.

Al
I, too have been a sufferer of the dreaded tonsilliths. While I do not have strep throat or tonsillitis any more like I used to, I have huge craters in the back of my throat that love to create these little buggers...

When I am diligent with a low-carb, non-dairy diet, I don't ever see them. If I so much as have cream in my coffee, they reappear. I am absolutely positive that it is related to whatever I'm allergic to (primarily dairy), and that if I stay away from those items, I can alleviate the problem.

When I do "fall off the wagon," I do the old "finger in the throat" method of removal. I can feel something in the back of my throat, so I get my mag-lite, turn off the light in the bathroom and get to work. I have them pretty badly, so I can clear them out every 2-3 days...I'm pregnant right now, so I haven't denied myself any type of foods, and they reoccurred. After the baby comes, I will be back on my strict diet and they will go away within days.

Best wishes!
I think I may have something similar! It has been happening off-and-on for several years now, usually in the winter months. It is usually accompanied by foul-smelling breath and sometimes with sinus pain.
The chunks I cough/sneeze up are usually more of a pale yellow in color rather than a white and are usually very small - no larger than the size of a BB shot.
I have attached a scan of one of the larger ones that I sneezed out yesterday. Does this look like what you are talking about?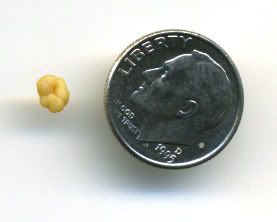 TONSIL LITHS OR TONSIL STONES. That's what you all have. I had them too, until I had a TONSILLECTOMY 2 weeks ago today. You can get meds. to stop them but they ARE pretty persistent. Or you can just get a tonsillectomy. RESEARCH THIS on google!

Learn everything you can.
These little chunks kind of hard kind a yellowish white some times very small sometimes as big as a bb I work them up from the bacl of my mouth they smell disgusting leaving my breathe smelling like that same disgusting smell They are so small yet they stink very bad. THESE ARE NOT CHUNKS OF FOOD NO WAY I KNOW WHAT FOOD CHUNKS LOOK ANS SMELL LIKE THIS IS SOMETHING ELSE. My breathe is bad becasue of it. Need some help there getting alittle bigger and ive had them for a while they still are very small
Like I said. TONSIL LITHS ALSO KNOWN AS TONSIL STONES. They are caused by food DEBRIS and bacteria. Think of it as plaque, but forming in the tonsil pockets. You need to GO TO YOUR ENT (Ear, Nose, and Throat) specialist. IF you want to get rid of them. You can just push on your tonsils and more will pop out. The bigger the tonsil pockets the more stones will be in there. They just don't magically apear in a 2-3 day period and pop out suddenly they form over time and they pop out because there's no more space in your tonsil pockets.

Best Wishes
Oh I'm so glad that I'm not the only one that has had a problem with these lil' yellow weird smelling nuggets. I've been completely embarrassed for the past 10-12 years of my life because I've been told that my breath smells bad. And when my husband asks me, "Did you fart?" And I haven't I know then that he's smelling my breath. So from reading the above info. I see that I would need to A) get my tonsils removed or B)figure out what my body is "allergic" too. That sounds very complicated. Isn't there something I can purchase that will make these suckers disappear?
Wow I didn't realize that this was so common. I am usually just discusted with the process & it always causes bad breath. New solution I found & better than picking the tonsilliths out is to ask any oral surgeon or dental office for one of those syringes that is used to squirt water to clean out tooth extracton sites...those that had wisdom teeth removed know what I am talking about. Much gentler and more effective than making your throat more sore and irritated...try not to drowned but even the peroxide & water mix could work this way.