As SteadyHealth set off on a quest to discover which fertility clinics offer the very best IVF treatment in the the UK, we learned that consumers are sometimes hampered in their basic fact-finding missions. What can be done about that?
Self-funding IVF treatment, by choice or necessity, means you can choose any fertility clinic you want — whether close to home, halfway across the country, or even abroad. Your options may be wide open, but that doesn't make the process any less daunting.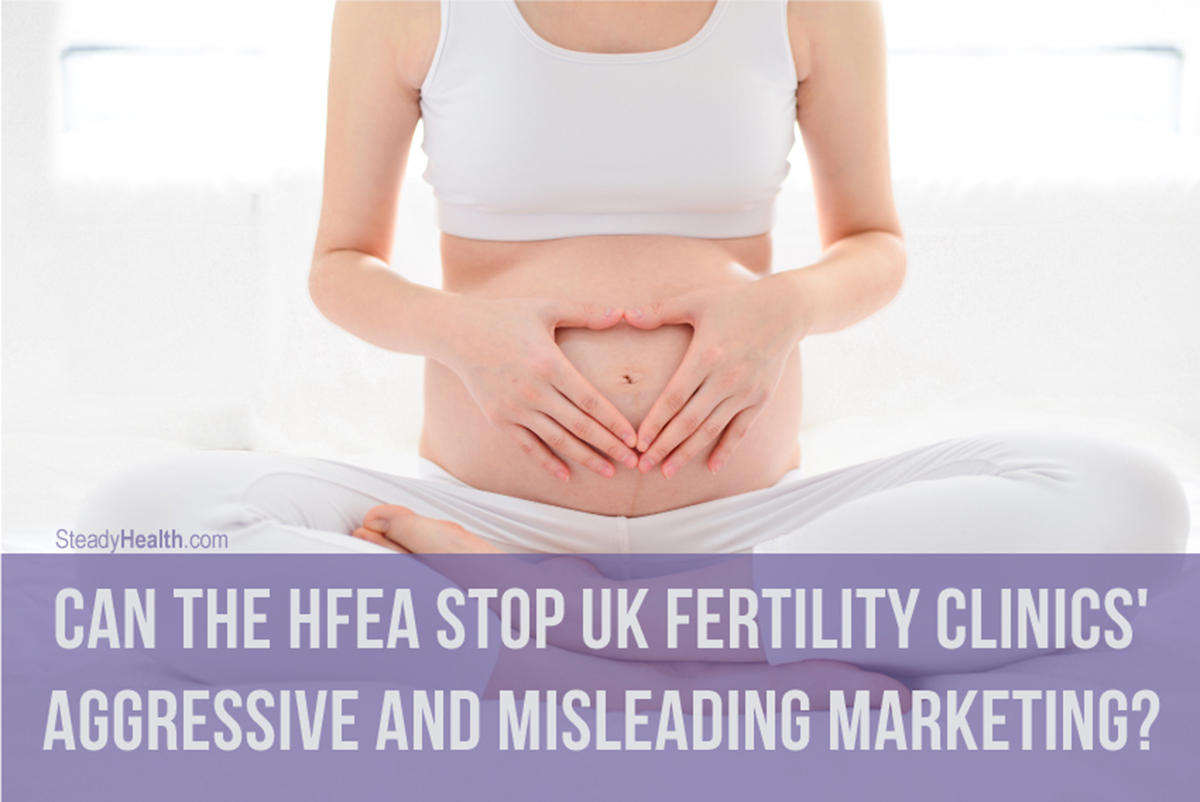 As an IVF patient, your future as a parent quite literally lies in the hands of strangers wearing lab coats — so they'd better be the best. That means excellent IVF success rates and high standards of clinical practice, but also respect, compassion, and open and honest communication about your personal odds of success and about the way your treatment is going. It also means transparency about the costs you'll face, and a commitment to providing you with the treatment you need, rather than trying to "upsell" you services that will not really benefit you.
As
SteadyHealth
set off on a quest to discover which fertility clinics offer the very best
IVF treatment in the the UK
, we learned that consumers are sometimes hampered in their basic fact-finding missions — often by fertility clinics, and sometimes even by the HFEA, the agency that regulates them.
The Clinics
As genuine and genuinely passionate clinic staff and former patients alike made clear, some fertility clinics really do offer both excellent success rates and personal, human care. If you choose the right fertility clinic, you will encounter staff who truly care about you and your future baby, and who are passionate about the science of making you a parent.
Your dream of parenthood is also, however, a booming business. Some of the larger clinics turn over tens of millions of pounds annually, walking away with a clean profit in the multiple millions. [
1
] It is no surprise, then, that privately-run fertility clinics use their websites to aggressively compete for your trust — and they aren't an unbiased source of information.
While NHS-governed fertility clinics tend to present themselves rather modestly online, not always even publicising the full spectrum of treatments they offer, privately-run clinics are significantly bolder. Every clinic wants you to believe that they are a "world-leading IVF clinic" that "consistently delivers top success rates", has "success rates among the best in Britain" or are even the "most successful clinic in the UK"!
We found the way in which fertility clinics tend to highlight the success rates that make them look good, while leaving out those that don't, quite devious. Look out for big(!), colorful(!) graphics advertising things like a 60 PER CENT SUCCESS RATE (only for women under 25) or THE BEST SUCCESS RATES IN THE REGION (only when egg donors are used) — selectively displaying what the clinic wants you to see while leaving out what they don't.
If you were under the impression that you can't realistically expect fertility clinics, as for-profit companies, to say things like "our competitors up the road actually have a significantly higher success rate for women in your age group, so why don't you go there?", or "the Human Fertilisation and Embryology Authority (HFEA) found issues of serious concern at their last inspection of our clinic", you're right. They don't. 
Clinics' websites also won't tell you about any incidents or poor inspection ratings, but as the HFEA pointed out in their latest incident report:
"The fertility sector still has some way to go. The overall number of adverse incidents reported to us over the last five years has remained consistent at around 550 per year – a figure that needs to be seen in the context of a steady increase in the number of treatment cycles carried out. And within the overall numbers, we still see too many of the same avoidable errors." [2]
If you want to learn about those errors, which may include anything from implanting the wrong embryos to errors in forms regarding consent to legal parenthood, you're going to have to go read the HFEA inspection minutes, rather than looking at the clinic's website or even touring the clinic during an informative open evening. 
The HFEA
While information provided by fertility clinics — initially online, and then in person — is certainly valuable, consumers of privately-funded IVF in the UK turn to the Human Fertilisation and Embryology Authority (HFEA) for objective information. As an arm's-length body of the Department of Health, the HFEA's core functions are licencing and regulating fertility clinics.
The HFEA certainly has its critics — those who asked why a controversial London fertility clinic was able to continue operating after its licence expired and it became the centre of an investigation [3], and those who wish the body would place fewer restrictions on embryo research [4], for instance. One thing is clear, mind you. Without a body like the HFEA, the fertility industry could quickly turn into a modern Wild West. Overall, the Department of Health's routine review of the HFEA concluded, the HFEA's existence is necessary and the body performs efficiently. [5]
Anyone in the process of deciding which fertility clinic to choose, for IVF or for intrauterine insemination, will find the HFEA's website an invaluable and unbiased starting point that:
Provides you with basic information about fertility clinics, such as the treatments they provide, when they were licensed, and how many cycles of your chosen treatment took place there over the last reporting period.
Offers standardised data about a clinic's success rates. While one clinic may report IVF clinical success rates for women under 35 in 2017, another may inform you of their birth rate per embryo transfer across all age groups between mid-2016 and mid-2017. That kind of diverse data doesn't allow you to perform an accurate comparison, but the HFEA ensures you are able to compare like with like.
Makes inspection reports available to the public.
As we attempted to determine which UK fertility clinics offer that golden mixture of top-notch science and medical care, a truly human approach to patients, and a fee that doesn't break the bank, SteadyHealth made heavy use of the HFEA's website. Along with feedback from fertility clinics and former and current patients, the HFEA was one of the pillars on which we based our conclusions. It's extremely likely to perform a similar function for anyone trying to decide where to have privately-funded IVF, so we want to give you a heads-up that it is important to double-check — because even unbiased government sources can and do contain some mistakes.
Double-Check: Examples Of Clinic-HFEA Communication Gone Wrong
Potential patients of the Hewitt Fertility Centre's Knutsford branch who are impressed by the clinic's scientific innovation may be surprised to find the HFEA does not provide IVF success rates for this clinic. Did it not perform any cycles, even as the Hewitt Fertility Centre is reportedly the biggest clinic of its kind on all of Europe? Hardly. Rather, the success rates the HFEA reported for for the Liverpool branch of the Hewitt Fertility Centre cover both Liverpool and Knutsford; the result of a "miscommunication between the HFEA and ourselves", the clinic's medical director Dr Rachel Gregoire told SteadyHealth. [6] The end result is that neither patients of the Liverpool nor Knutsford branch have access to completely accurate information.
We were likewise confused when we discovered that the Glasgow Royal Infirmary's Assisted Conception Service isn't open to self-funding patients and instead, as the clinic says, provides "services for those who wish to consider self funding their treatment", "in partnership with the Glasgow Royal Fertility Clinic". The latter, it turns out, operates as a separate administrative entity in the very same building. Though this is not an unusual model, the private wing, the Glasgow Royal Fertility Clinic, was nowhere to be found on the HFEA's website. Were their success rates included in the NHS clinic's data? Did the private clinic — which was, after all, non-existent to the HFEA — perhaps operate without a licence? (Is that even possible if it performs treatment on the premises of an already licenced clinic and the same actual consultants do the treatment?) Because we weren't sure, we called the HFEA — whose otherwise extremely helpful helpline respondent discussed the matter with several colleagues during our phone call, and nobody knew what was going on either. Strange. [7]
Another example can be found in the success rates of CARE London, for which the HFEA notes that "this clinic has recorded PGD and PGS treatments as IVF & ICSI treatments which has a significant impact on the IVF & ICSI, PGD & PGS birth rates." [8]
In other cases, perusing the HFEA website may lead future patients to conclude that fertility clinics either offer treatments they don't, or don't offer ones they do. When we first looked at the HFEA's clinic page for Simply Fertility in Chelmsford [9], it did not indicate that the clinic offered IVF. Though it does now, the HFEA leads with this message: "Simply Fertility has been licensed by us since 2013. It is a small clinic offering partner and donor insemination treatments." It's easy to see how this happened; Simply Fertility only started performing IVF in June 2017. [10]
The HFEA page on the Brentwood Fertility Centre [7], also in Essex, provides IVF success rates for this clinic [11], which doesn't in fact perform all treatments on site. Egg collection, fertilisation, and embryo transfer are actually performed at the London Women's Clinic — shouldn't those success rates technically be theirs, then?
Miscommunication Between HFEA And Fertility Clinics: Why?
We came across other instances of information not being quite right, too. There was one clinic the HFEA reported had an egg-sharing programme though they had abandoned it some time ago. The HFEA said that another clinic didn't offer pre-implantation genetic screening when they did. As we were trying to determine which fertility clinics would best meet your needs, we communicated with both the HFEA and clinics themselves. A simple call to the HFEA resulted in swift updates to their website, and so did clinics emailing the body after we approached them with questions about whether or not they performed a treatment. The HFEA is nothing if not responsive. Equally importantly, we found the agency's "first responders" to be incredibly respectful and helpful.
The HFEA's ability to provide accurate information to patients depends, however, on effective communication between them and the clinics they licence. On this count, we were simply not impressed. While the mistakes and confusions we found were by all appearances neither the fault of the fertility clinics nor the agency that regulates them, we would expect smoother communication between both sides. The HFEA has been doing its important job for more than a quarter of a century now, and should have developed a clear system to ensure that you, the patient, receive the accurate and transparent information you deserve.
In the UK in the twenty-first century the internet is the primary way in which people seek to obtain information, and websites should never be an obscure afterthought. The HFEA should keep its clinic pages up to date and accurate, and ensure that clinics provide information regarding success rates in a format the agency can then readily share with the public.
You
Fertility clinics are obliged to report any mistakes or near-misses they make to the HFEA. As a patient, you can contribute to making sure the agency receives the information in needs to report to the public by also contacting the HFEA if your fertility clinic makes a mistake. (It cannot, currently, help with complaints of dishonesty about treatment fees or other financial fraud, which you may instead report to the Insolvency Service. [12]) In addition, you can help future patients by rating the clinic you attend on the HFEA's website.
Photo courtesy of SteadyHealth.com