Belfast counts only two fertility clinics that offer IVF — but both are pretty good. Which of them should you choose, or should you consider travelling further afield?
People struggling with infertility in many parts of the United Kingdom have criticised access criteria to NHS-funded IVF, and for good reason: nearly six in 10 cycles of IVF treatment in the UK are funded privately [1], often by people who simply don't qualify for NHS-funded IVF. If you live in Northern Ireland, however, you're definitely on the losing end of the infamous IVF postcode lottery.
It's certainly not all bad — while much of the UK imposes a BMI limit, you can have a BMI of up to 35 to qualify for NHS-funded IVF in Northern Ireland, and the NHS may still fund your IVF if you have children living in your household. You do, however, need to be under 40 when you commence treatment, which means you'll have to get on the waiting list when you're 39 or under, and you also have to be diagnosed with a proven cause of infertility. What's more, only one full cycle — in this case defined as one fresh embryo transfer and one frozen — will be NHS-funded. This means that you may still be looking at self-funded cycles if your one NHS cycle wasn't a success. [2]
Should you prefer IVF treatment closer to home, it would be a tremendous understatement to say that you don't have as much choice as people living in London — but you still face a choice:
which fertility clinic should I choose
? 
Which Belfast Fertility Clinic Should I Choose?
Belfast is home to two fertility clinics offering IVF. One, the Regional Fertility Centre [3], is NHS-governed, while the other, the GCRM-Belfast [4] (the Glasgow Centre for Reproductive Medicine's Belfast branch) is a private fertility clinic belonging to the reputable Fertility Partnership group, which has clinics all over the United Kingdom.

HFEA-licenced in 2013, the GCRM-Belfast clinic sits at the cutting edge of fertility treatment. Patients needing IVF, ICSI, surgical sperm collection, fertility preservation and frozen embryo transfers can be treated at this clinic. The GCRM-Belfast uses vitrification, a modern technique that preserves the quality of cells and increases success rates when freezing gametes and embryos. It recruits UK egg and sperm donors and runs an egg-sharing programme, which can help you if you're in search of an egg donor as well as if you're hoping to reduce the cost of your treatment by sharing your healthy eggs with another woman.
The clinic's incubator system, EmbryoScope, closely follows the development of each embryo without the need to remove it from the system. Embryos are thus not only allowed to develop in optimal conditions, but the clinic's scientific staff are able to select those embryos that are most promising for transfer to your uterus. IVF cycles routinely include the use of EmbryoGlue, a culture medium that increases pregnancy rates, and blastocyst transfers (in which more developed embryos are transferred) are likewise routine. Laser assisted hatching and an endometrial scratch available at an additional cost.
Once you are pregnant, the GCRM-Belfast offers the Harmony Prenatal Test, in which fetal DNA circulating in your own blood is analysed to screen for chromosomal abnormalities.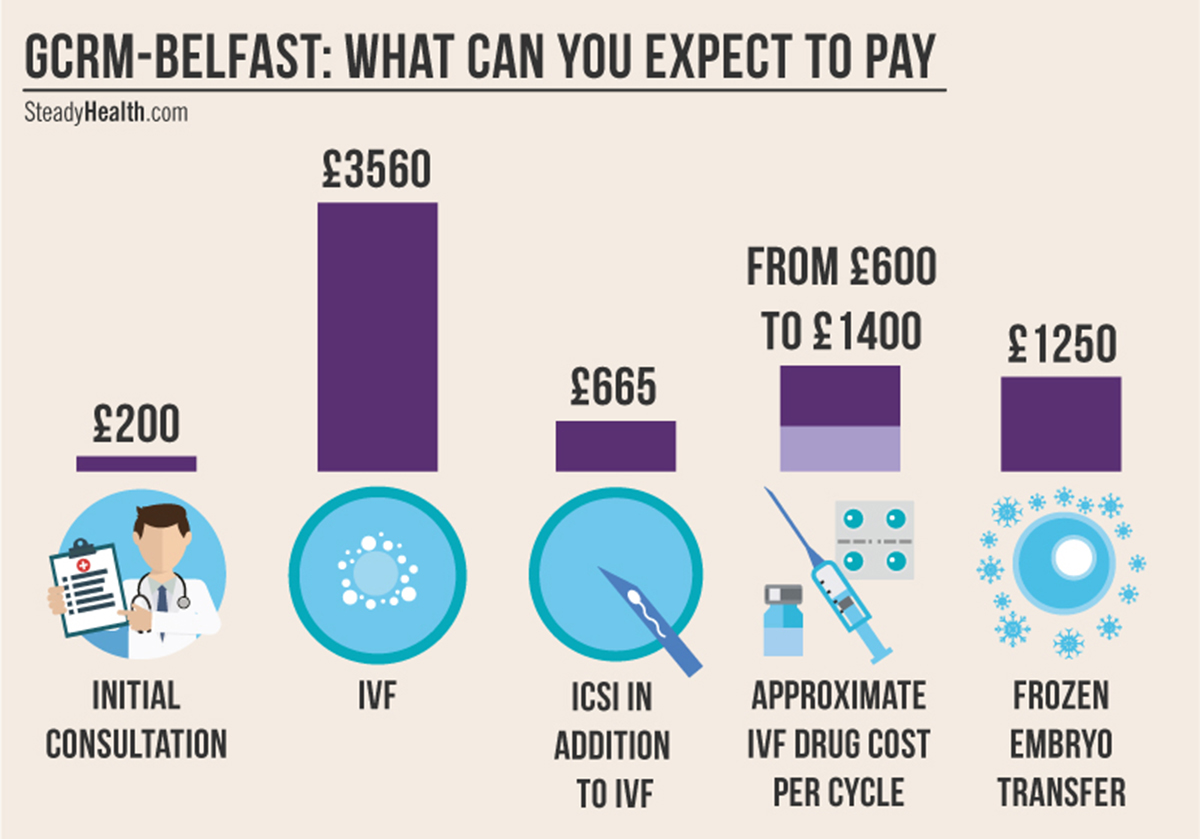 While you'll have additional costs, including for pre-treatment investigative tests, here is a sample of the fees you may expect to pay at the GCRM-Belfast:
An initial consultation without an ultrasound scan will cost you £200.
A single cycle of IVF comes at at price of £3560, and that includes a blastocyst culture, EmbryoGlue, embryo freezing and one year of storage if you need it, and the HFEA fee.
ICSI cycles cost £4225 and include everything you would get during an IVF cycle with the addition of ICSI.
The clinic charges £1250 for frozen embryo transfers.
The GCRM-Belfast estimates that the medications you will need for an IVF cycle will set you back between £600 and £1400.
The GCRM-Belfast oversaw the start of 334 IVF and ICSI cycles in which patients' own fresh eggs were used between the period of July 2015 and June 2016, the most recent period for which data is available from the Human Fertilisation and Embryology Authority [5], which licences fertility clinics across the UK. Of these cycles, 283 reached the embryo transfer stage.
With a clinical pregnancy success rate of 31 per cent, the clinic's stats are precisely in accordance with the national average — to put it succinctly, the GCRM-Belfast has extremely decent success rates. 
Divided by age group, they look like this:
Under 35: 37 per cent
35-37: 39 per cent
38-39: 25 per cent
40-42: 18 per cent
The clinic likewise commenced 73 frozen embryo cycles with patients' own eggs during this time, and all but one made it to embryo transfer. The GCRM-Belfast's clinical pregnancy success rate of 22 per cent for these frozen cycles is in line with the national average as well.
The Regional Fertility Centre Belfast is, meanwhile, a highly experienced clinic licenced back in 1992. An NHS clinic, it does offer treatment to self-funding patients as well. IVF, ICSI, frozen embryo transfers, fertility preservation and surgical sperm collection are all offered at the Regional Fertility Centre. Once again, this clinic recruits egg and sperm donors and has an egg-sharing programme.
Endometrial scratching is available, and the Regional Fertility Centre additionally offers the Eeva Test, in conjunction with time lapse technology, to select the most promising embryos.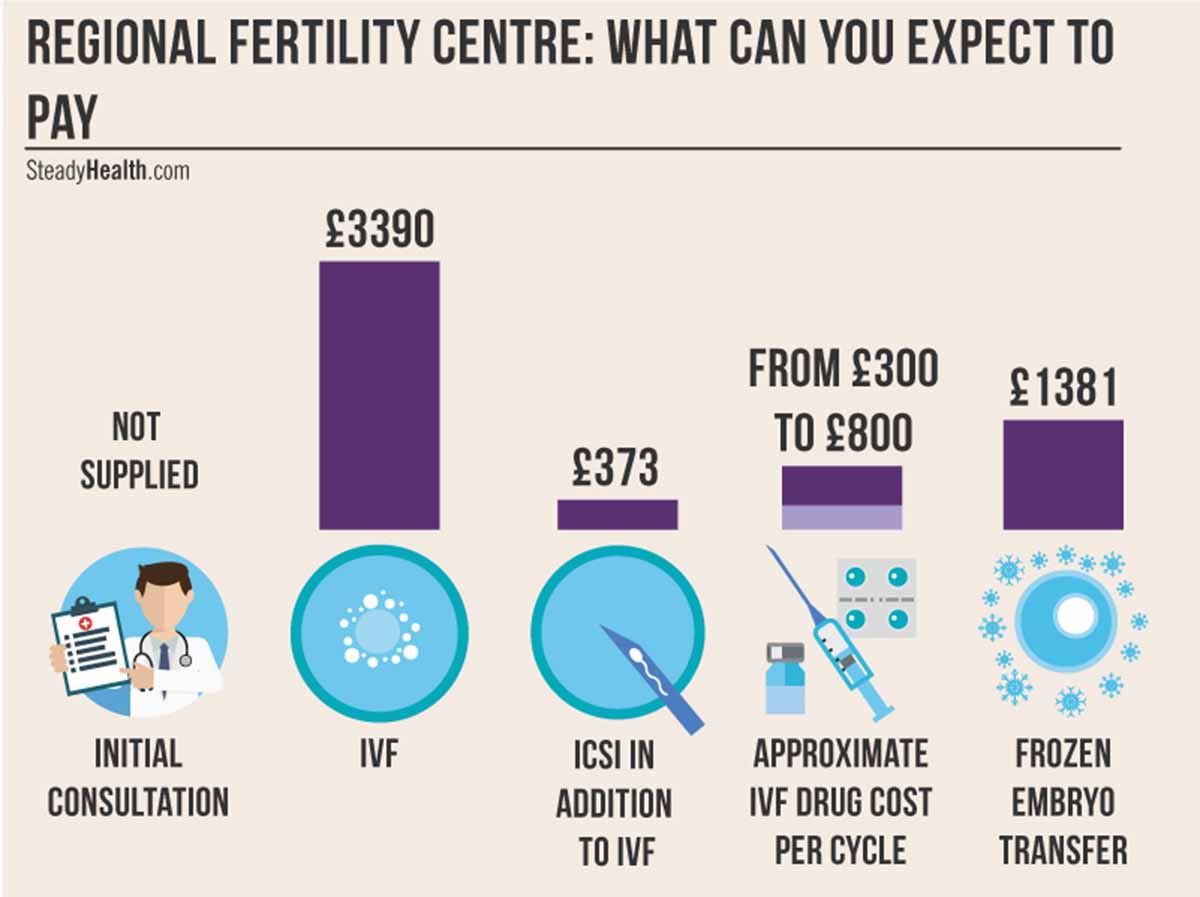 The Regional Fertility Centre does not provide information about the cost of an initial consultation for private patients, but:
Offers IVF cycles for £3390, £750 of which is the doctor's medical fee.
ICSI cycles will set you back £3763, with the same amount going to the doctor once again.
A frozen embryo transfer has a fee of £1381, with £250 being the medical fee.
The cost of drugs you will need for a single IVF cycle is estimated to amount to between £300 and £800.
Having started 837 fresh IVF and ICSI cycles with prospective mothers' own eggs between July 2015 and June 2016 [6], the Belfast Regional Fertility Centre is a much busier clinic.
A total of 683 of these cycles reached the point of embryo transfer, resulting in a clinical pregnancies per cycle rate of 28 per cent, which also falls within the national average.
What is the average success rate for women in your own age group at the Regional Fertility Centre? Let's take a look:
Under 35: 32 per cent
35-37: 29 per cent
38-39: 19 per cent
40-42: 3 per cent
This clinic commenced a total of 305 frozen IVF/ICSI cycles, with 298 reaching the transfer stage. It achieved a clinical pregnancy rate of 30 per cent with these cycles.  
With two decent fertility clinics to choose from, your decision may be influenced by success rates for your age group and your initial contact with the clinic, as well as the experiences of former patients who have already walked the path ahead of you. Patients at the Regional Fertility Centre spoke highly of both nurses and consultants, describing them as caring, friendly, and all around "lovely" — but one patient we spoke to felt she wasn't given enough information about her treatment during the process. A former GCRM-Belfast patient especially appreciated the fact that the clinic's staff stayed in touch during her pregnancy and after her son was born, while another chose that clinic for its slightly more advanced treatments. 
Should You Consider Travelling To The Republic Of Ireland For Your IVF Treatment?
While thousands of couples from the Republic of Ireland travel to the Czech Republic for cheaper IVF treatment each year [
7
], you may be curious whether there's any benefit in choosing a Dublin clinic for your fertility treatment. At about a two hour drive from Belfast, Dublin is certainly within a reasonable distance, after all.
All fertility treatment in the Republic of Ireland is provided privately, as its public health services don't fund it. Though medical practice is governed by the Irish Medical Council, the regulation of fertility treatments is much looser than it is in the United Kingdom.
We looked at some of the most reputable clinics in Dublin and found that the costs and treatments on offer are mostly comparable to those you have access to in Belfast. To be clear, it isn't at all hard to find very satisfied patients who have received treatment at Sims IVF, the Rotunda clinic, or the Merrion Fertility Clinic — all of these are reputable fertility clinics, and if you're willing to travel further because you prefer the feel of a particular clinic, that is definitely something you can do. 
The SteadyHealth team sees no especially compelling reason for you to choose a Dublin clinic, though, unless you are looking to have pre-implantation genetic screening. This is nearly as hard to come by in Dublin as it is in Belfast, but offered by Beacon CARE, part of the CARE group which also has 14 clinics in the United Kingdom [8].
Here is a sample of their prices, which are very similar to those of the other Dublin fertility clinics we looked at — and certainly not consistently cheaper than Belfast clinics, especially if you consider that you may prefer staying at a hotel rather than driving straight back home right after an embryo transfer:
Initial consultation: €175 (£139,34)
IVF: €4500 (£3582,90)
ICSI in addition to IVF: €400 (£318,48)
Frozen embryo transfer: €1450 (£1154,49)
(Exchange rates were correct at the time of writing, but will change over time of course!)
While the HFEA provides convenient standardised data on success rates for clinics across the UK, no such benefit is available to people seeking fertility treatment in the Republic of Ireland. This represents an additional hurdle to those people who want to make sure they're choosing a clinic with excellent success rates, as verified by an independent and unbiased governmental source. Beacon CARE provides information about the success rates of their pre-implantation genetic screening cycles, but that's it. It's not rare for clinics in the UK to selectively display those success rates that make them stand out, either, but at least future patients have access to another source of information that compares like with like.
All in all, the two Belfast clinics — which are reputable and have success rates that were proven to be in accordance with the UK national average — are going to meet most people's needs. Should you be looking to for more affordable treatment, you may take a page out of the notebook of those couples from the Republic of Ireland who travel further afield for IVF.
Infographics by SteadyHealth.com