Which fertility clinic in Manchester and the surrounding area should you choose for your privately-funded IVF and ICSI treatment?
Do you need IVF to start or expand your family? Your hopes and dreams are a booming business, as evidenced by the fact that a grand total of 52,288 UK women underwent 67,708 IVF cycles in 2014 [1], resulting in 15,283 live births [2]. For you, however, IVF is so much more. Even the initial process of exploring where to have IVF treatment in the UK brings you a step closer to the pitter-patter of tiny feet, but also to a highly-invasive, expensive, and very often stressful procedure.
If you're from the Greater Manchester area and earn close to the average annual wage — £27,716 [3] — the prospect of paying for a single privately-funded cycle of IVF, which can easily cost upwards of £5,000 [4], will make your head spin. You may, of course, need more than a single IVF cycle; 29.1 per cent of women undergoing IVF have a baby after one cycle of IVF, while the same holds true for 43.0 per cent after six cycles [5].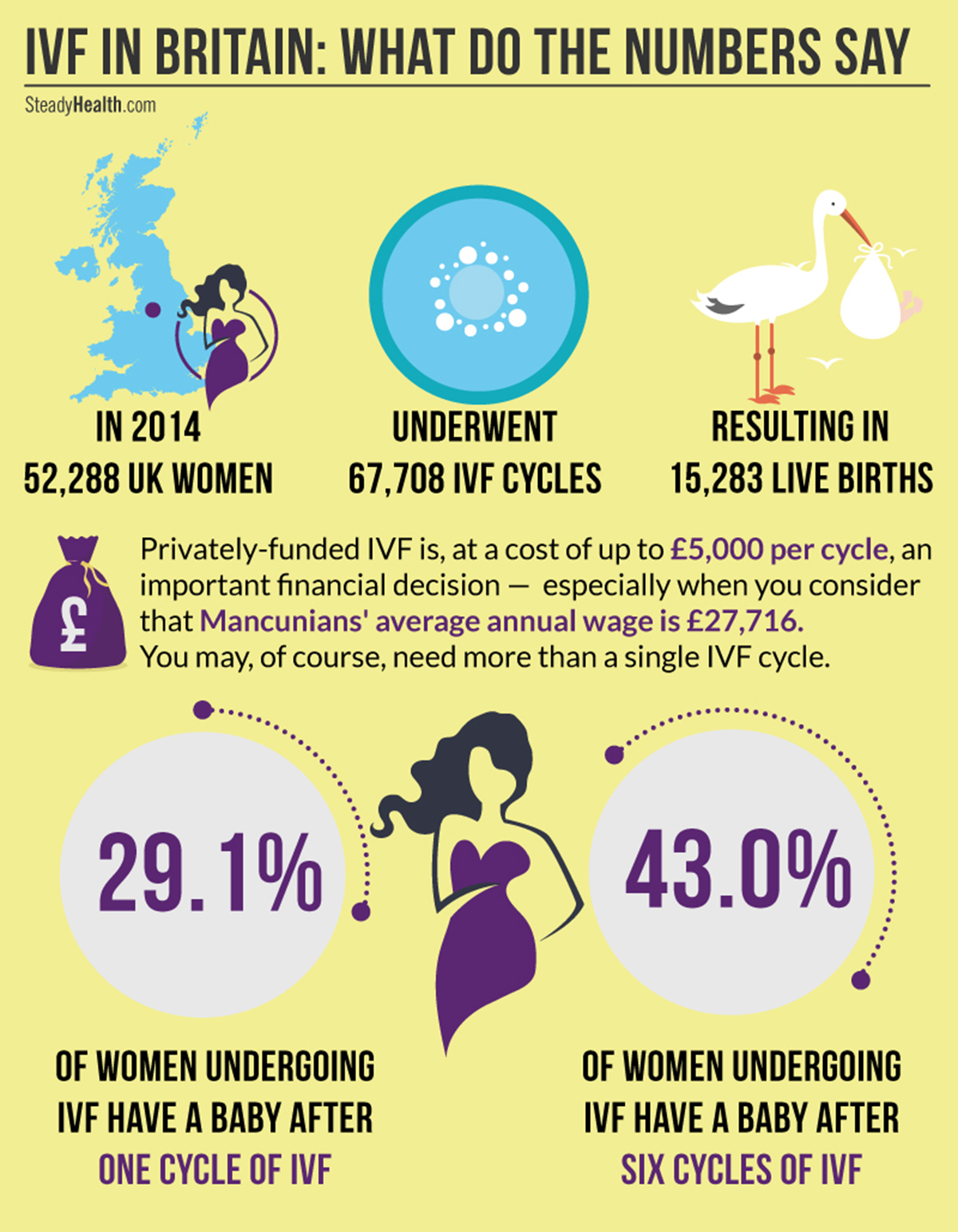 Privately-funded IVF offers distinct advantages over having IVF on the National Health Service, should you even qualify for IVF on the NHS at all — you'll likely to be able to avoid waiting lists, will certainly encounter much more flexible patient criteria, and you'll be able to choose the clinic that best meets your particular needs. With stakes that high, both financially and emotionally, however, finding the right IVF clinic for you is of the utmost importance.
Six fertility clinics in Manchester and the surrounding area offer IVF treatment. All are the right choice for some people. None are the right choice for every person seeking IVF. Should you already have decided to stay close to home to receive your IVF, which eliminates the stress of travel, which clinic should 
you
 choose? We know how stressful it can be to navigate the process of
choosing a fertility clinic in the UK
, and in writing about the clinics in the Manchester area, we hope to make the journey just a little easier. 

Manchester Fertility
HFEA-licenced since 1992, Manchester Fertility offers surgical sperm collection and fertility preservation in addition to IVF and ISCI. Manchester Fertility is able to treat patients with communicable viral diseases such as HIV, and employs bilingual fertility consultants who speak Hindu, Urdu, Punjabi, Hungarian and Italian. Manchester Fertility does not charge additional fees for services such as Blastocyst culture and EmbryoGlue, the only culture medium to have been proven to increase chances of implantation. Pre-implantation genetic screening will cost you £2000 within a single cycle, while package deals are also available.
Additional services offered at Manchester Fertility include:
Modified natural cycle IVF
EmbryoScope
The endometrial Receptivity Array Test (ERA)
The SpermComet DNA damage test
An endometrial scratch
Manchester Fertility also has a cost calculator and live support on its website, features that make the process of navigating the cost of your treatment more straightforward.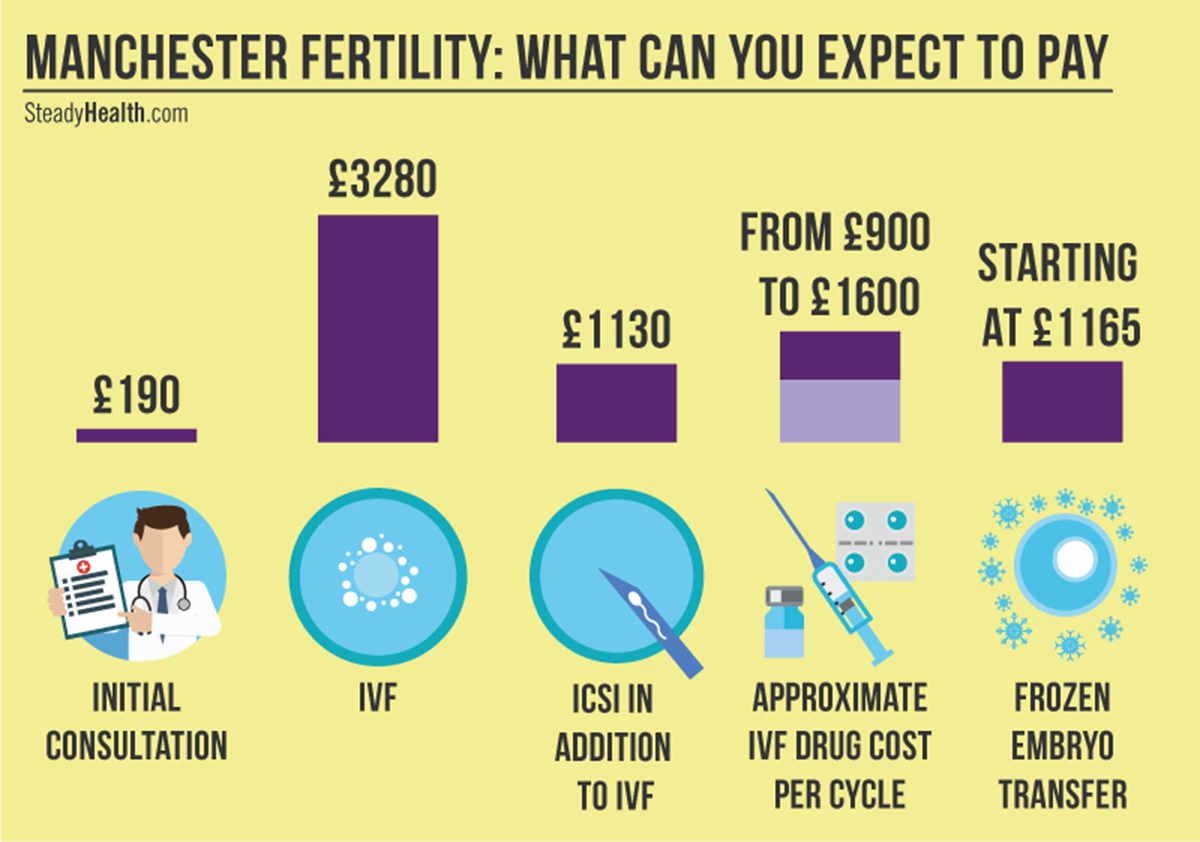 Between July 2014 and June 2015, the most recent period for which data is available from the Human Fertilisation and Embryology Authority, Manchester Fertility began 517 fresh IVF/ICSI cycles, while 403 of those reached the embryo transfer stage. Its success rates for clinical pregnancies per cycle, live births per cycle, live births per egg collection, and live births per embryo transfer are neatly in accordance with the national average. Manchester Fertility likewise commenced 211 frozen IVF cycles during this time period, with 203 reaching the embryo transfer stage. Its success rates for frozen embryo transfers are consistent with but slightly above the national average.
To break that down a bit, Manchester Fertility has the following success rate for live births per embryo transfer in fresh IVF/ICSI cycles:
Age 35-37: 32 per cent
Age 38-39: 24 per cent
Age 40-42: 17 per cent
Manchester Fertility's Ian Parker was extremely responsive when SteadyHealth contacted him for more information about the clinic — an indication, we think, of the clinic's quality of customer service. Parker told us that "typical appointment lead times from when a patient initially contacts us are between one and two weeks", adding: "As a private fertility clinic, we have no waiting lists for any treatment, largely due to us having a specialist donor egg and donor sperm bank."
Parker further shared: 
"The country's first fertility clinic to offer pre-paid, discounted and fixed-price multi-cycle and refund IVF plans, our key advantages include our donor egg and donor sperm bank, which allows patients to undergo fertility treatment using donor sperm or donor eggs with no waiting. Typically, lots of our competitors have up to an 18-month wait for similar treatments. Our donor programme was the first in the UK to receive the NGDT centre of excellence accreditation and has now grown to offer a wide and extensive choice of sperm donors recruited and fully screened from a growing number of donor recruitment centres across the UK.

The NHS generally treats patients with a BMI between 19 and 30, whereas we treat patients with a BMI of 19 to 35. Natural fertility declines with age, particularly for women after the age of 35. We regularly see patients up to 49 years of age. whereby we would recommend treatment with donor eggs."
We were able to make contact with several current and former Manchester Fertility patients, who spoke about the clinic in glowing terms. One patient told us they were "not pushy — they don't try to sell you all kinds of additional treatments that you really don't need, and they're incredibly friendly and knowledgeable". "My husband and I were involved in deciding our treatment plan every step of the way," another patient let us know. 
Saint Mary's Hospital
Saint Mary's Assisted Reproductive Treatment, more often simply called Saint Mary's Hospital, has been licenced by the HFEA since 1992 and offers a broad range of fertility treatments. Part of the Central Manchester University Hospitals NHS Foundation Trust, Saint Mary's was the very first hospital in the UK to offer NHS-funded IVF, but 10 per cent of their IVF cycles are funded privately. In addition to IVF with fresh or frozen eggs and ICSI, Saint Mary's offers surgical sperm collection and fertility preservation.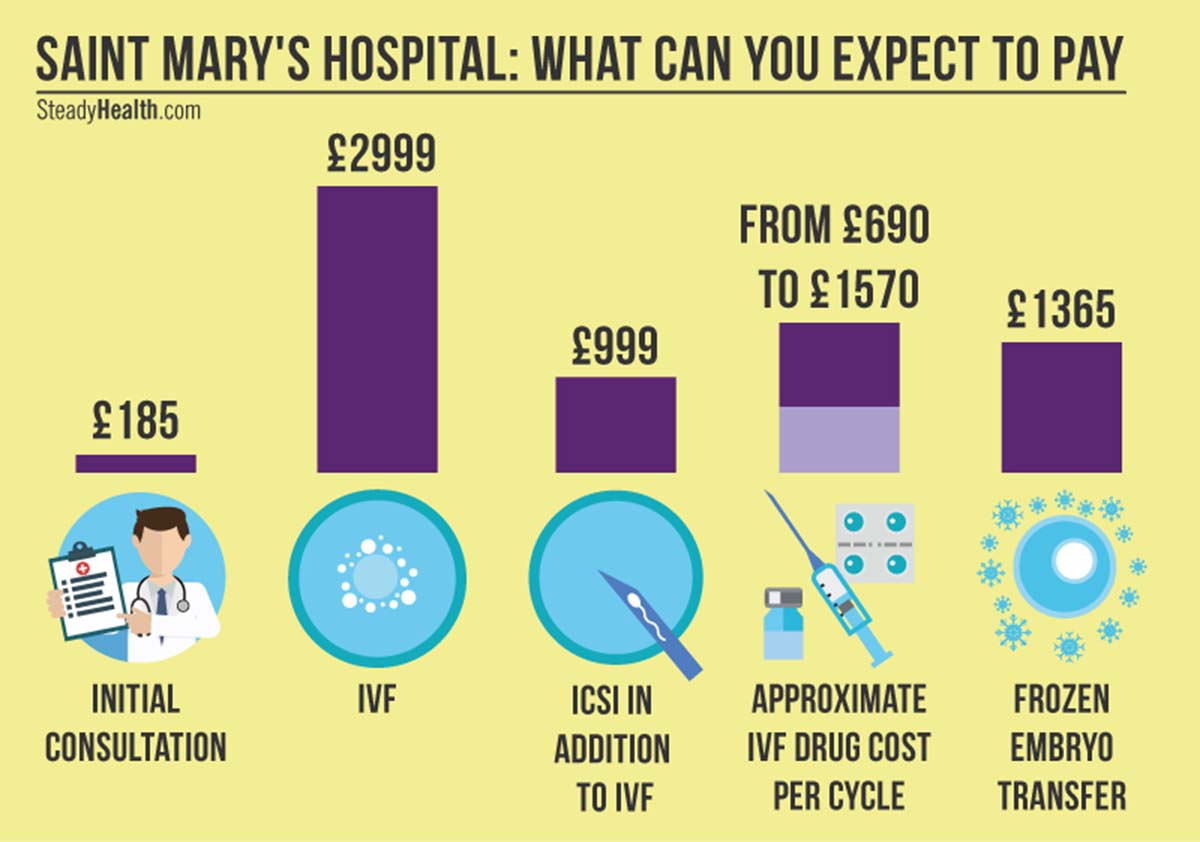 Notable advantages of Saint Mary's Hospital include:
EmbryoGlue and endometrial scratching, which best prepares your uterus for your embryo, are free of charge in all cycles.
The SpermComet DNA Damage test, which reveals sperm-quality problems not uncovered by conventional sperm analyses 80 per cent of the time. This procedure allows couples who would otherwise have attempted regular IVF to move straight to ICSI, and costs £450 at Saint Mary's.
Saint Mary's uses EmbryoScope incubators, which increase success rates, at no additional cost.
Between July 2014 and June 2015, Saint Mary patients started 1189 "fresh" IVF cycles with their own eggs, 970 of which reached the embryo transfer stage. The clinic likewise started 389 frozen cycles with patients' own eggs, 372 of which reached the embryo transfer stage. Their success rates for all-age pregnancies per cycle, live births per cycle, live births per egg collection, multiple births, and live births per embryo transfer are all consistent with the national average. 
In addition, data reveals that "fresh" IVF cycles at Saint Mary's have a live birth per embryo transfer success rate of:
Age 35-37: 29 per cent
Age 38-39: 22 per cent
Age 40-42:  not applicable
Saint Mary's Nicola Yates was clear and concise when SteadyHealth approached the clinic for more information. She informed us that privately-funding clients are able to get an appointment "within four weeks" of contacting the clinic. Saint Mary's won't work with clients who have a BMI of over 35, and whilst their age limits aren't hard and fast, they discourage women aged 43 or above from receiving treatment there. Saint Mary's is, Yates says, not the right choice for women with anti-mullerian hormone, AMH, levels of under 4. Yates adds that you can't choose your own doctor and won't be seeing the same doctor throughout your treatment. 
What do women who have received IVF at Saint Mary's say? After reviewing their comments across the internet, it became clear that Saint Mary's patients are, on the whole, very satisfied with the standard of care at this Manchester IVF clinic. Some were especially appreciative of the fact that they didn't have to pay extra for EmbryoGlue and endometrial scratching, as well. It's clear, however that Saint Mary's is very much an NHS clinic: patients complain of long waiting lists, disorganised administrative staff, and the clinic's slightly unorthodox appointment system, wherein you have to ring them up to see if they can "fit you in".
CARE Fertility Manchester
With over two decades' worth of experience, the CARE Fertility group is one of the most experienced IVF providers on the market, comprising 15 clinics across the United Kingdom and the Republic of Ireland. Its founder, Professor Simon Fishel, was even involved in the birth of Louise Brown, the very first IVF baby, in 1978. CARE Manchester has been HFEA-licenced since 1999, and it offers IVF with fresh and frozen eggs, ICSI, and surgical sperm collection, fertility preservation, and a donor gamete programme, as well as having female doctors available. CARE makes it particularly clear that they're very supportive of LGBT folks who are hoping to conceive.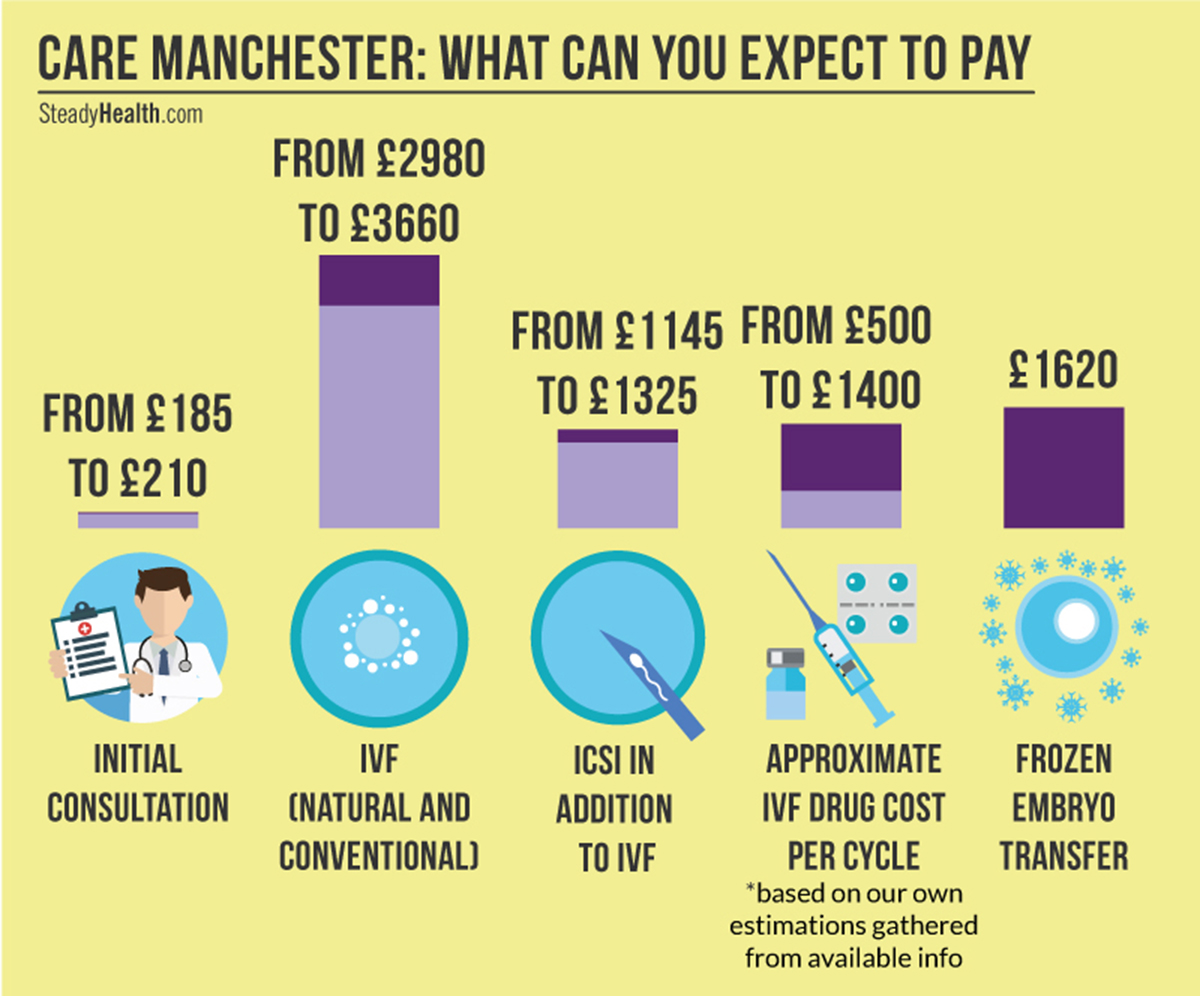 You'll also want to know that CARE Manchester offers:
The unique CAREmaps embryo-selection process, a time-lapse imaging procedure that allows the clinic to choose the best embryos, increasing your chances of a live birth by 20 per cent, for £775. 
Pre-implantation genetic screening, especially suitable for women over 35 who have undergone failed IVF cycles in the past, is offered at a cost of £2,675–£2,965. 
EmbryoGen and BlastGen, culture media designed to mimic the natural environment in which embryos grow and which increase success rates for certain IVF cycles are available for £230–£435.
EmbryoGlue (£110–£330) and endometrial scratching (£230–£275) are available, but not routinely used.
Natural IVF is available. 
CARE Manchester began 1022 IVF and ICSI cycles using patients' own, fresh, eggs between June 2014 and July 2015. Of these, 919 reached the embryo transfer stage. Their success rates in this category are statistically consistent with, but also consistently slightly above, the national average. While the national average for live births per embryo is 32 per cent, for example, CARE Manchester's rate is 36 per cent. CARE Manchester also started 468 IVF cycles with patients' frozen eggs, of which 457 reached the embryo transfer stage. Its success rates in this area are, again, consistent with, but slightly above, the national average.
Let's take a closer look at the live birth success rates for their fresh IVF/ICSI cycles with patients' own eggs:
Age 35-37: 34 per cent
Age 38-39: 27 per cent
Age 40-42: 16 per cent
CARE Manchester boasts the best success rates in the Manchester region for clinical pregnancy rates per embryo transferred in fresh IVF/ISCI cycles for women under 35, frozen cycles in all age groups. and donation treatments. They are able to treat men and women with a BMI of up to 35, a limit that is "based on concerns for the safety and health of the woman if she were to be subject to stimulation, egg collection and then if she were to become pregnant", CARE told us. For men, this limit is only relevant if they require surgical sperm collection. CARE Manchester will treat women up to the age of 53, though the use of a woman's own eggs beyond age 43 would be "subject to discussion with the clinical team who would want to advise on the impact of the woman' age on likely outcome".
Clinic director Debra Bloor told us that "the CARE group, uniquely, has common laboratory procedures and processes across all of our clinics", allowing them to "compare the results from all the treatment cycles across all of CARE, which in turn means we are able to make evidence-based evaluations of treatments more quickly and effectively than other clinics".
The fact that CARE Manchester employs three full-time consultant fertility experts, meaning that one is always in the building when you need them. Bloor explained:
"Unlike other clinics who may rely on sessional doctors with responsibilities in other general obstetric and gynaecology fields, we always have a medical fertility expert available in the clinic to offer advice and guidance at every stage of treatment. Their focus also means they keep up to date with latest medical practice in fertility."
CARE Manchester has a dedicated donor and surrogacy team that will help you, Bloor said, "navigate your sometimes complex journey", and CARE Manchester is "delighted that the HFEA analysis of our success rates shows that we have the highest clinical pregnancy rates in the region following egg donation".
CARE patients describe the clinic's staff as "brilliant", "professional" and "very supportive", and note that "everything happens really quickly". 
CREATE Manchester
CREATE Manchester is a new clinic, and though it was found to be fully compliant with regulations during the HFEA inspection in May 2017, the formal HFEA rating and success rates are not yet published. The fact that CREATE Manchester is simply the newest branch of a reputable group of fertility clinics inspires confidence in those who might not otherwise choose a new clinic; the group's London clinic has excellent ratings and a success rate consistent with the national average.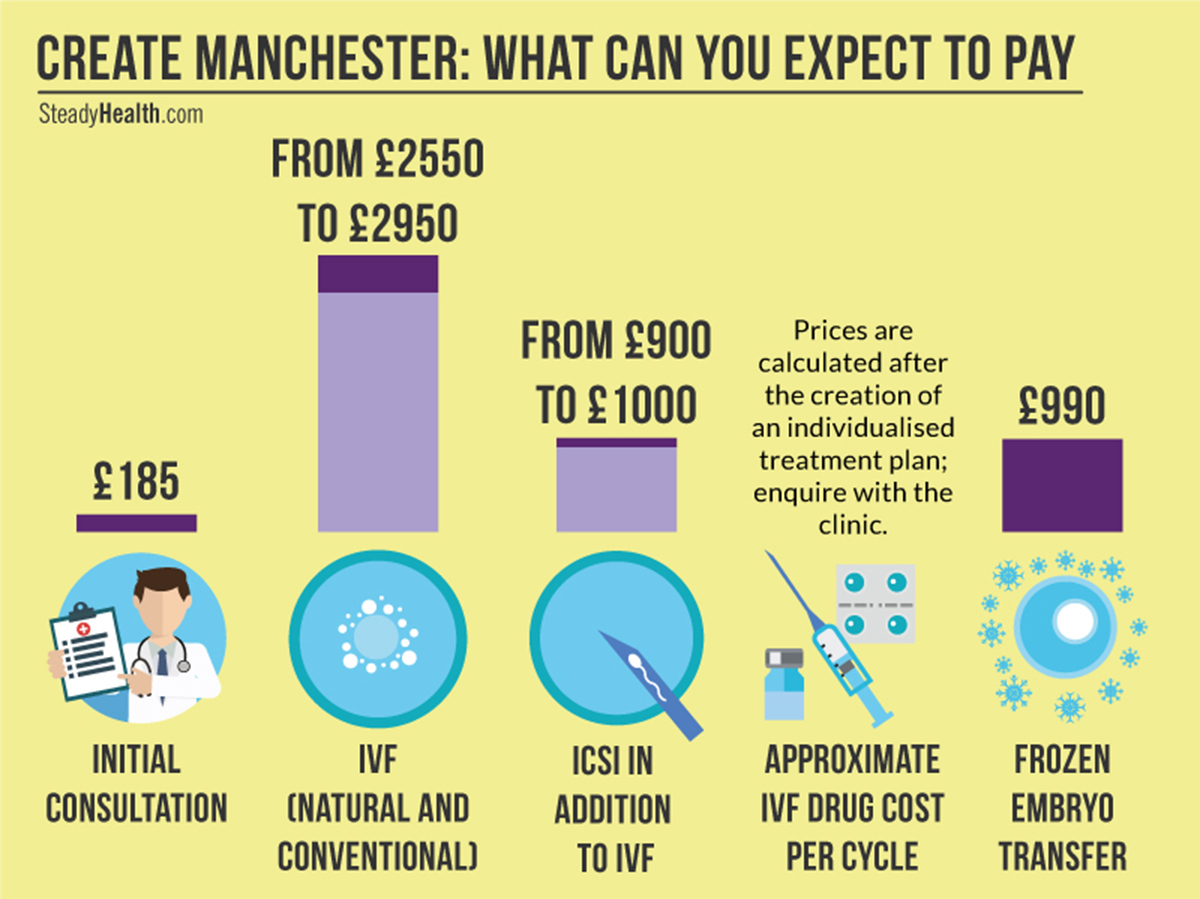 CREATE clinics are unique in priding themselves on offering natural and mild IVF. This means, CREATE says, that their patients require fewer drugs and benefit from the associated lower cost, are much less likely to experience side effects (not a single of their patients have experienced OHSS), and patients benefit from a shorter treatment duration. In addition to "natural-cycle IVF", CREATE also provides the option of undergoing IVM, an alternative and safer approach particularly suitable for women who are at risk of Ovarian Hyperstimulation Syndrome and those who have Polycystic Ovary Syndrome.
Other treatments you can receive at CREATE include:
Pre-implantation genetic screening and diagnosis
Endometrial receptivity array test (ERA)
Endometrial scratch
They use EmbryScope
CREATE attracts — and is not afraid to treat — a great number of patients with more complex fertility challenges, including low ovarian reserves. While you would expect this to affect the clinic group's overall success, it has impressive statistics. Between 2013 and 2015, the clinic group's own statistics (in the absence of available HFEA data) indicate that their mild stimulation IVF cycles had a live birth rate of:
41.4 percent in women under 35
38.8 per cent in women aged 35-37
26.7 per cent in women aged 38-39
14 per cent in women aged 40-42
We contacted CREATE for more information about their unique approach just as they were "extremely busy with a new launch" — unfortunately, CREATE wasn't able to comment further. This tells us that CREATE places greater importance on treating patients than talking to the press; something that can only be good for you. We did speak to one of their patients who decided to go with their three-cycle package deal for modified natural IVF. She described the clinic as caring and intimate, in the sense that the staff immediately know her by name when she comes in. 
Hewitt Fertility Centre Knutsford
The largest fertility clinic of its kind in all of Europe, the NHS-governed Hewitt Fertility Centre has facilities in Liverpool, Wigan (in partnership with Fertility Fusion), and Knutsford, and performs an average of 3,500 treatment cycles annually, approximately 20 per cent of which are funded privately. The Knutsford location, closest to you if you live in Manchester and the surrounding area, opened in 2013. Besides IVF and ISCI, it administers surgical sperm collection, fertility preservation, and IVF cycles for patients with communicable viral diseases. The clinic also engages in IMSI, which can perhaps best be described as ICSI+ — a little more about that later.  
While you investigate the Hewitt Fertility Centre in Knutsford as your fertility clinic of choice, you should note that the clinic uses:
EmbryoScope as a standard part of treatment, at no extra cost. 
EmbryoGlue.
Laser-assisted hatching, which facilitates more successful implantation. 
Undisturbed cultures, meaning, in short, that embryos are not physically disturbed. 
The advanced IVFWitness system that takes ensuring that embryos are matched to the correct patient a step further than required by law. 
Prospective Hewitt patients who'd like to be treated at the Knutsford fertility will doubtless look at the HFEA data and find themselves surprised that success rates are not listed for the Hewitt Centre in Knutsford. After speaking to the Hewitt Centre, which is centrally managed from its Liverpool facility, we learned that this is a result of a miscommunication between the clinic and the HFEA. The currently available data covers both Liverpool and Knutsford, but this will soon be rectified. It is, we were told, as frustrating for Hewitt Knutsford staff as for the general public.
Though success rates will differ slightly between the two facilities, we are currently able to report that the Hewitt Fertility Centre started 2030 fresh IVF/ICSI cycles between July 2014 and June 2015, of which 1561 reached the embryo transfer stage. Their success rates are in accordance with the national average. They also started 806 frozen cycles with patients' own eggs. Seven-hundred and seventy-one of these reached embryo transfer stage, again resulting in success rates in accordance with the national average.
Separating the live birth success rates for their fresh IVF/ICSI cycles with patients' own eggs by age, this is the picture:
Age 35-37: 27 per cent
Age 38-39: 20 per cent
Age 40-42: 15 per cent
SteadyHealth was able to speak with the Hewitt Centre's scientific director, Dr Rachel Gregoire, at length. In doing so, we very much got the impression that scientific excellence and a caring and compassionate approach go hand-in-hand at this clinic. "We have no hard and fast acceptance criteria for privately-funding patients," who have a three-week waiting list before being able to start treatment, Gregoire told us. "We make decisions on a case-by-case basis and are committed to providing individualised care." Rather than rejecting you if you have a higher BMI, for instance, they may advise you on weight reduction plans. Hewitt doesn't walk away from patients who are less likely to have successful IVF cycles, Gregoire makes it clear, and even if they don't succeed, they will have the peace of mind that they tried everything they could. 
Its scientific staff ("some of the best in the country", Gregoire proudly, rather than boastfully, shared) have worked hard to create a calm lab environment — as the use of undisturbed cultures shows — because the welfare of the unborn child is of utmost importance at the Hewitt Centre. 
Asked about IMSI, which is unique to Hewitt within the Manchester region, Gregoire immediately made it clear that the procedure, which uses a powerful microscope to get a very clear look at the quality of sperm cells, is controversial: some studies show that the procedure increases success rates, while others do not. "We offer it as something that may make a difference, particularly to patients who have suffered recurrent miscarriages or implantation failure, but we're also aware that there is not currently enough evidence to determine how helpful the procedure is." 
Their patients describe the Hewitt Fertility Centre's staff as providing lots of support if you need it, "fantastic", and one even said they'd "never go anywhere else". 
Reproductive Health Group
HFEA-licensed since 2014, the Reproductive Health Group is a newcomer on the market that describes itself as the UK's first fully-integrated fertility hospital — this small clinic offers a broad range of fertility treatments as well as providing gynaecological and maternity services. Its main facility is located in Daresbury, Cheshire. Those who live in Manchester are, however, also able to attend both fertility and gynaecology appointments at the Alexandra Hospital in Cheadle.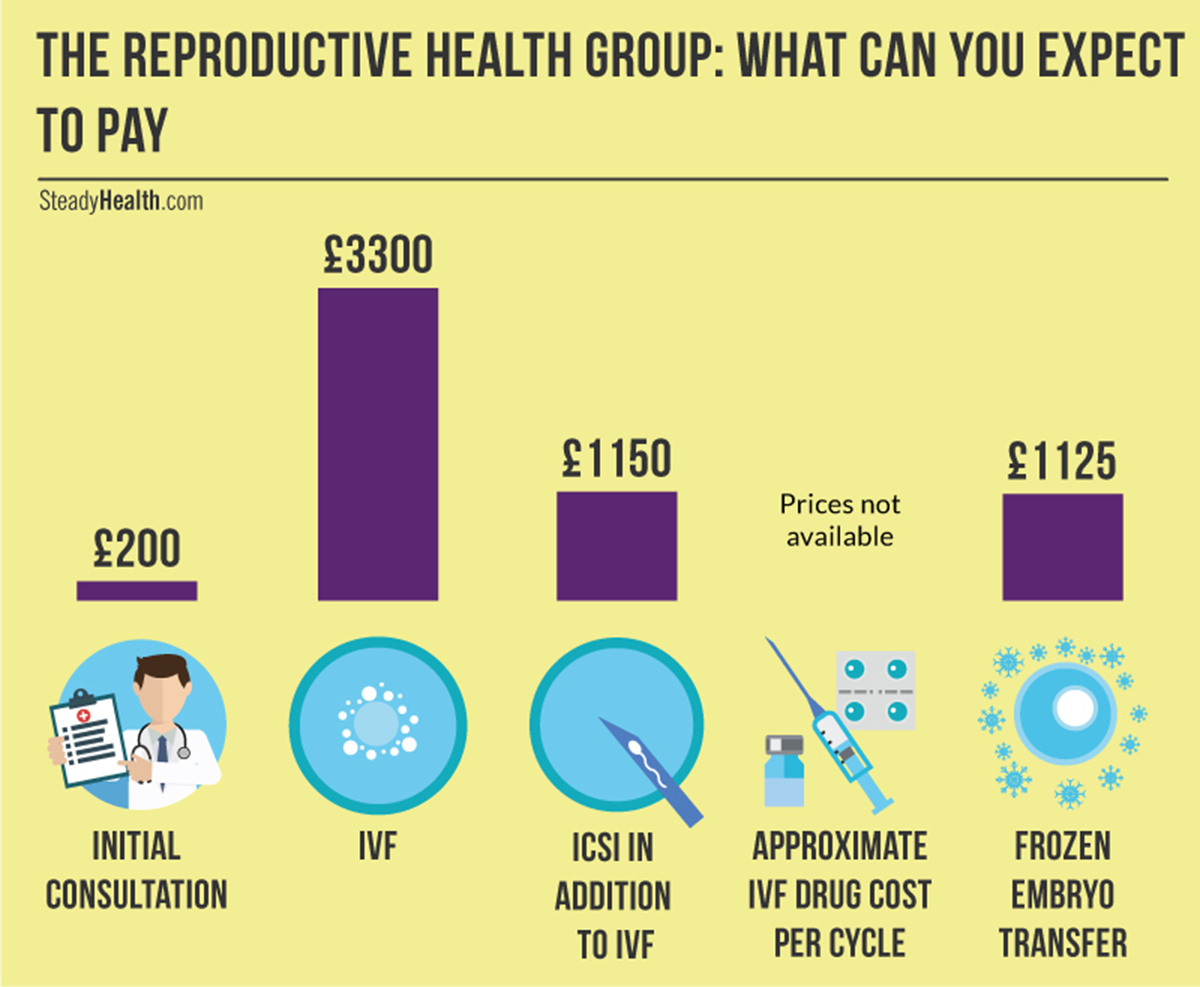 The Reproductive Health group offers surgical sperm collection, in Vitro Maturation (IVM),  and EmbryoGlue is routinely used at no additional cost. In addition, this clinic features: 
Assisted hatching, at an additional fee of £400. 
Pre-implantation genetic screening, for £535 per embryo (for the first six embryos). 
An endometrial scratch, at a cost of £350.  
Between July 2014 and June 2015, the Reproductive Health Group started 151 fresh IVF and ICSI cycles, of which 100 reached the embryo transfer stage. It scores below the national average on all-age pregnancies per cycle, live births per cycle, live births per egg collection, and live births per embryo transfer. This clinic scores better when it comes to frozen cycles, of which they commenced 58, and 56 reached the embryo transfer stage. In this case, their success rates are consistent with the national average on all counts.
Based on the small sample size, reporting on their success rates per age group wouldn't be very informative. 
Upon contacting the Reproductive Health Group, we were immediately referred to a PR agency, whose representative sent a defensive email asking what the purpose of our coverage was before deciding not to follow up. The few patient reviews we could find were negative — "this company are entirely focused on receiving payments", "if I didn't make an immediate payment all the money on consultations, scans and drugs that I had already paid for would go to waste as they would stop treatment then and there".