Technology has made dentistry much less scary than before while at the same time making it more effective. Here are some of the latest advances that you should know when thinking about permanent tooth replacement.
The pace at which technology has progressed in every aspect of our lives is amazing and many things that we struggled to imagine a decade ago are commonplace. While the same pace of innovation is not possible in a field like medicine or dentistry, we have come a long way in improving patient comfort, material strength, time required, as well as the invasiveness of the procedures involved in permanent tooth replacement.
As a patient or a family member of one, you owe it to yourself to be aware of the latest methods of permanent tooth replacement to get the best result possible from the treatment. There are multiple methods by which your dentist can offer you tooth replacement so let us look at the latest innovations in each.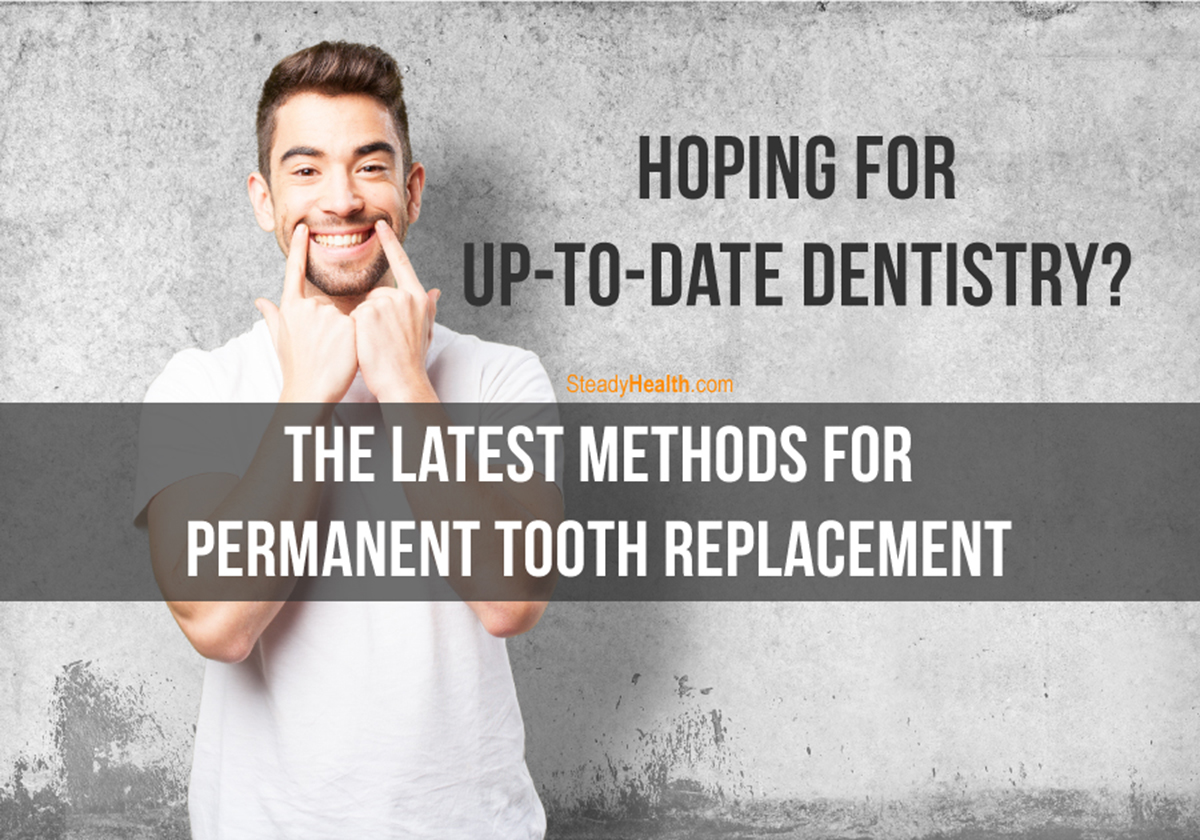 Dental Implants
When it comes to the latest methods for permanent tooth replacement, there is only one option: Dental Implants.
It is remarkable how far dental implantology has come in a short amount of time. Just a few decades back, research was focused on getting dental implants to function in abundant, healthy bone. Now, it is taken as granted that dental implants will be successful in those cases [1].
The thrust is now on ensuring that dental implants can be used in cases where the bone height, bone width, or the quality of bone is compromised [2]. The newer implants are designed to actively promote the formation of bone around them so that the chances of success are increased even further [3].
Techniques such as ridge splitting to increase the amount of width [4] or the use of bone grafts and membranes have allowed dentists to literally create bone for the placement of dental implants [5].
While the technology surrounding dental implants has improved dramatically, there has also been a reduction in costs as more and more manufacturers enter this area. It is safe to say that getting a dental implant placed is more affordable right now than it has been at any other time in history.
Even completely edentulous patients are finding that they can still have fixed permanent tooth replacement through just the use of four implants in either arch. This technique, called as all-on-four, is relatively new but already showing some spectacular results [6]. There are even solutions at hand if you don't have enough bone for dental implants. 
It actually involves placing implants at an angle to try and avoid any anatomically important structures as well as added procedures like a sinus lift or ridge splitting to bring down the costs further.
For a long time, it was also believed that dentists should always attempt to put the longest and the widest implant possible in the bone available for the best chances of success. Newer implants, short implants, have now been studied for a long time and results have shown that there was a great deal of overestimation going on [7].
Shorter implants which are less invasive and work in areas where the amount of bone is less are being used with excellent results.
The years of data have also allowed software to help implant placement become much more advanced in the last few years. It is now possible and affordable to get a CT of the jaw and then get customized stents which ensure the placement of the implant in the correct position, the correct angle, and of the correct dimension with respect to the final prosthesis being planned [8].
All of these advances have made implants easier to place than ever before and with more accuracy than was ever thought possible.
Dental Crowns and Bridges
The advances in dental crowns and bridges have been immense when it comes to the material strengths and quality of the finished products. The use of 3d milling machines allows the fabrication of crowns cut from a single piece of zirconium with absolutely no joints in it whatsoever.
The lack of metal in these crowns also makes them gentler on the gums with whom they interact at the margins [9].
The fit of these crowns and bridges is excellent and they are much stronger than the older ones made from hand molding in the lab [10].
The same holds true for esthetic use as well. Veneers, Laminates, Crowns, and Bridges are now much more lifelike than earlier and even contain a translucent layer that mimics light passing through the artificial teeth like never before.
Such techniques to make crowns and bridges were earlier available only in countries with advanced economies, however, that too is changing. Technology tends to shrink and become more affordable as time goes along and the same has happened with these milling machines.
It is now possible to get all ceramic crowns made from world-class companies around the world at extremely affordable prices. The latest methods of permanent tooth replacement are not something entirely new yet they rethink almost every aspect of the way things were done in the past.
Photo courtesy of SteadyHealth.com