You just had a baby, are newly postpartum and post-surgery life after having a c-section may be a little overwhelming at first.
You have that hospital stay out of the way and are happy to be home with your little one, but wishing that your recovery would go a bit faster too. How can you make the most of these first weeks, while you are still recovering from your cesarean section?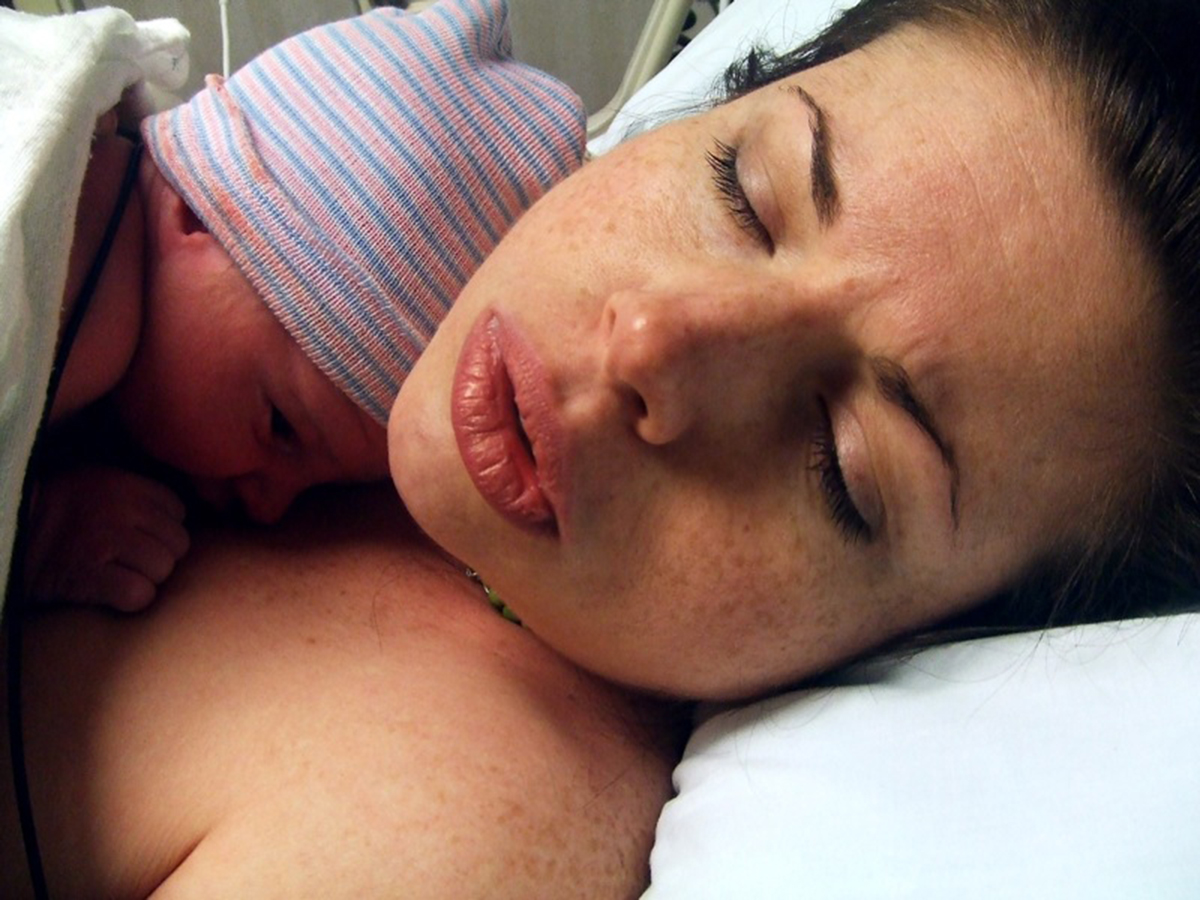 Looking After Your Baby And Yourself!
All new mothers need time to physically and emotionally recover from childbirth. All new mothers feel at least a little bit sore after they've given birth, and are sharing their care-giving responsibilities between themselves and their babies. Those who have had a c-section are in a harder boat, because a cesarean section remains major surgery and recovery can be tough. These days, the c-section rate in the United States is 32 percent. C-section moms are hardly in a small minority!
This may lead you to conclude that a cesarean section is no longer a big deal, and that you need to be able to do everything after you come home with your baby. Don't forget that major abdominal surgery is serious business, and that you obviously need time to recover. Your hospital's staff probably advised you to take it easy. Do so. Don't feel pressured into entertaining tons of guests who want to see the new baby, and keeping up the housework, and looking after your baby, and looking after yourself. Only the last two are really your responsibilities, and it is normal to need help with those things too.
How should you spend your days?
In bed, snuggling with your baby, is good advice. When you do get active, be sure not to lift anything that is heavier than your baby (including an infant car seat with your baby in it, if at all possible). Support your abdomen with a belly band for c-section moms. Do make sure to walk a little every day, either in your home or outside. Drink plenty of water to help you stay hydrated and to help your incisions (in your uterus and abdomen) heal.
If you're in pain, don't be sad that you don't have access to that wonderful IV drip any more, and take pain killers as directed by your doctor. If you're bored at home, don't feel guilty. (I most certainly was!) Newborns spend an awful lot of their day sleeping, after all. Don't be tempted to do more around the house to break that boredom, even if your house is a mess. Let others do that for you, and consider getting a good stack of great books, or watching films. Moms who do love having guests over should definitely allow those guests to take care of laundry, dishes, or other chores.
Your Incision
Keep an eye on that incision. It may look scary but this is important. If the pain around the incision area gets worse, call your doctor right away. The same goes for an incision that looks red and swollen, oozes fluids, and just doesn't look right. Moms who have a fever should also call their doctor, as this can be a side effect of an infection as well. Follow your healthcare provider's instructions about incision care closely. Wear loose fitting, comfy clothes (your maternity clothes will usually do just fine, especially indoors). If there is anything you are not sure about, don't hesitate to call your doctor.
Nutrition
New moms, especially those who had a c-section, need to take careful care of their nutritional needs. I already mentioned water, which is essential to your recovery. Always keep a water bottle close by, wherever you go. You'll also like to make sure you have healthy and handy snack foods nearby, so you don't have to get up and cook for yourself. Ideally, your partner (or friends, or relatives) should prepare foods for you so you don't have to. Things like nuts, boiled eggs, and bananas give a great energy boost and are easy to keep in your bedroom.
READ How To Be Happy With Your C-Section Scar
Exercise
Exercise is important for every postpartum mom. Keep on moving, but not too much of course. Consult your healthcare provider if you have any questions, because they (and not books, or the internet) know all about your particular physical condition. Physical activity should start feeling better within a few weeks. And you'll also start looking less pregnant and more like your old self after about a fortnight. After your postpartum checkup at six weeks, you can start to think about weight loss after pregnancy.
Don't forget about your postpartum checkup
At six weeks postpartum, all new moms but especially c-section moms should have a postpartum checkup. At this checkup, your healthcare provider will check whether your incision's healing is progressing the way it should. You can discuss any general concerns you have here, but if you suffer from major discomfort, you should always feel free to consult your doctor even before this six week checkup.