Kettlebell swings are an awesome exercise already. They're simple and effective, allowing you to focus on making the effort, not the movement. And it it ain't broke, why am I messing with it? Because you can get killer traps and hamstrings this way...
Most people who've been to a gym — or even passed one — have seen a kettlebell swing. And while it's a good idea to learn how to do them properly, from somone who knows what they're doing, one of the great things about kettlebells is that we're talking about a fifteen minute prcess there. It's simple. That's why it's good!
So why mess with the program? Because if you're confident in your swing, you can tweak it slightly and get incredible benefits to your traps and hamstrings.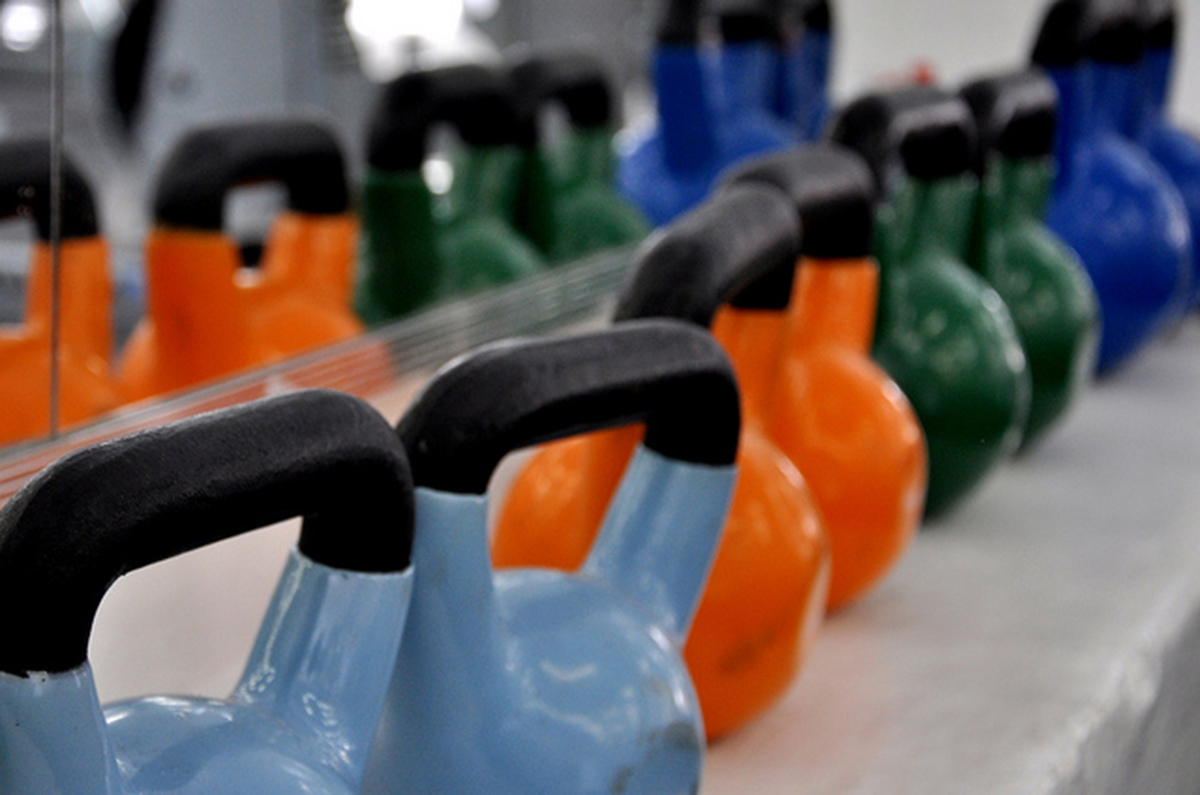 Swings hit hamstrings quite hard already, but in the upper body they tend to be more about the lats and waist musculature than about the shoulder yoke area. Yet this yoke area is often difficult to build any size on, and many people struggle to gain strength in this area too. Traditional trap exercises like shrugs work great if you have narrow shoulders and are shrugging very heavy, but the short range of motion and the limitation imposed by grip can mean you don't get much of the results you want. 
There's another problem here: by building the very upper portion of the trapezius superior and ignoring the rest of the upper back, many a gym rat has damaged his shoulder function, pulling his scapulae out of alignment — and making himself (it's almost always a he) look just plain weird. Wouldn't it make more sense to look for a movement that moves the whole upper back, goiving the rhomboids something to do, at least tickling the trapezius inferior, maybe waking up the scapular stabilizers and still building the whole trapezius superior evenly? (Well, since you put it that way...)
READ One-Armed Kettlebell Swings For Rotational Core Stability
Deadlifts are another common prescription for building traps and hamstrings both. But the raw strength demands of deadlifts and the CNS load they incur means they're ill-suited to this kind of work. What we need is a simple tool for developing traps, and helping drive hamstring development, all of which can then be taken back to the deadlift. 
Ideally we'd like that movement to be multiplanar, very simple and unlikely to cause injury so you can just throw it in at the end of a session, reap the benefits and go home. 
Complex sets of traps isolation exercises might not be what we're about here, then, and the movement we choose will score points for being easy on the CNS too. I'm deliberately ptching this one at lifters but sports people have no time to train, because they're playing their sport instead, and still need training effect. Simple and easy with minimal injruy risk means some of you guys might actually do it...
Continue reading after recommendations