In case of partial ACL tears, non-surgical treatment should be considered for every individual which s willing to accept lifestyle changes in order to allow injured ACL to heal.
The anterior cruciate ligament (ACL) is one of the most important structures to provide stability to the knee joint. In case of ACL tears, knee stability is reduced, which can create serious problems — especially for professional athletes or individuals who have high physical demands in their work or private life.
The recommended treatment method which will heal your ACL tear injury depends on several factors. The most important are:
The age of the patient
Activity level prior to the injury
The grade of ACL tear injury
Knee joint stability 
Conservative treatment might be the right option for individuals with partial ACL tears if they are not that active and do not engage in any dangerous or strenuous physical activity. The only requirement is that the knee joint is not unstable. In that case, the patient can try physical therapy options in addition to lifestyle changes. [1]  
Younger patients may have the same outcome in the early stages after conservative treatment as if they had surgery. They might consider surgery for ACL tear injury later on. [2]
No matter what treatment option a patient decides to choose, conservative or surgical, the risk of complications in the process of healing is still higher than in people who are not affected by the injury. [3]
Fitzgerald et al. (2000), classified patients with ACL tear injuries into three broad categories:
Copers
Adapters
Noncopers
Copers are the ones who are ready to cope with their injury. After the rehabilitation process, they are willing to continue with the same level of activity as before the injury. Adapters are the ones who adjust a number of their activities after the rehabilitation process to avoid surgery, and noncopers are the people who are the best candidates for surgery. [4]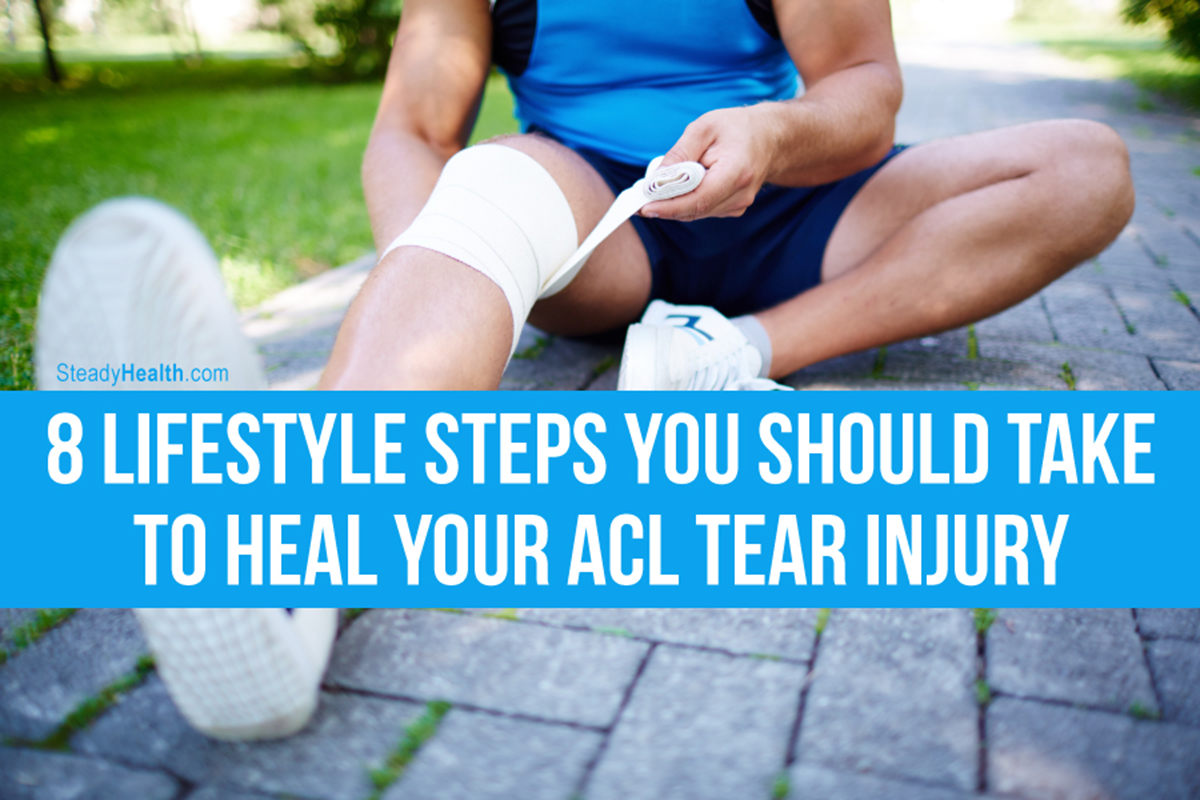 Physical Therapy After An ACL Tear Injury
After an ACL tear injury, you should be prepared to go through intensive rehabilitation exercises for ACL tear injury which include physical therapy. A well-conducted physical therapy regimen can significantly improve knee joint stability by increasing the strength of the quadriceps and hamstring muscles. [1]
Use Crutches
You will most likely need to use crutches for an extended period of time to avoid full weight bearing and great pressure on your knee joint so that your ACL has a chance to heal. You should learn how to use crutches so that you can be mobile. Use your hands to bear weight and learn how to maintain balance while you're using crutches. Ice packs applied several times a day can help a lot at the beginning of the recovery process. 
Educate Yourself
If you suffered an ACL tear injury, it is important to be well-informed regarding your injury and rehabilitation. You can find a lot of useful information online. Check which exercises are recommended to keep your knee stable after the injury. A primary source of your information should, however, be your doctor.  
Continue With Exercises
OK, so you avoided surgery, and you are healing well. You think that you won't have to exercise anymore after a few more weeks of physical therapy.
You are wrong.
Patients with an ACL tear injury should be in good shape and continue with exercises as their daily routine. This is the only way in which the knee joint will remain stable, and you will have a lower chance of an additional injury of intraarticular knee and other structures. 
Start Slowly
When you initiate physical activities after your ACL tear injury, make sure to start slowly. Do not go back to the same level of activity as before the injury. Start with light exercises and gradually increase intensity, either through growing movement, weight, or timing. Cycling or exercises in the pool might be the right choice as first exercises after an ACL tear injury.
Avoid Strenuous Activities
If you have suffered an ACL tear injury, you should be aware that you will not be able to go back to the same level of activity as before your injury. Any physical activity during the healing process is restricted to avoid further complications. After the ACL has healed, you should avoid any strenuous activity which might lead to repeated injury. Avoid playing contact sports or sports which include deceleration movements like football, basketball, and soccer. 
Brace
Some orthopedic surgeons might recommend a hinged brace to prevent movement of the knee joint during the first few weeks of the recovery process. After a few weeks, the brace should be removed, and you should start with exercises to restore the range of motion of your knee. 
Yoga
If you want to heal your ACL tear injury without surgery, then yoga is the right answer for you. Yoga is an excellent choice to increase the range of motion of the knee as well as to increase the strength of muscles around the knee. You should start slowly after your ACL injury and wait for the pain to subside before starting with asanas that put a strain on your legs (warrior pose, lotus, etc). [5]  
In conclusion, an ACL tear doesn't automatically mean you need for surgery. If you are not an athlete and your knee joint is stable after the injury and most of all, you are open for lifestyle changes, then you should consider conservative treatment to heal your ACL tear injury. It is important to educate yourself on the latest recommendations and follow your orthopedic surgeon's advice.  
Photo courtesy of SteadyHealth.com