Cheerleading is a predominantly female athletic activity that is now being considered a sport. Studies show that it involves strength, agility, grace, as well as safety risks. If treated as a sport, more safety regulations can be imposed on cheerleading.
Cheerleading has long been considered to be an exciting activity that helps raise school unity by leading crowds of students and supporters at athletic functions. It involves performing a lot of technical skills in tumbling, tossing, and many other stunts, which draw the crowd's attention to get them cheering for their teams. While pom-pom girls focus on dance choreography, cheerleaders do more gymnastics and dangerous acrobatics, which require a lot of skills.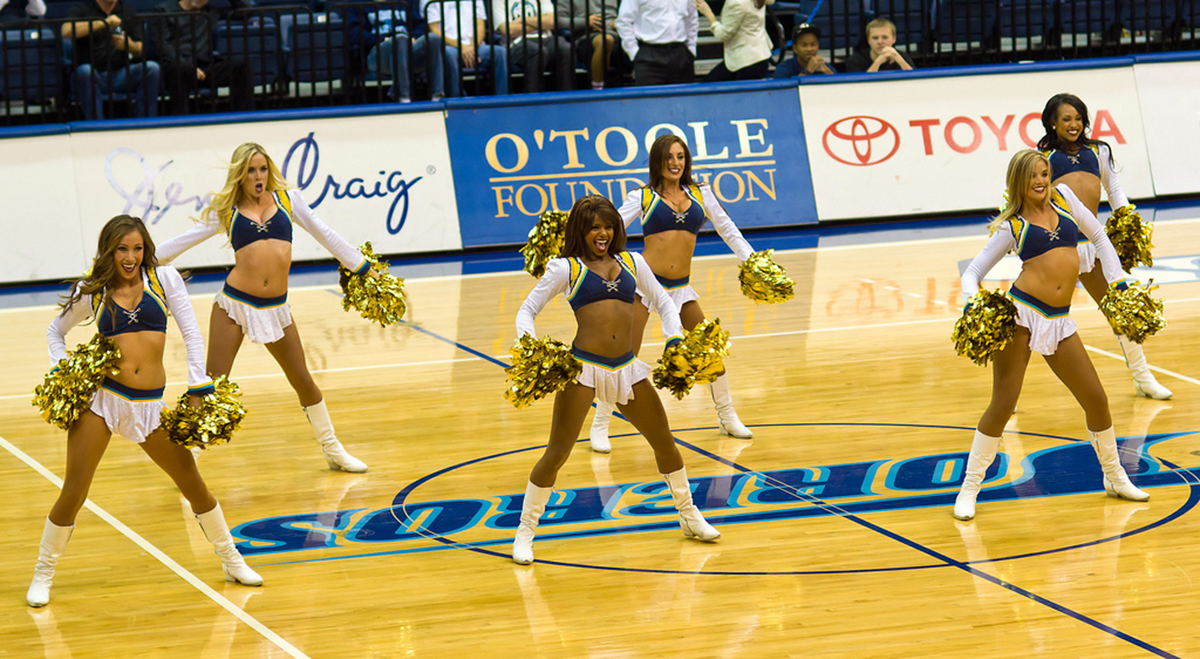 Cheerleading is Not Just an Athletic Activity
Lately, coaches, teachers, and health providers have been strongly advocating that cheerleading be considered as an official sport, and not just an athletic activity in school. Although some people think that cheering and dancing is an activity limited to students who are popular and talented, cheerleading has evolved over the last few decades to become a more athletic skill that requires strength, agility, grace and precision. It involves complex maneuvers, such as jumping, tumbling, pyramid formations and partner stunts that challenge normal body limits.
Large organizations such as the the American Association of Cheerleading Coaches and Administrators, the American Academy of Pediatrics, and the American Medical Association
now consider cheerleading as a sport.
This advocacy aims to recognize cheerleading as an official sport in order to afford cheerleaders more protection and safety. These organizations recommend giving participants access to athletic trainers and certified coaches, not just teachers or untrained school personnel, to work with them during practices and competitions. They also recommend providing cheerleaders with quality training facilities, medical care, mandated preseason physicals, and strength and conditioning programs. As a sport, therefore, cheerleading teams will have a share of the funding and finite resources of an institution's athletic department.
These recommendations are based on findings that cheerleading fulfills every condition that makes physical activities fall under the definition of a sport. The Women's Sports Foundation recently filed a position paper, which shows that cheerleading is a sport activity, according to criteria defining a sport. Aside from these, health and safety advocates also cite that cheerleading involves safety issues that need serious attention, considering that about 37,000 visits to the emergency room were recorded in 2011 due to injuries related to the activity.
Cheerleading, a Risky Sport
The Consumer Product Safety Commission has reported that in 2011, thousand of injuries occurred, involving cheerleaders ages six to 22. It has been observed that the number of injuries have increased over the last few decades, as cheerleading has become more popular. Recent data show that there are more than 3 million cheerleaders in the US, mostly girls, including about 400,000 high school students.
Most injuries (70%) reported in relation to cheerleading consist of sprains and strains, as well as bruises.
See Also: How To Warm Up Before Exercise And Avoid Injury: Do's And Don'ts
However, the National Collegiate Athletic Association's Catastrophic Injury Insurance Program found that about a quarter of claims from student-athletes resulted from injuries related to cheerleading. Although there are only about 12 cheerleaders for every one hundred football players, the number of injuries reported rank second to those related to football. Furthermore, the rate of serious injuries such as head and brain injuries, as well as spine injuries that result in temporary memory loss and permanent paralysis have been reported to be the highest among cheerleaders.
Continue reading after recommendations
MedpageToday. Cheerleaders Need Safety Rules, AAP Says. http://www.medpagetoday.com/MeetingCoverage/AAP/35478
MedpageToday. AMA Says Cheerleading Is a Sport. http://www.medpagetoday.com/SportsMedicine/EliteSports/46236?
AACA. Cheerleading As a Sport. http://www.aacca.org/content.aspx?item=Resources/Test.xml
NYTimes. As Cheerleaders Soar Higher, So Does the Danger. http://www.nytimes.com/2007/03/31/sports/31cheerleader.html?pagewanted=all&_r=1&
CSMonitor. Cheerleading not a sport, according to US judge. http://www.csmonitor.com/USA/Latest-News-Wires/2013/0306/Cheerleading-not-a-sport-according-to-US-judge
Photo courtesy of SD Dirk by Flickr : www.flickr.com/photos/dirkhansen/6677502811
Photo courtesy of Keith Allison by Flickr : www.flickr.com/photos/keithallison/3866212137
www.medpagetoday.com
www.aacca.org
www.nytimes.com
www.csmonitor.com