Being pregnant involves major changes in any woman's lifestyle, since pregnancy and childbirth change one's life signficantly. If you are pregnant and plan to have the baby, you must now care for and think for two people, both you and your child.
Therefore, being prepared for your baby and planning for your future will help make a big difference in your and your baby's life. The problem is in accidental teenage pregnancies. About 20% of the decline in teen pregnancy since the early 1990s is probably due to decreased sexual activity. However, it is still a huge problem and everyone should know more about it.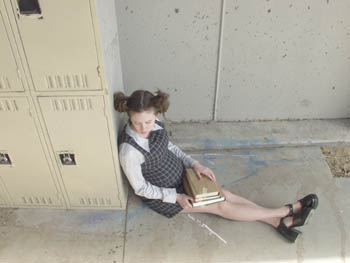 Feelings in pregnancy
You may be happy that you are pregnant or you may be scared that you are pregnant. You may find it hard to believe or feel you are too young, or you may feel like your life is out of control. You may need help with the money or housing, or anything you could do. That is why you should try to talk to someone you trust and who can help you.
Choices in pregnancy
You have a number of choices, since you may decide to terminate the pregnancy by having an abortion, or have the baby. If you decide to terminate the pregnancy, the earlier you do so the better; you can obtain counseling about pregnancy options from your doctor or agencies such as Planned Parenthood. If you decide to have the baby, you also have choices about what to do after the baby is born; you can keep the baby or you can place it for adoption. Consult with your family, doctor, a social worker, or a member of the clergy about your choices. However, the final decision about pregnancy is still yours.
Being a mother
Having a baby means getting used to a new way of life because your baby will need your care for much of the day and night. Caring for a baby can enrich your life but it also is a lot of work and a great responsibility. You should plan for the costs of raising a child because you and your baby will need a place to live and money for food and clothing. You may also have other specific needs, such as a car seat, a stroller, or child-care.
Prenatal care
Prenatal care is the health care you receive before your baby is born, which includes medical care and counseling. The earlier you get prenatal care, the better your chances are for a healthy pregnancy, a healthy birth, and a healthy baby off course. At your first prenatal visit, your doctor or nurse will ask you many questions and you will have a complete physical exam, which may include a pelvic exam. The doctor will set up a prenatal care plan for you, so as your pregnancy progresses, you will visit the doctor more often. As part of your prenatal care, it is a good idea to take childbirth classes where most areas offer classes led by trained staff.
Recommended changes in pregnancy
There may be some changes in your lifestyle you need to make now that you are pregnant. You should eat healthy foods and avoid things that could cause harm to your baby. These substances are alcohol, tobacco, marijuana and other drugs very popular among teenagers nowadays. You have to eat well, because eating the right food can increase the chances of you and your baby staying healthy. Because pregnancy requires extra nutrients your doctor may prescribe a prenatal vitamin for you, and you should make sure you are getting enough folic acid each day. If taken in the first three months of pregnancy, folic acid helps prevent certain birth defects of the spine and skull known as neural tube defects.
Probably you know that alcohol, tobacco, and drugs can harm your baby. Therefore, if you use any of these substances, now is a good time to quit. Pregnant teens are more at risk of certain health problems, such as high blood pressure or anemia (low iron in the blood). They also are more likely to go into labor too early, more commonly then older women.


Continue reading after recommendations