Have you reached your third trimester? Chances are that you are starting to feel a little but uncomfortable now, as well as a little bit impatient. You've probably made all your important baby-related purchases and prepared your baby's nursery.
While you count the days to "labor day", distract yourself by packing your hospital bag. It is important to have a hospital bag packed ready quite a while before your estimated due date. Only a small percentage of women delivers on their due date. Some will stay pregnant beyond that date, but many will go into labor before. While you will get through labor and birth just fine even if you rush to hospital without your personal things, having a bag packed will make your labor and immediate postpartum experience much less stressful and more personal. So, what do you need?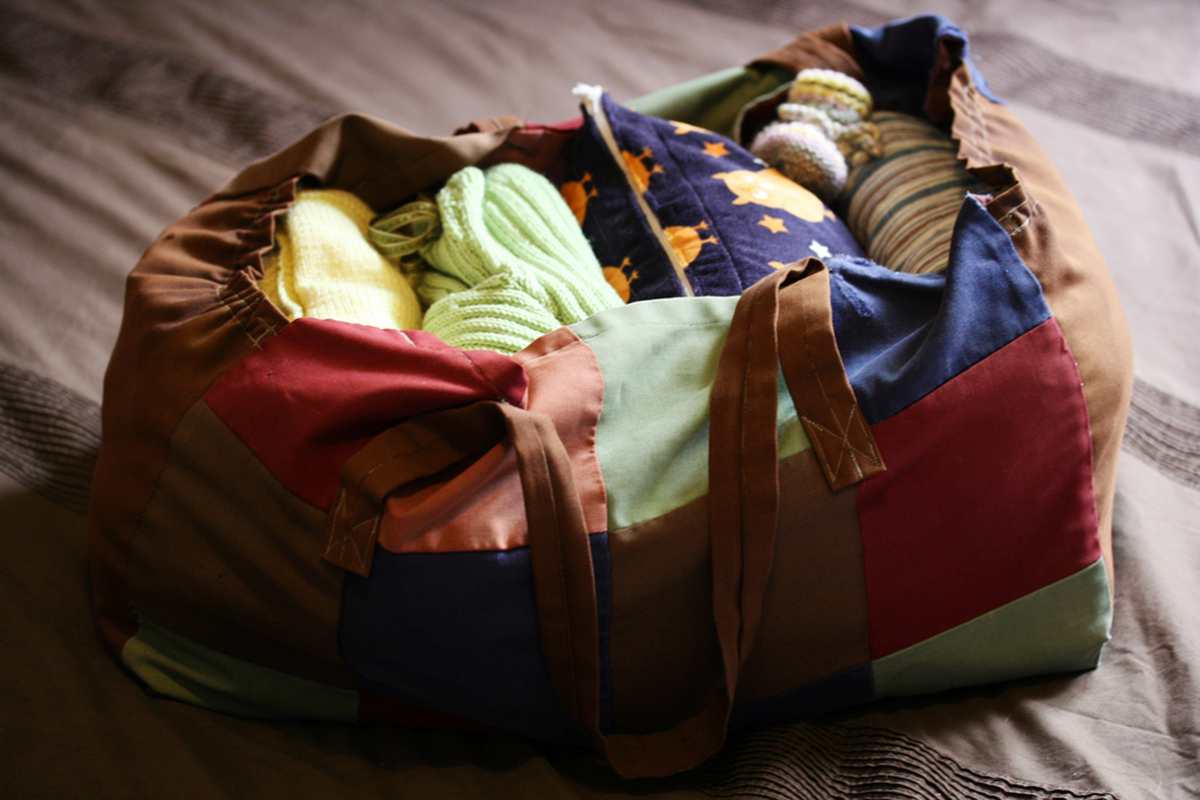 Medical stuff
First off, ask your OBGYN what medical documents you will need to bring to the hospital. Preregister at the hospital you intend to deliver at, but also carry these documents around with you in case you go into labor when you are not at home and need to go to another hospital. Don't forget about your insurance papers either! Some women like to prepare a birth plan. If you have made one, you'll obviously want to bring it with you. Still, it's best to show it to your doctor and discuss the finer details before you start having contractions.
Personal care items for you
You might like to bring a hospital gown of your own, as well as a comfortable night gown that allows easy access for breastfeeding. Don't forget about breast pads if you don't have any, your clothes will be soaked! You will also need a tooth brush and toothpaste, underwear including good nursing bras, and stuff like soap and deodorant.
Some of these things will be offered to you by your hospital, so you could check what they have in advance. What are you going to wear when you leave the hospital? Many newly postpartum mothers won't fit into their pre-pregnancy clothes but will find that their maternity clothes are too big for them. Bring pants or a skirt with an elastic waist so you are sure you will have something to wear, and a top that allows breastfeeding access. People will take pictures of you and your baby right after birth, while you are in hospital, and when you leave. If you don't like the idea of looking at pictures of yourself without make-up and with messy hair, you'll need to prepare accordingly.
Baby items
You will need enough baby outfits to last you while you're at the hospital, as well as an outfit to bring your baby home in. You could pack five bodysuits, or five pairs of pants and t-shirts along with socks. In addition, you will want a warm sweater or two more if you have a winter baby. Babies lose most of their body heat through their heads, so bring some hats too. Your hospital will most likely provide diapers for your baby, but you can bring your own if you prefer. You may also want a nice blanket for your baby. Most hospitals won't let you leave unless you have a car seat for your baby (and have it installed adequately), so purchase your car seat now if you haven't already done so.
READ My Pregnancy: The Third Trimester (3rd Trimester)
What else?
Your camera, of course! You want to capture your baby's first moments and perhaps some of your labor and delivery too. And you'll need something to keep you entertained during labor and after your baby is born. Good books, games to play with your partner, and your laptop or tablet are all good things to bring. One important note, though: don't overdo it. Pack sensibly, for a weekend trip and not for a month-long cruise. Your partner, or a friend or relative, can always bring you the stuff you forgot later on. If your labor and birth proceed smoothly, you won't stay in hospital longer than a few days.
Photo courtesy of penelope waits: https://www.flickr.com/photos/64148767@N00/6693570575/
Photo courtesy of penelope waits: https://www.flickr.com/photos/64148767@N00/6693570575/