Scars will form differently based on a number of factors such as where the injury took place, age of the person and health of the skin in general. To repair the damage done by an injury, the body has to produce new collagen fibers.
How Does Keloid Scarring Occur?
Scars are areas of skin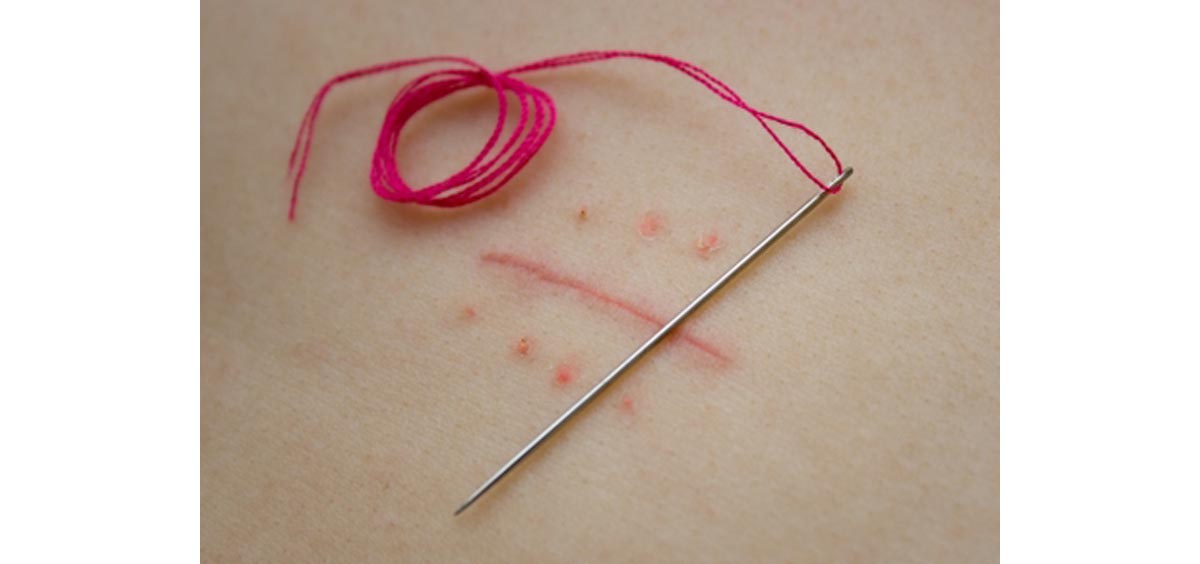 on the body of fibrous tissue that replace normal skin after an injury has occurred.  Scars can also be called cicatrices and result from the biological process of wound repair on the skin and tissues of the body.  Scarring occurs as a normal part of the healing process and with the exception of minor skin lesions, every type of wound will leave a certain amount of scarring when completely healed.
Skin scarring happens when the deep, thick layer of the skin called the dermis is damaged in some way.  The more extensive the damage, the worse the resulting scar will be.  Most scars on the skin are flat and leave a mark to signify where the original injury took place.  A scar is often accompanied by redness; however, that is not part of the scar and will fade over time.

The body is unable to rebuild the tissue as it used to be, the new resulting scar will have a different texture and appearance than normal skin.  An injury does not form a scar until after it has completely healed.
Causes and Treatment of Keloid Scars
Causes of Keloid Scars
Medical experts are not certain what cause keloid scars to form in some people and not others.  It is believed that changes in the cellular signals that control growth and proliferation (spread) may be related to keloid development.  Keloids can also be caused by skin or muscle tension, infection in the wound or repeated trauma to the same area.
How to Treat Keloid Scars
There are many methods which can be used to treat keloid scars, which include but are not limited to the following:

Cortisone injections:  very safe and are only minimally uncomfortable.  The injections are usually given once a month until the maximum benefit is achieved.  With cortisone injections, the area of keloid scarring will usually flatten, though the injections can lead the area to become red because of the formation of superficial blood vessels.  It should be noted that over time the treatment might help the scar to look better; however, the scar will appear and feel different than surrounding skin.
Surgery:  quite risky because cutting a keloid scar can trigger a similar or larger keloid scar.  Some physicians get better results by injecting the keloid scar with steroids or applying a pressure bandage to the area after surgery.  There have also been some cases where a surgeon will use radiation after surgical excision for better results.
Laser:  a pulsed dye laser can be helpful in flattening keloid scars and helping to fade the red color.  Laser treatment is safe and minimally uncomfortable, however, a person could require several treatments before the desired results are achieved. 
Silicone sheets:  the person will wear a silicone sheet over the keloid scar for several hours daily, for a period of weeks or months.  The treatment can be difficult to sustain and some doctors have experienced the same results using a compression dressing made from other materials besides silicone.
Interferon:  these are proteins are made by the body's immune system and help fend off infection, viruses and bacteria.  Injections of interferon can reduce the size of keloids, though it is uncertain if the results will be permanent or not.
Cryotherapy:  a procedure involves freezing keloid scars with liquid nitrogen, it can help to flatten the area but also cause it to permanently darken.
Fluorouracil:  a chemotherapy medication which can be used alone or in combination with other medications such as a steroid can be used for treating keloid scars.
Radiation:  some physicians have used radiation to shrink or reduce keloid scarring.
All-natural skin creams:  there are several topical skin applications on the market which promise to remove or reduce keloid scarring, however, before using a cream of this type a person should consult with a physician for the best results.
READ Acne Scars Treatment Options
Overview
The mechanism of action involved in keloid scar formation is still unknown; however, medical professionals and researchers alike are currently studying the topic to provide a better understanding.  With the wide variety of different treatments available for keloids, a person can use one or a combination of several methods to reduce or remove areas of keloid scarring from the body.  In order to find the right solution for keloids, a person should visit a plastic surgeon or dermatologist to find out which treatments would work best in their individual circumstances.