Are you looking for a solution for your occasional acne breakouts? Natural products provide effective cure for mild to moderate acne without causing any harm.
Your skin mirrors your general health. A healthy, glowing, and smooth skin is the symbol of overall good health. A dull or acne suffering skin reflects that there is something wrong with your hormones or lifestyle.
Eighty percent of people experience acne at some point of their lives [1]. 
Acne breakouts create a panic and sufferers usually tend to try every solution they know for adult acne treatment. In the process, they often unintentionally end up doing some things that are harmful for the skin and cause more damage. At the top of the list is applying harmful cosmetics like harsh scrubs that claim to cure your acne while they actually irritate your skin and aggravate your acne [2].
People tend to try acne medications as recommended by their friends and family, who have tried those for their skin problems. However, not every drug is appropriate for your skin and your type of acne. This is why these over-the-counter medications are not a good choice. [3]
If you have mild to moderate acne that doesn't require heavy medications, it is always a good idea to give natural solutions a go. If the natural remedies fail to cause any good, they don't cause any harm either, if used in a proper way.
Various natural products with anti-inflammatory, anti-bacterial, and oil controlling properties can help control acne.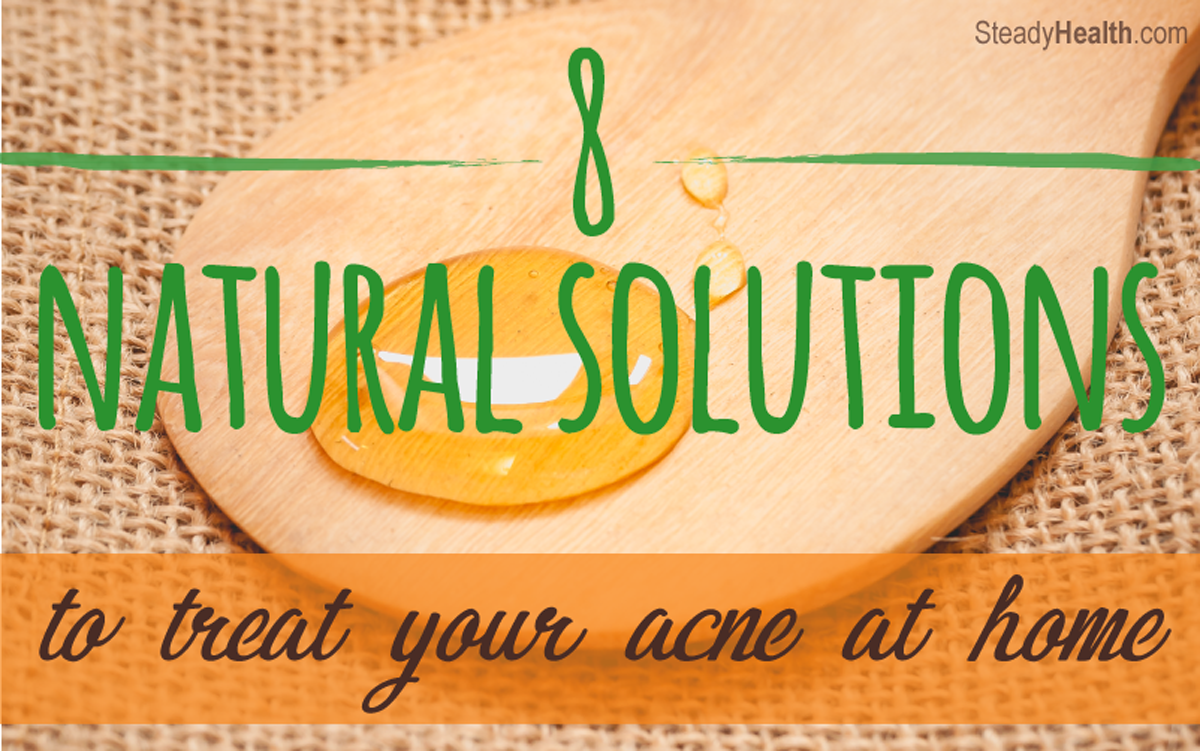 1. Water Is The Best Natural Thing
Water, no doubt, is life! Alongside its thousands of other benefits, it helps improve your acne too [4]. Drink eight to ten glass of water per day. Make sure that you keep your face clean and dirt free by washing your face with tap water two to three times a day. Skip on harsh, soap-based cleansers.
Don't over wash! It can cause dryness. The natural oils of your skin are important to protect your skin from external harms.
2. Green Tea Works Like A Charm
Replace your black tea or coffee with green tea. It will make a visible difference to not only your skin but your general health as well.
Green tea has magical results when applied on the skin. It decreases sebum production, which helps control acne [5]. You can use it as a toner or can simply splash some boiled and cooled tea on your face. You can also make a mask out of it by mixing it with honey.
3. Honey Is Good For The Skin
Honey has anti-oxidant, moisturizing, and conditioning properties. [6]
You can mix two teaspoons of honey in lukewarm water and have it as an early morning drink before breakfast. It will improve your skin and health.
Apply honey on your acne affected skin and wash it after 10 to 15 minutes. You can also mix honey with green tea or aloe vera gel to make a mask. It will do wonders!
4. Get Tea Tree Oil For Skin
Tea tree oil has
anti-inflammatory
and
anti-bacterial
properties. It can treat your mild to moderate acne quite well. [
7
]
Get some tea tree oil and make sure it is pure. Tea tree oil added in cosmetics is not a good idea. Use a cotton bud to apply the oil on your pimples and let it be there overnight. You will notice a difference in a few days.
5. Keep A Rose Water Spray With You
Rose water is widely used for cosmetic purposes. It has anti-oxidant, anti-bacterial, and anti-inflammatory properties [8], which can help improve adult acne.
Replace your toner with rose water. Keep a rose water spray in your handbag and spray a little when your skin needs it. It will give refreshing and cooling effect in that scorching heat outside. You can also add rose water in honey and green tea masks.
6. Rosemary Oil Also Helps
Rosemary oil can be used like tea tree oil to treat acne. It has anti-bacterial and anti-inflammatory action. [9]
Though the results are not as promising as for tea tree oil, rosemary oil can also help if used regularly.
 7. Grow An Aloe Vera Plant At Home
Aloe vera is an effective solution for various skin problems. It has anti-septic, anti-inflammatory, moisturizing, and healing properties. Along with treating acne, it helps soothe irritated and burned skin too. [10]
Grow a plant at your home and scoop fresh aloe vera gel out of it. Apply as a mask on your skin and leave it for good 15 to 20 minutes. Wash your face and notice the difference!
8. A Little Lemon Is Always Good
Lemon contains a large amount of vitamin C which is an anti-oxidant, anti-inflammatory, and depigmenting agent [11]. These properties are obviously worthy when treating acne.
You can make a toner by mixing lemon in water and apply it with a cotton ball. You can also add a few drops of lemon in face masks. It will help fade pigmentation too.
While using lemon, make sure that you don't add it in large quantity as it can irritate your skin. Be careful while using lemon juice.
It is always good to give these harmless yet effective natural remedies a go for your mild to moderate acne. If these don't work or your acne worsens, contact a dermatologist. Please make sure that your skin is not allergic to any of above mentioned things.
Always remember, consistency is the key when using natural solutions!
Photo courtesy of SteadyHealth.com