Many things can be a cause of bad fecal odors. Some are more problematic than others but can give insight into your current health status. If symptoms are too problematic, the best bet is to go to a gastrologist and not try to do something yourself.
When it comes to stools, smells left in the bathroom can be quite embarrassing for people after using the toilet. Some people may write off their odor saying it was something that they always had and use air fresheners in order to mask the smell. That may suffice for a portion of the population but when traveling to different venues, the situation may worsen. Here, I will cover 4 of the most probable causes of fecal odor and what steps you can take in order to try to minimize the risk of bad fecal odors.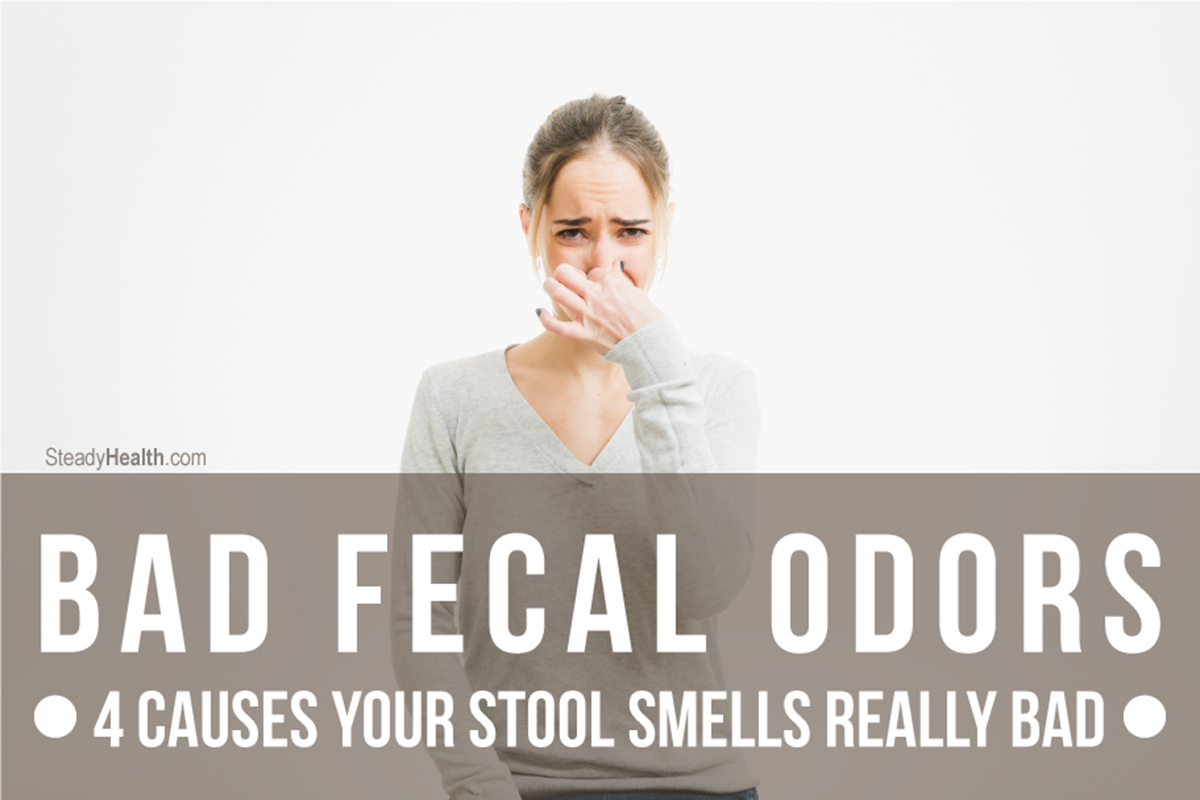 Dietary Changes 
An old adage commonly uttered is "you are what you eat." This saying holds true on numerous levels. People generally focused on healthy eating with being more fit than someone who is prone to eating fast-food burgers on a daily basis. What is more, our body actually can adjust to the types of foods that we customarily eat to help process the foods more effectively. [1]
Any type of dietary change is a potential start to changes in your fecal scent. Whether it is from a long international flight, a sudden change in diet or taking new types of supplements, concentrations of bacteria in your gut can change. A change in dietary habits is something sure to lead to bad fecal odors. 
You may think that it may be as simple as eating the same foods every day to keep our bodies in a harmonious balance but that can be quite difficult in reality. A sudden visit from friends or unexpected business trip can have you change your diet in a flash. What you can do to counteract these unavoidable circumstances would be trying to eat yogurts rich in probiotics. These are not expensive in most cases and the person will be able to stabilize their intestinal bacteria during any type of stressful situation. [2]
Malabsorption Syndromes 
In modern society, whether due to common knowledge or better medical diagnostics, it seems that there has never been a higher prevalence of malabsorption syndromes like Celiac disease, gluten insensitivity or lactose intolerance. Various societies debate whether dietary influences can cause higher rates of these malabsorption syndromes but in medicine, there is a belief that withholding foods like peanuts or milk at a young age can lead to more issues with food later on in life. [3]
Studies indicate that there is an increasing prevalence of these malabsorption syndromes, which will be more worrisome than simple foul-smelling stools after a greasy meal. Patients will present with frequent bowel movements,  pronounced watery diarrhea and weight loss in some cases. 
Family history can provide a key link for doctors to suspect these diseases but what you can do to help facilitate the diagnosis is to keep a careful food diary of foods that you can and cannot eat to help determine if there is a clear pattern of foods that can worsen your symptoms. Consult with a gastrologist to begin testing to go to the bottom of what could be wrong. [4]
Medication Side Effects
If a malabsorption syndrome has been ruled out, another road that a doctor will need to explore to get to the bottom of foul-smelling stools would be from medications that you may have recently taken. A common vignette that a doctor will typically hear would be something like a patient presenting to the clinic with a recent history of an upper respiratory infection. Doctors need to ask patients about any recent sicknesses because it is quite probable that a patient completely forgets about an infection that happened even three months earlier because this could still influence the consistency of the stools. [5]
Not only will these medications alter the concentration of bacteria lining the intestines, but they also give bad bacteria an opportunity to overgrow the intestines. Clostridium difficile, a common infection after antibiotic usage, is one of these types of infections. Clostridium difficile is a bacteria that is normally found in the intestine but is in low concentrations because other bacteria can take nutrients and resources necessary for the bacteria to grow. Because it is more resilient against antibiotics, it will likely survive while and over-populate the intestines. You will have bad fecal odors and frequent bowel movements with this condition without a doubt. [6]
Specific Foods 
Certain foods can also cause bad fecal odors and represent some of the most common reasons for why you may have foul gas. This could be an exotic dish that you tried once or something not typical of your entire dietary history. Legumes, cabbage and artificial sweeteners are all common ingredients that are linked with flatulence as well as bad fecal odors. [7]
This is the most benign of the categories I have listed and your body will return to normal once the food has been digested and processed. 
Photo courtesy of SteadyHealth.com