Everyone has a "bad hair" day, but for a person, who experiences chronic hair loss, slow growth or the hair appears unhealthy, the cause can be a lack of proper vitamins and minerals in the daily diet.
How is the appearance of your hair these days?
Is it shiny, full, lustrous and soft?  Or perhaps it is dull, brittle, sparse and dry?  Hair problems can be the body's signal of saying something is missing and if you see clumps of hair falling out in the shower, it can be the result of certain vitamins missing from the daily diet.

Everyone has a "bad hair" day, but for a person, who experiences chronic hair loss, slow growth or the hair appears unhealthy, the cause can be a lack of proper vitamins and minerals in the daily diet.  It is important to note that what your hair looks like is due in large part to what you eat and put into your body.  Having a healthy head of hair begins with paying attention to basic nutrition.  Eating the proper foods and taking the right vitamins can go a long way in improving hair health.

Major factors that contribute to overall hair health can be related to genetics and health.  The best way to stay healthy is to eat right and make sure to receive proper nutrition.  Eating a diet filled with fruits, vegetables, protein and fat is very important to hair health.  Any type of dietary deficiency is first going to show up in the hair, when the body is stressed out it can affect the look and health of hair.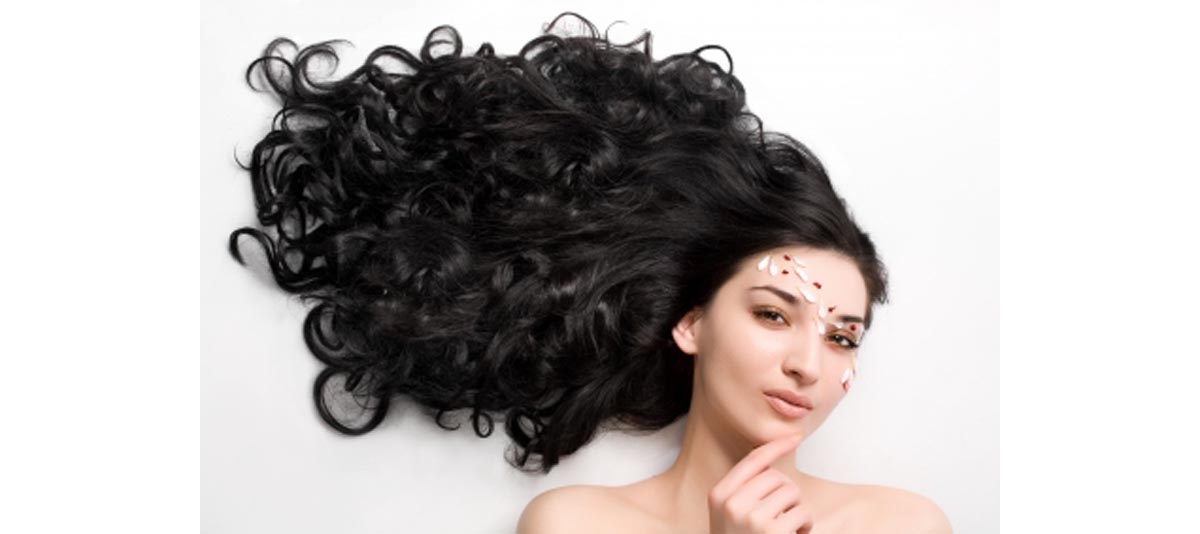 Vitamins that can Help Hair Grow Faster and Healthier
There are certain vitamins a person should incorporate into the daily diet to ensure hair grows as healthy as possible.  By having the right balance of dietary nutrition a person will have a shiny, lustrous head of hair.  There are other vitamins one can include in the diet to increase the rate at which hair grows as well.  The following list contains vitamins that are essential to overall hair health and growth:
Beta carotene:  converts to vitamin A, which helps in the maintenance of normal bone growth and development.
Zinc:  stimulates hair growth by enhance immune system function.
Magnesium
Sulfur
Silica
Vitamin B complex:  important for the health and growth of hair.  Foods rich in the vitamin include peas, carrots, cauliflower, nutritional yeast, bran, nuts, eggs and beans.
Folic acid
Biotin:  extremely important for hair health.  Necessary for healthy skin and hair and can help   prevent hair loss.  Good sources of biotin include green peas, lentils, brown rice, brewer's yeast, walnuts, sunflower seeds, oats, soybeans, bulgur and beans.
Inositol
Vitamin C with bioflavonoid:  important to circulation of the scalp and maintenance of capillaries that carry blood to the hair follicles.  Foods that contain vitamin C are oranges, tomatoes, peppers, strawberries, broccoli, Brussels sprouts, collard greens, grapefruit, cantaloupe, cabbage and several others.
Vitamin E:  helps increase oxygen intake and improves scalp circulation.  Also improves hair health and increases growth by enhancing immune system function.
Flaxseed Oil
L-Cysteine and L-methionine:  amino acids which improve the texture, health and growth of hair, helps prevent hair from falling out.
Tips for Healthy and Faster Hair Growth
Because the appearance of hair is so vital to how a person is perceived and feels, keeping it in healthy condition is very important.  However, optimum hair health is not as simple as avoiding chemical treatments and conditioning; it goes much deeper than this.  To help your hair look it's very best, the following tips are recommended by hair experts:
Avoid using plastic bristle brushes, which can tear and break the ends of hair.  Use either a round of flat brush for dry hair or a rubber, wide toothed comb for damp hair.
Brush hair before shampooing to remove product buildup and flakes on the scalp.
If hair appears dry or dull, the problem could also be with the tap water.  Hard water can wreak havoc on hair and leave it hard to manage and lackluster.  To get rid of hard water buildup in hair, use a weekly clarifying shampoo or crush up an Aspirin and add it to shampoo and cleanse as usual.
Trim hair regularly to remove the dead ends.
Mist ends of hair prior to coloring.  Ends of hair are more brittle and porous and as a result, absorb more of the color pigment.
Handle wet hair with extra care, because of stretching and snapping wet hair can break more easily.  Use a wide-toothed plastic comb while hair is wet and once dried switch to a natural bristle brush to finish styling.
Use ionic hair tools for styling.  Ions are atoms with either a negative or positive charge and will break up water molecules in the hair faster than a traditional heated styling tool.
Deep condition hair biweekly.  Use a treatment formulated for your hair type to provide extra nourishment and moisture.
Blow-dry hair on the lowest setting and use the nozzle which will stop the heat from being concentrated on one spot of the head.  If hair gets too hot, it can become damaged and break.
Use the right accessories on your particular hair type.  Use soft elastic bands and a minimum of styling products which can result in hair being damaged and breaking off.
Overview
Medical research has uncovered the secrets to a healthy head of hair lie directly in diet and nutrition.   With proper diet and receiving adequate nutrition, a person can expect to have a beautiful, full, thick, shiny head of hair.  Take care of yourself and eat right and you will enjoy good overall hair health.