Homeschooling your own children is as much of a profession as anything else it is serious, takes up a lot of time, and requires commitment... as anyone educating their children knows.
And working a job (and in the case of homeschooling moms, very often two!) with a newborn is hard. How do you get through it, without neglecting anyone's needs?  Before sharing my thoughts, I'll disclose that I am currently homeschooling a first grader, and have a preschooler at home as well.
As someone who has only homeschooled one child through Kindergarten and half of the first grade, I have no personal experience with homeschooling while caring for a newborn. I have, however, worked a job outside of the home with a newborn in-arms (in-baby carrier would describe it more accurately!), and was working at home with a newborn and toddler. Having said that, here we go!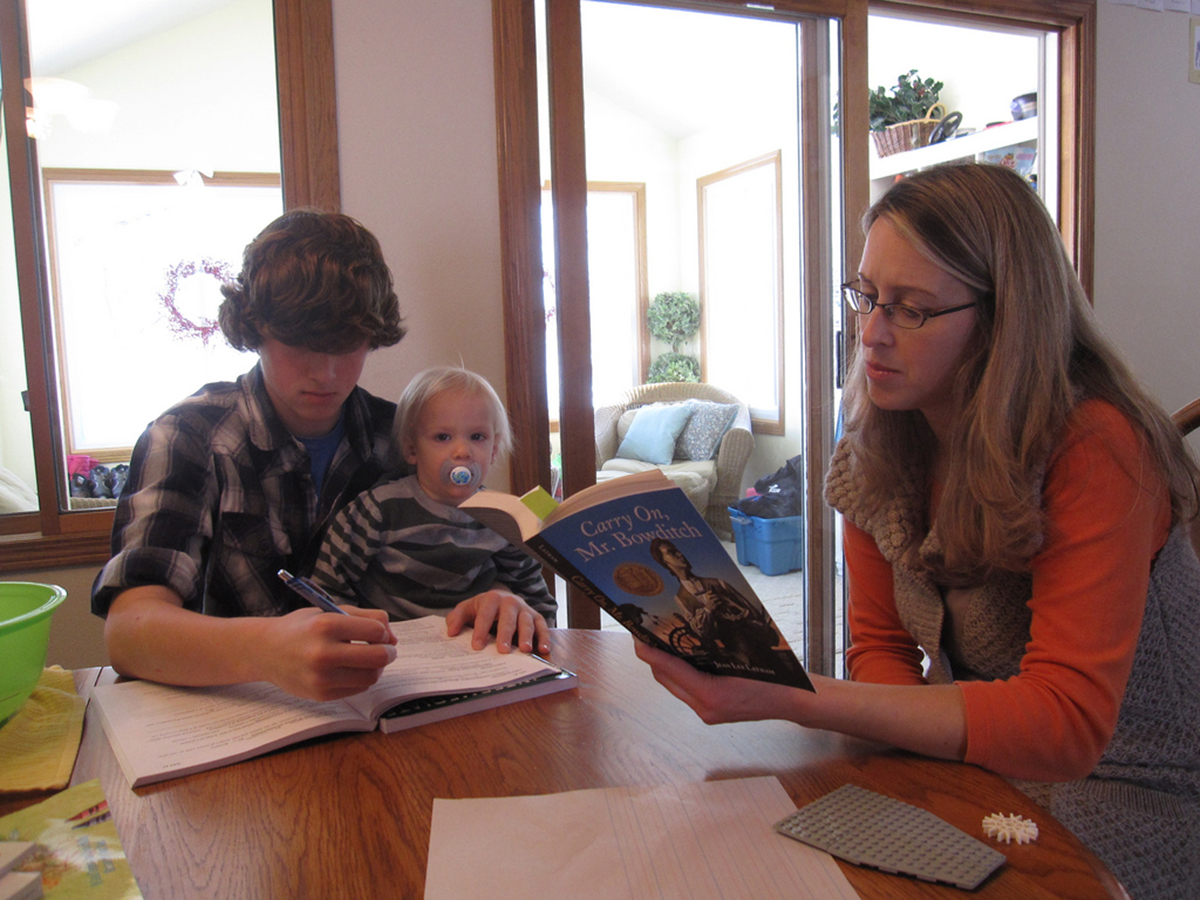 The first few weeks
Of course, homeschooling parents and homeschooled children deserve a break just like everyone else learning or working does. And, the birth of a new baby is probably a great time to take it! Parents and older siblings will probably both be tired with a baby that wakes up during the night, and mom needs time to physically recover from childbirth. Having said that, I personally found that those weeks during which a newborn sleeps basically all day long have the potential for productivity that can be lost later on, when the baby is awake more. If you have young children, you can snuggle up in bed together during the postpartum recovery period and read to them, or have them read to you. Older children can engage in intellectual conversations with you while you nurse, or show you work they have done independently. There are lots of semi-educational things that can be done with minor or no supervision, and those activities can also just fall into the "entertainment during a small holiday" category.
After you've recovered
Once you've caught your breath and feel physically OK again, you have a number of options. Are you curious to hear what other moms in the same situation have to say about it? Here are a few experiences:
"I actually found having a newborn to not be a big problem. It wasn't until around 8 months to a year when they start getting mobile that the big challenge takes place. We did lots of school work outside, reading, weekend work when dad can help, and getting older children to lend a hand were how we handled it." Homeschooling mom of four.
"We did school as usual right up to the week before baby was born, Christmas eve, and then took a month off completely. After the new year, my son played online math games and watched science videos. After the month off, we started with math and reading and slowly eased our way back." Homeschooling mom of three.
We just go with the flow and work around what is happening. If she is feeding, I can read on the couch with someone. If she needs cuddling I can still read with someone, or sit at the computer while someone does computer math. When baby is asleep or settled then I can do more hands-on things with those who need it. If she is screaming then I may have to cancel the current activity until all is quiet again. We are adjusting to our 'new normal'." Homeschooling mom of eight.
READ Homeschooling: Answers To Questions You Didn't Dare To Ask
These quotes are from the Well Trained Mind homeschooling forum, where I participate. As you can see, everyone else takes their own unique approach. Going with the flow, I think, is great advice as long as the kid isn't missing out on a year of school, is suffering academically, or is bored stiff. Asking people for help in other (non-essential) areas of life, like housekeeping and cooking is another really helpful thing, and (temporarily) switching to less teacher-intensive materials is good too. And, don't neglect your own needs! If you are really stress, something has to change.