Are older siblings always jealous of their new baby siblings — and what can parents do to help ease the transition? Anna, a mother of seven, shares her ample experience with SteadyHealth.
"It's completely normal for older children to be a bit jealous — to reexamine their place in the family — when a new baby is born," says Anna. She'd know; as a mother of seven, she's a true parenting veteran. Not everyone gets as many chances as she did to get helping an older child adjust to a new baby sibling right, but we can learn from her mistakes. 
Anna continues: "The youngest in our family is two years old now. He was born into an atmosphere of love; everyone, from the oldest siblings to the smallest, adored him and fussed over him. Imagine my surprise when his biggest brother, a 20-year-old man, said... OK mom, I admit it... I am jealous. It was really funny, but it just goes to show that even a big bro can be jealous!"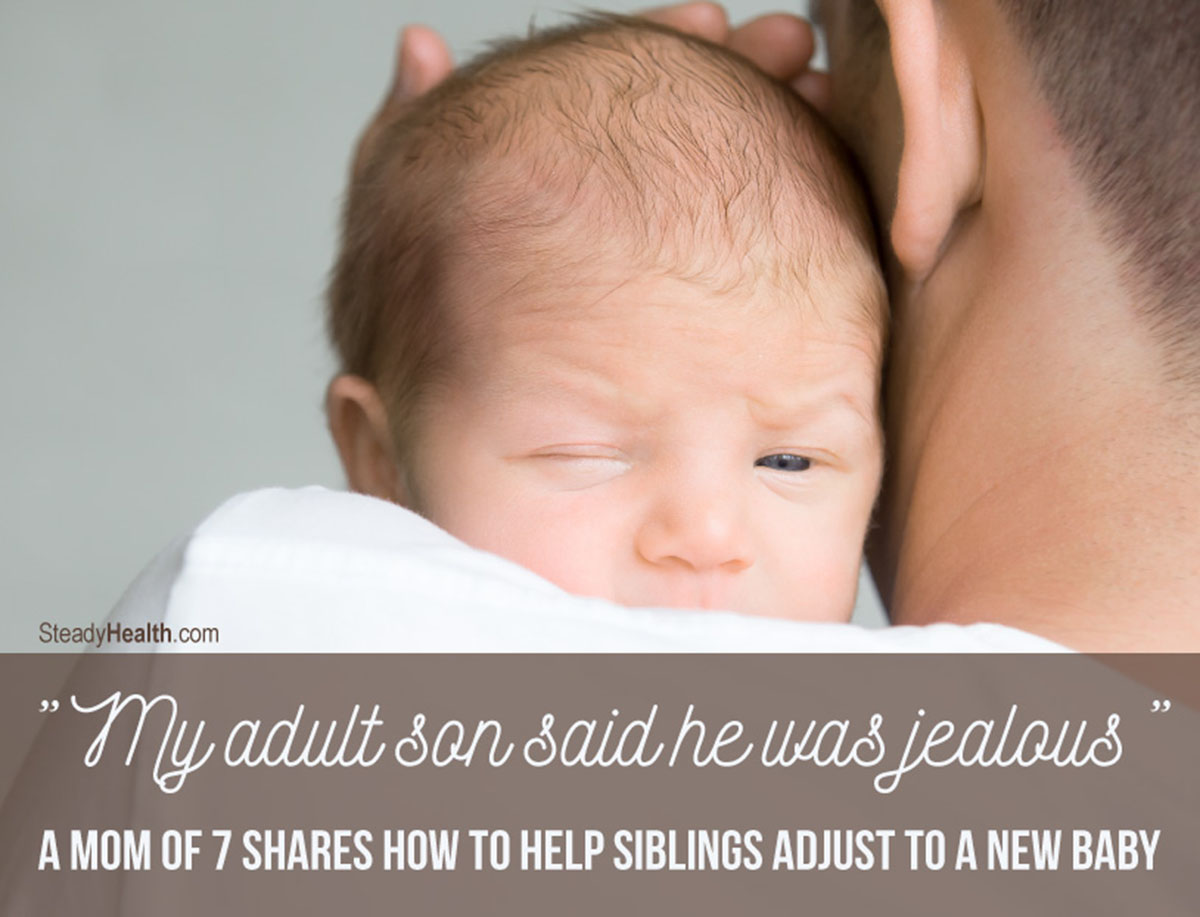 There's no doubt, Anna says, that she had the most challenging experience with sibling jealousy when her second child was born — she was, after all, new to parenting two. As an only child, Anna's oldest had been a bit spoiled, she admits. "I was there for him 24/7, and always thought about ways to make him happy. Yes, I over-babied him a bit, and when his younger brother arrived, he couldn't take it. Because he was actually very helpful with the new baby, it took me a while to realize what was going on. His refusal to play with his dad and hoping that my friends, who came over to help with the newborn, went home again caused a light bulb moment. It turned out that he'd become so used to having all my attention that he felt a profound sense of loss."
By the time number three was born, she'd learned from the experience and the transition was a lot smoother. What made all the difference? Anna explains:
Don't make the baby the center of attention! Though there's no doubt that babies are a lot of work, their needs are also quite straightforward. If they're well-rested, fed, clean, and get their snuggles, they're happy. Newborns leave you with plenty of time and opportunity to ask your older children about their day, to craft with them, and to go on walks with them. 
Emphasize your older kids' roles as big brothers or sisters. Most children will feel special if you tell them that their baby sibling will always look up to them and learn a lot from them, and they'll be more than happy to help with everyday baby care tasks like bringing diapers and even — if they're old enough — rocking the baby. Not only will your older child(ren) feel useful, this is also an important step in forming a bond that will last a lifetime. 
Give your older child a break as well, though, and try to make sure they have something "just for them" in their life. This may be trips to the playground with grandma, grocery shopping with you, or crafting time when the baby is asleep. 
Don't just tell your older child you love them, but also what you love about them. 
When Anna took these steps, she says, "no one was jealous". Instead, "they were happy to help and they felt loved because they were helping me". She had another challenging time, however, when number four arrived on the scene. Anna's third child was her first girl, and she found herself reverting to the patterns she had slipped into with her firstborn. When the fourth, another boy, was born, Anna's daughter, then 18 months old, was quite jealous and regressed to more baby-like behaviors. "I decided to indulge her, and carry her just like I would have done a newborn. The age difference between them was so small that she felt she needed longer to be a baby, and making her feel loved and protected in this way helped. Soon, she became very protective of her little bro — and 16 years on, she still is." 
After that, Anna learned to make any big changes before a new baby was born. She says: "Making big changes when you have a newborn around means that your older children will think you are 'relegating them to second place'. Try to give your child periods of time for independent play, without you, so they become more emotionally independent."
Feelings of jealousy and loss in older children might be inevitable, Anna shares, and it's important not to feel pressured to solve all the issues you encounter overnight.
"Time goes by quickly, but nobody can solve all their problems at once. Give your child space to feel the way they do, but make sure they know that feelings and actions aren't the same thing. Feeling angry is OK, hitting their baby sibling isn't. In time, and with attention, the child will come to accept and love their baby bro or sis — even though they'll argue of course!"
Photo courtesy of SteadyHealth.com