What is easier going from zero kids to one, or from one to two? Many moms say that adding another baby was easier, since they already knew the ins and outs of caring for a tiny newborn and didn't experience that new-mom angst the second time around.
Parents who celebrate their second baby's birth when the first is still a toddler can have a slightly challenging time, however. Looking after a newborn may be a walk in the park, but how do you keep your house clean, your toddler happy, and stay sane?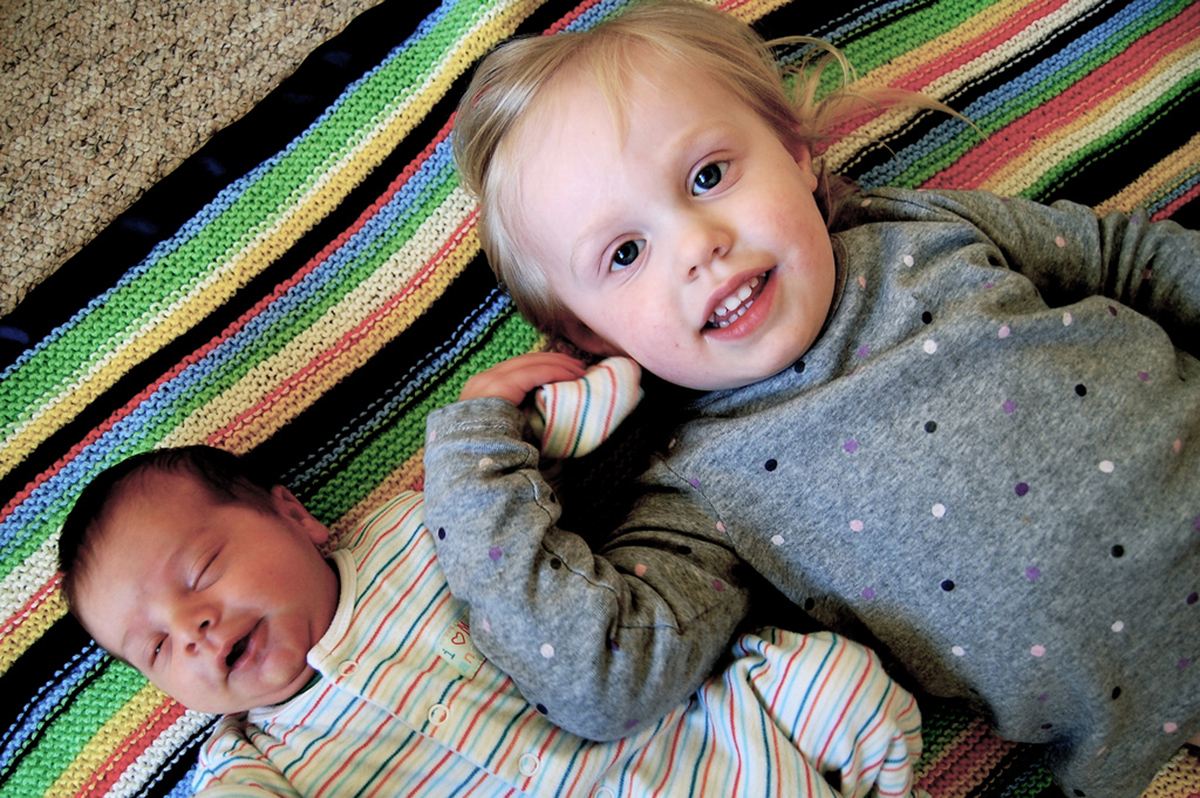 My firstborn was two years old when her brother came along. I had it easy compared to a friend, who had two kids within 12 months and was therefore also pregnant during most of her son's infancy. Looking after a baby or toddler when you are suffering from pregnancy signs and symptoms like morning sickness and terrible fatigue is quite a struggle by itself, but a whole new chapter opens once you have two kids. You may well wonder how you can possibly organize your family in a way that works (kind of) for everyone .
Keeping the household running with two tiny ones
Healthy family meals and a semi-clean home keep everything else running, so we'll start here. Often, the full weight of these tasks lands in mom's lap while she is on maternity leave, and her partner isn't. Your toddler may well be getting into everything and making a tremendous mess while you feed your baby, change diapers, or give the newborn a bath. Now is the time to make very sure that everything is baby-proofed, even if you were sure that you could keep a watchful eye all the time before the little one arrived.
I suggest limiting the toddler mess to a certain space in order to make everything easier for you. I found it really helpful to keep all the toys, crayons and other stuff in my toddler's designated play space. I had a comfy couch in there, so I could nurse the baby while keeping an eye on the toddler, or read books to her the play space served to contain the mess, not to lock the toddler away from the rest of the house :).
I knew there would be Legos all over the floor in that space, but also that I wouldn't trip over little toys in any other part of the house. When visitors came, I could either close the door and hide the evidence, or if someone was really helpful I could ask them to help the toddler tidy her toys away. Once all the toddler paraphernalia had a clear place within the home, it was quite easy to keep the rest of the house tidy. I'll be honest and say that I used the toddler's nap time to nap myself if the baby was also asleep in the first months, and I'd encourage you to do the same if you were up all night and are exhausted. That does mean the toddler will be awake while you clean and tidy, but the good news is that most toddlers are perfectly happy to help you with your chores. Toddlers can:
Give you a new diaper.
"Do the dusting" while you hoover or mop the floor.
Splash in the bath while you clean the bathroom, if your baby is napping.
Help you collect dirty laundry and get it to the pail, or fold clean laundry (not perfectly, but perfection has to go out the window, right?).
"Cook" it's perfectly safe for little ones to cut cucumbers and tomatoes with those little plastic toddler knives, or to kneed bread. You can also keep your toddler in the kitchen playing with playdoh while you cook.
Shopping with two kids
When it comes to cooking, it's good to prepare healthy meals that don't take a lot of time. Meal planning will help you with this. The question is, how do you get the shopping done? You could ask your other half to do the shopping by himself, or you could all go together. But there will be times at which you'll need to go shopping with two tiny tots by yourself or if you're a single mother, probably all the time. Some tips to keep everyone safe:
Use a baby carrier. You'll have one hand free for your toddler, and the other to hold shopping bags.
Teach your toddler to hold onto the stroller with one hand at all times. Make sure you have a heavy-duty stroller that you can hang all your shopping bags onto without it falling over.
Give your toddler little tasks such as handing you bananas.
If your toddler is currently in the process of potty training, consider using diapers when you are out and about. Accidents are highly awkward when you have all that stuff to juggle.
Don't take too much stuff with you. Definitely go for the baby carrier if there is any chance you would otherwise have to carry the whole stroller/baby combination up stairs.
Don't physically do big grocery shops any more. Order online and have it delivered to your door.
Keeping your toddler happy
How are you going to keep your toddler happy while caring for a newborn too? Part of the answer is above. Actively engage your toddler in chores and other activities to prevent her from feeling left out. Also consider carrying your newborn in a good carrier at home for a nice portion of the time. If you are breastfeeding, this will enable you to both nurse the baby and allow her to sleep without much hassle on your part. It gets rid of the need to turn nursing into a whole ritual, or to "put your baby to sleep". Then, you'll have your time and hands free to do stuff with your older child.
READ Potty Training Tips for Toddlers: Advice to Toilet Teaching Your Child
You can read books, play with toys, or watch movies together. You may also be hoping to achieve weight loss after pregnancy. With a baby carrier, you can go for walks together. If you manage to have your baby sleep in a crib or bassinet, you and your toddler can "work out" together at home. Following along with exercise videos is one option, but you bet that dancing around the house with a toddler also burns lots of calories.