Vaginal discharge is a common occurrence in the female population but when the discharge starts to have a foul-smelling odor, it can become quite embarrassing for a woman. Make sure you do not delay your visit to the gynecologist.
Any form of vaginal discharge can be alarming for patients but when that vaginal discharge has a foul-smelling odor that accompanies it, women can have an added element of stress and embarrassment. Vaginal discharge has a fecal odor at times and it could come from a number of potential causes. In this investigation, we will explore some of the reasons that your vaginal fluid and vagina can smell like poop.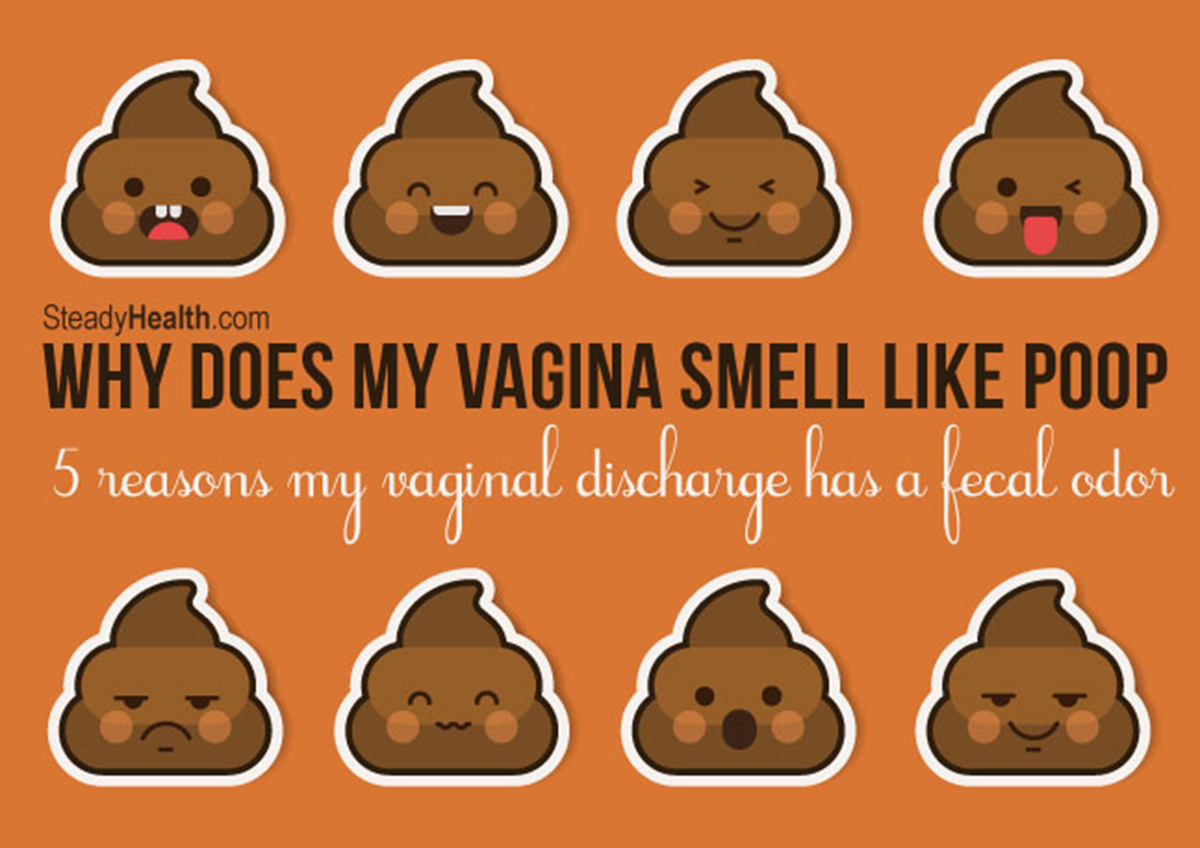 Gonorrhea Infection 
One of the first assumptions that a physician will make when he hears that patients have some type of foul-smelling vaginal discharge is that there is some type of vaginal infection causing the odor. Some of the most common causes to worry about are sexually transmitted diseases like Chlamydia and gonorrhea infections [1].
Even if Chlamydia is a more common infection, gonorrhea is more likely in this case because of its characteristic discharge. Gonorrhea discharge will often present as dark brown and extremely foul-smelling in nature [
2
].
The most recent prevalence data showed that the global rates for gonorrhea have dropped substantially in the last few decades because of better "safe sex" practices like condom use yet rates are still above 1 percent of the global population annually [3]. If you are a woman of reproductive age, the biggest risk to contract this disease would be risky sexual intercourse so make sure you are taking necessary precautions. Not only will you suffer from the embarrassing symptoms like your vagina smelling like poop but you also risk long-term consequences: 
Gonorrhea infections are linked to a condition called Pelvic Inflammatory Disease (PID). This is a condition where scar tissue forms in your uterus after you suffer from an STD like gonorrhea making it very difficult for you to get pregnant in the future. Even if you may be embarrassed when your vaginal discharge has a fecal odor, don't delay going to a gynecologist because the longer you put of treatment, the more likely you will suffer from PID. [4]
Retained Blood Components 
If you do not have a history of risky sexual practices, that does not guarantee that you will be free from foul-smelling vaginal discharge. Another possible vector of this condition could be from retained blood along the vaginal wall after a menstrual cycle. Blood can coagulate faster in some people than others so it is possible that you may have dried blood on the lining of your vaginal wall that can begin to smell after a few days. Bacteria lining your vaginal wall thrive in this nutrient-rich food source and the more bacteria that migrate to this area, the more potent their smell can be.
Although
vaginal douching
is a practice used by a large portion of the population to remove this retained blood, studies show that there are increased risk levels for these patients to contract opportunistic
bacterial infections
[
5
]. Other studies show that douching products are not even effective at cleaning. [
6
]
Blood products should naturally slough off of the walls over a few days so health industry advocates that the best intervention would be no intervention at all and let the body take care of itself naturally. You can do your part by making sure tampons that you use during your menstrual cycle are fully removed and no fragments of the product remain in your vaginal canal when you change them. 
Vaginal Cysts 
Another risk that women need to be aware of when they have problems with a foul-smelling vagina is the possibility of having some type of vaginal cyst. Women in their 30s and 40s represent the most likely group that could develop these cysts even if prevalence studies show that they are only seen in 5 percent of the population [7]. Most of the time, these lesions will be benign but that does not mean they will be without foul-smelling discharge [8]. If the cyst presents deep within your vaginal canal, it is unlikely that you will be able to visualize it yourself so you will need to go to your gynecologist for a speculum examination [8]. 
Cervical Dysplasia 
As we continue our exploration, another cause of foul-smelling vaginal discharge could couple some of the previous risk factors together with one disease. Cervical dysplasia is common in women who have multiple sex partners and occurs when the cervix that is composed of 2 unique cell lines begins to transform into cancerous tissue.
As dysplasia occurs, patients will begin to notice discharge that could be foul-smelling depending on if there is an opportunistic infection at the same time. To reduce your chances of cervical dysplasia, it is essential that you screen yourself appropriately for this disease. [9]
Poor Hygiene 
The last possible cause that I will cover of you having your vagina smell like poop could be because of the very fact that you have fecal matter in your vaginal cavity. Poor hygiene practice can transfer fragments of fecal matter into your vaginal tract. Women are encouraged to wipe from "front to back" to avoid this possibility. Not only will it eliminate the possibility of fecal matter becoming implanted in your vaginal canal, you will also reduce your chances of developing a bacterial vaginitis or urinary tract infection from E. coli, a bacteria that is commonly seen in our feces. [10]
Photo courtesy of SteadyHealth.com