Quitting smoking can indeed cause the pounds to pile on. Why, and just how do you maintain your weight and your confidence when you're determine to quit?
Is the idea that quitting smoking will make you fat preventing you from even trying to kiss your cancer sticks goodbye? Do you think that, perhaps, gaining those extra pounds is as bad for your health as your nicotine habit, so there's no point in quitting? 
Before we tackle anything else, we have to acknowledge that smoking cessation does, indeed, have a tendency to lead to weight gain. Four out of every five people who stop smoking gain some additional pounds. Smoking cessation causes many physical and psychological changes in the body. One of those changes is a slight decrease in your metabolism — smoking accelerates the combustion of calories people consume, and passionate smokers burn up to 200 calories a day more than non-smokers of the same sex, age, and health.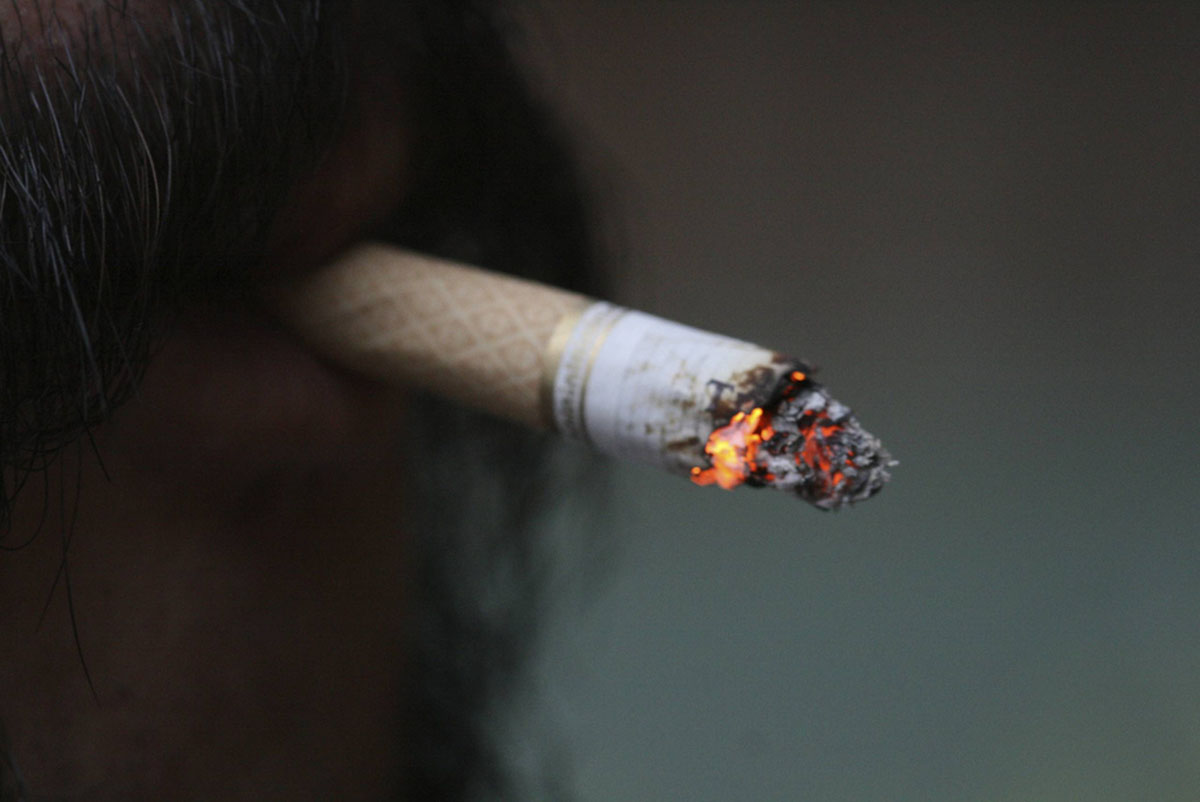 Because quitting smoking will bring your metabolism back to normal, gaining of few additional kilograms in the first six months of abstinence, can be the first thing you notice after you quit smoking. After this period, many people start to lose the weight they gained as they body adjust to being ex-smokers.
Scientific literature confirms that most people will experience a weight gain of between 4 to 5 kilograms following smoking cessation. Around 13 percent of quitters experiences a much more substantial weight gain of 11 kilos or beyond. However, in one study that tracked people for eight years, 42 percent of quitters gained over 10 kilograms. Another study showed that obese smokers tend to gain the most weight after quitting smoking.
Why Do People Gain Weight When They Quit Smoking?
One of the reason people gain weight after they quit smoking is that they consume more calories than they used to. It is normal for the appetite to increase after quitting smoking. When people quit, their sense of taste and smell improves and returns to normal which often increases their appetite.
Many people use food, instead of cigarettes, to deal with stress or boredom, to pass time, to reward oneself, or to be social. People who quit smoking miss putting something in their mouth. Eating and drinking, in some ways, imitate the action of smoking.
Nicotine modulates the central pathways that regulate several aspects of food intake in the central nervous system. Nicotine acts on many different neurons receptors in the brain, including the receptors that are responsible for the feeling of satiety. These neurons are located in the hypothalamus and regulate how much we can eat. Nicotine suppresses your appetite.
READ Tobacco Health Impact: A Day without Smoking
Nicotine also increases the levels of dopamine in certain regions of the brain, giving the smoker a sense of satisfaction. High-calorie snacks, such as cookies and chocolate, produce a very similar effect. As a result, many ex-smokers are tempted to replace cigarettes with food. 
One study shows that females are more sensitive that males to the effects of nicotine, and because of that some of them start smoking to lose weight.
Continue reading after recommendations
Mokdad AH, Marks JS, Stroup DF, Gerberding JL. (2004). Actual causes of death in the United States, 2000. JAMA. 291:1238–1245
Clark MM., Hurt RD., Croghan IT., Patten CA., Novotny P, Sloan JA. (2006). The prevalence of weight concerns in a smoking abstinence clinical trial. Addictive Behaviors. 31, 1144–1152
Klesges RC, et al. (1997). How much weight gain occurs following smoking cessation? A comparison of weight gain using both continuous and point prevalence abstinence. J Consult Clin Psychol. 65:286–291
Filozof C, Fernandez Pinilla MC, Fernandez-Cruz A. (2004). Smoking cessation and weight-gain. Obes Rev. 5(2):95-103
Chaney SE, Sheriff S. (2008). Weight-gain among women during smoking cessation: Testing the effects of a multifaceted program. AAOHN J. 56(3):99-105
Pisinger C, Glumer C, Toft U, et al. (2008). High-risk strategy in smoking cessation is feasible on a population-based level. The Inter99 study. Prev Med. 46(6):579-584
Lycett D et al. (2011). Associations between weight change over 8 years and baseline body mass index in a cohort of continuing and quitting smokers. Addiction. 106(1):188-96
Chiolero A, Faeh D, Paccaud F, Cornuz J. (2008). Consequences of smoking for body weight, body fat distribution, and insulin resistance. Am J Clin Nutr. 87(4):801-809
Grunberg NE, Bowen DJ, Winders SE. (1986). Effects of nicotine on body weight and food consumption in female rats. Psychopharmacology 90:101-105.
Photo courtesy of eschipul via Flickr: www.flickr.com/photos/eschipul/2437593805
Photo courtesy of Butz.2013 via Flickr: www.flickr.com/photos/61508583@N02/13275079045