[img]so like 2 days ago i got these red bumps on my right side of the stomach. They are on the right side and lower side of stomach. They itch sometimes but not very much. Not to the point that i have to scratch them its just light itching. Have no clue where i got it from. Went to the docter and he didint help much, he said it does not look like shingles. But he gave me to treatment for em anyways just in case it is shingles. I have no pain wats so ever. i have one on my neck.

thought it might be allergic reaction from compression shorts but then i would have it on the other side prolly to not just on one side.

oh yeah some are in a group together which makes it look like one big bump and some or small and spread out not far from each other tho.

thanks in advance.

ill try to post a pic up soon.
<a href="http://s714.photobucket.com/albums/ww142/kzpl17/?action=view&current=Picture055.jpg" target="_blank">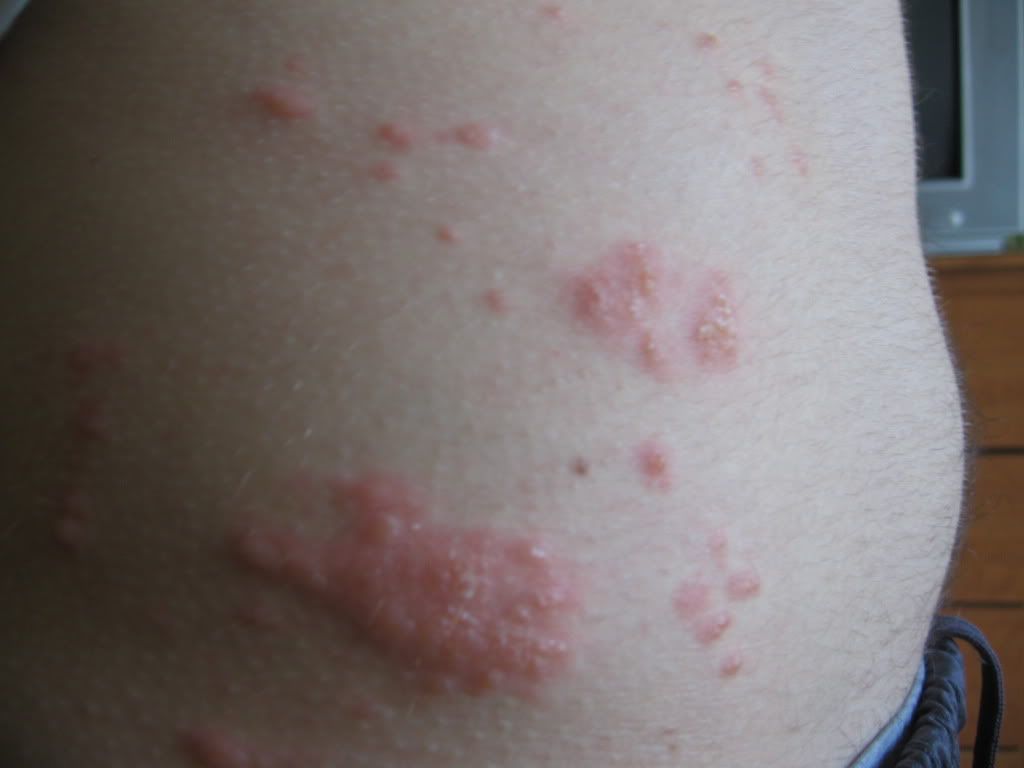 </a>
<a href="http://s714.photobucket.com/albums/ww142/kzpl17/?action=view&current=Picture053.jpg" target="_blank">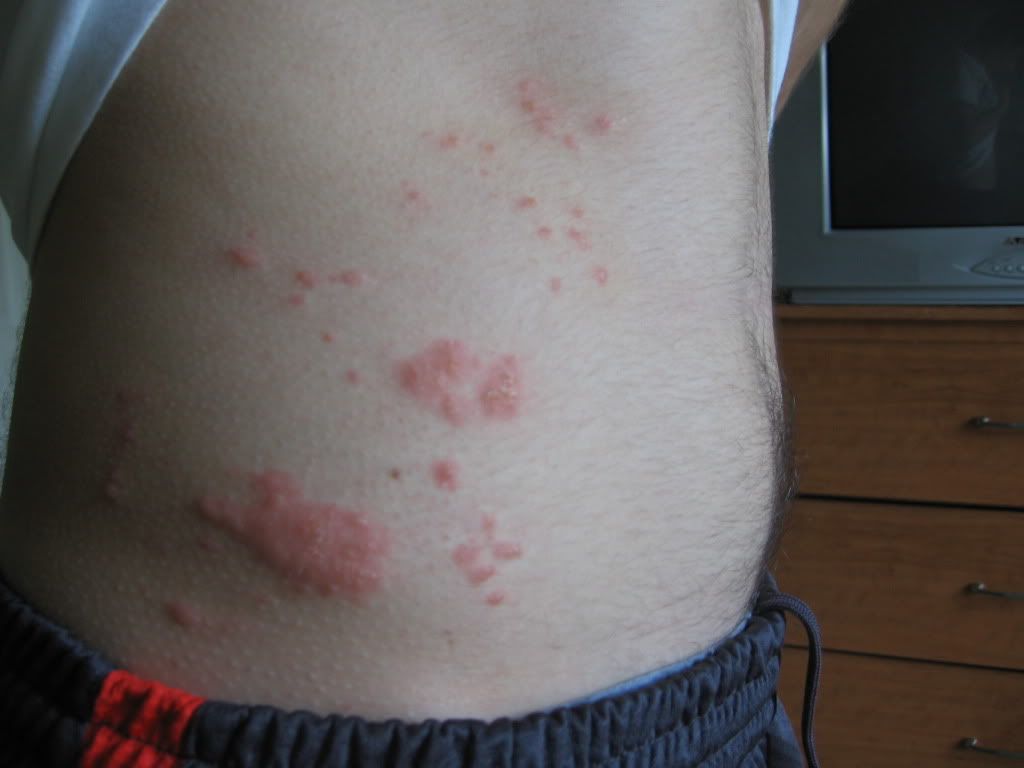 </a>
<a href="http://s714.photobucket.com/albums/ww142/kzpl17/?action=view&current=Picture052.jpg" target="_blank">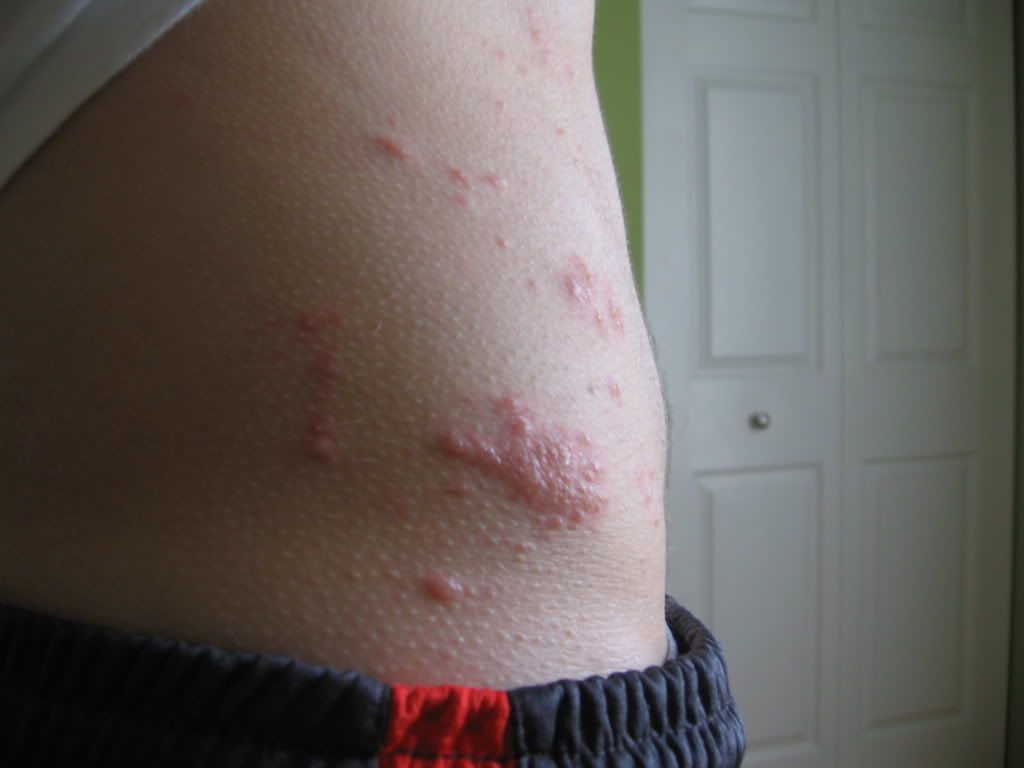 </a>
<a href="http://s714.photobucket.com/albums/ww142/kzpl17/?action=view&current=Picture054.jpg" target="_blank">
</a>
Did you ever find out what you had? My husband has the same thing now 2/27/10
Im pretty sure i have that right now. I've seen many doctors, none of them know what it is. mine is on my thigh and stomach. do you know that name of it?
I have the same thing. on the right side stomach and back. they faintly itch or sting. I have had much trouble in finding anything about this. this is the 3rd time I have had it, and every time it showed up, it was the night of or day after drinking alcohol, which would lead me to think it's an allergy to something in alcohol. however, after the rash cleared up last time, I got hammered from the same alcohol, and the didn't come back. the 1st time I got it, I drank Southern Comfort, 2nd time was Mickey's malt liquor, and this present time, oddly enough is from Budweiser. and by the way, each of these rashes have been at least two years apart. that's my two cents. good luck to any one else with this, and my advice is to not pop it or poke at it. I read on another forum that you could use tea tree oil or aloe vera on it, but I'm just gonna wait til it goes away on it's own.
I have red, bumpy, itchy spots on the right side of my lower stomach as well.. and I have no idea what it is. its moderately itchy, and hurts if I scratch it a little too hard. I dont normally get rashes and I dont see what I could have gotten it from. the comment about drinking got me to thinking though. I did drink an entire bottle of wine and a beer, but that was a whole two weeks ago. *shrug*
I have also got this as well... But it in small parts of my tummy stomache and sides.. At first i thought it was scabbies but i no longer think that is what it is as scabbies are really ichy and come out everywhere not in small places. And the things i have now are not ichy to me at all.. They hurt alot. Mostly when my shirt rubs against it!!!... I will look in to this and im going to the doctors as well and as soon as i find out what the heck it is ill let you gus know coz this stuff sucks big time!
I have this same thing; would love to know what it is.
Classic case of Shingles, my friend.
I'm comfirming the drinking hypothesis. Wen't to a pseudo oktoberfest this weekend and got quite the same thing on my stomach. Seems my liver is trying to fight back. Anyhow, kudos
Exact same thing here, I have only consumed alcohol once in the past 38 days.... I dont think its that. Anyone have further info? Did it go away on its own???
THIS. I have been searching non stop to try and figure out what the heck these bumps are and this is the first time I have found other people who have it! I just got these little red bumps last week. I have them in like four little clusters on the lower right side of my stomach and a little cluster on my back. They hurt pretty bad. :( Like an ache/sting and are slightly itchy (but only when my shirt rubs against them).

I will probably go to a doctor if they stick around for more then a week, but I'm not sure that they will know what it is either.

Does anyone have any more info?

An Update!

After some more searching online, I thought I might have shingles. I went to the doctor the other day, and she confirmed it! Hope this helps someone out!

If you think you might have shingles, go to your doctor asap so they can out your on antivirals and stop the spread of the bumps.
im really young so i dnt think its the drinking but i hve bumps that are spread apart all overthe sides of the bottom of my stomache. anyone got any info for that ? thanks!
I have exact same thing it looks like at least but its on my left side anyone ever figure out what it is?