Breakfast is the most important meal of the day. A simple bowl of cereal in the morning may curb a tendency toward obesity and late-night cravings, boost metabolism, and lower cholesterol levels, but eating breakfast also benefits the brain.
Breakfast of a champion
Studies show that a morning meal enhances memory and cognitive function. Barack Obama usually eats four to six eggs, potatoes, and wheat toast, and every now and then fruit, bacon, and oatmeal.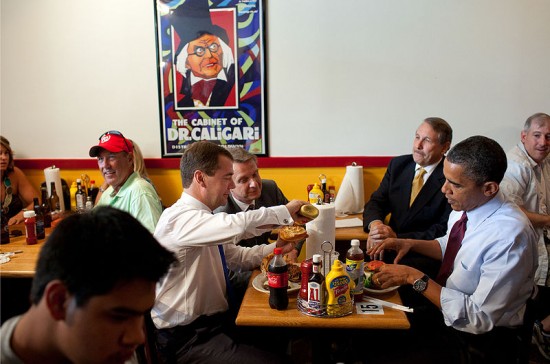 President Obama's favorite meals
President Barack Obama is skinny, as he often describes himself. He's actually lost weight on the campaign trail. He is a comfort-food guy and his favorite grub is a steaming bowl of chili. His wife, Michelle, said that while cooking for Obama, we'd put a low-calorie, high-fiber spin on this classic dish and make him a rib-sticking bowl of Beef & Bean Chile Verde served with all the fixings—reduced-fat sour cream, grated cheddar cheese, chopped scallions and chopped fresh tomatoes. Other foods that Obama has been known to enjoy are shrimp & grits.
His favorite restaurant is Italian Fiesta Pizzeria and Rick Bayless' Topolobampo, a high-end homage to regional Mexican cooking in Chicago. His family has hankerings for Mexican food, enjoys hand-crafted pastas and his kids dig fried chicken and macaroni and cheese.
During a walking tour of the Italian market, Obama ate salami with baked ricotta that he compared to pound cake, provolone and mozzarella. Actually when it comes to food, Obama eats pretty much anything, from chicken wings and barbecue and ribs to grilled fish and steamed broccoli. But when he is campaigning in a small town with limited options, a cheeseburger is always a good bet (Cheddar is the cheese of choice.). Obama likes MET-Rx chocolate roasted-peanut protein bars and bottles of a hard-to-find organic brew — Black Forest Berry Honest Tea. He keeps a supply of both on hand.
List of likes and dislikes in food
Obama savors following foods:
Planters trail mix: nuts, seeds & raisins
Roasted almonds
Pistachios
Water
Dentyne ice
Nicorette
MET-Rx chocolate roasted peanut protein bars
Vegetables, especially broccoli and spinach
Handmade milk chocolates from Fran's chocolates in Seattle
Obama dislikes the following food:
Mayonnaise
Salt and vinegar potato chips
Asparagus ("if no other vegetables are available, he'll eat it")
Beets
Soft drinks (he prefers water)
Ice cream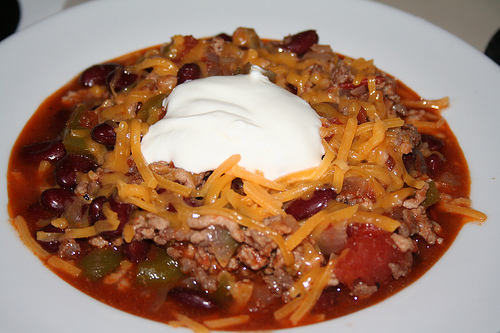 Obama's family chili
Obama has been using this chili recipe since college. Obama's family chili recipe is as follows:
1 large onion, chopped
1 green pepper, chopped
Several cloves of garlic, chopped
1 tablespoon olive oil
1 pound ground turkey or beef
¼ teaspoon ground cumin
¼ teaspoon ground oregano
¼ teaspoon ground turmeric
¼ teaspoon ground basil
1 tablespoon chili powder
3 tablespoons red wine vinegar
Several tomatoes, depending on size, chopped
1 can red kidney beans
Saute onions, green pepper and garlic in olive oil until soft. Add ground meat and brown. Combine spices together into a mixture, then add to ground meat. Add red wine vinegar. Add tomatoes and let simmer, until tomatoes cook down. Add kidney beans and cook for a few more minutes. Serve over white or brown rice. Garnish with grated cheddar cheese, onions and sour cream.
Obama eats doughnuts
According to another piece of news, Barack Obama ate doughnuts for breakfast while on the campaign trail. Advisers to the Obama campaign said the doughnuts, chocolate covered with pink sprinkles, were just a quick, easily accessible source of calories for Obama to consume during his hectic campaign schedule.
Obama's exercise routine
Obama works out about 45 minutes, six days a week. He lifts one day, and does cardio the next day. According to him, he would spend 90 minutes working out if he had enough time. He is now the most famous member of the Washington Sports Club chain of gyms in the US capital. Obama's passion is basketball and he used to play varsity basketball in high school. His regular work out routine helps him in staying healthy even while pursuing his eating habits.
Obama's doctor gave him clean bill of health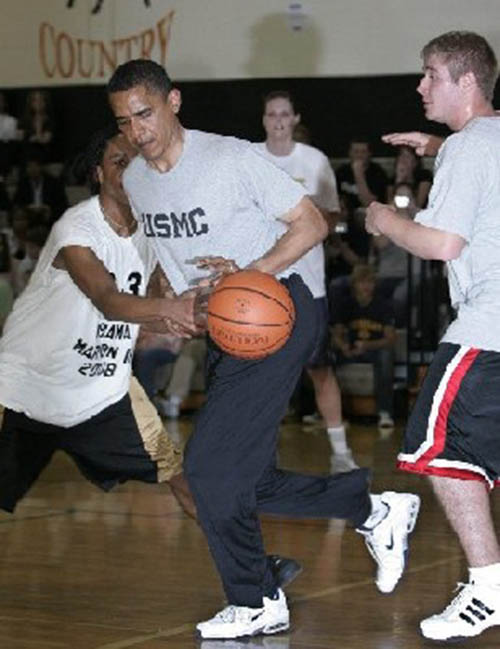 According to a letter released by the campaign from his longtime physician (PDF), Dr. David L. Scheiner released by the campaign, Barack Obama is in excellent health. The gum that often chews is Nicorette.
Scheiner noted a history of ovarian and prostrate cancers in Obama's family. As for Obama, his own history included intermittent cigarette smoking. He has quit this practice on several occasions and is currently using Nicorette gum with success.
The fitness-conscious guy jogs three miles regularly and his diet was balanced with good intake of roughage and fluids. Obama's eating habits are notoriously disciplined. He favors salmon for dinner and trail mix for snacks. His build is lean and muscular with no excess body fat. He might have even less fat now, because he seemed to get thinner the longer he spent on the road.
In short, his examination showed him to be in excellent health. President Barack Obama is in overall good physical and mental health needed to maintain the resiliency required in the Office of President.
All this is meaningless nonsense having nothing to do with what Obama might do as president, how he might do it, or even whom he might hire as White House chef. But even on its own terms as an attempted insight into Obama's alleged finickiness or his supposed distance from the Applebee's set, it doesn't make sense. A presidential candidate is apparently attempting to eat right while having a mix of fried road food and catered campaign meals shoved at him eight times a day. He should be hailed as a role model, not damned for failing to wolf down every last fry.
www.saveur.com/article/Our-Favorite-Foods/Breakfast-of-Champions/1
www.sogoodblog.com/2008/02/22/barack-obama-chili-lover/
blog.washingtonpost.com/the-trail/2008/04/02/obama_savors_some_very_special.html
www.eatingwell.com/news_views/food_news/presidential_candidates_favorite_foods.html
jumpout266.wordpress.com/2008/10/22/barack-obama-has-doughnuts-for-breakfast/
www.huffingtonpost.com/john-mcquaid/dowd-more-big-macs-for-ba_b_113051.html?page=4
www.huffingtonpost.com/2008/11/09/the-obamas-make-tuna-sala_n_142483.html
blog.washingtonpost.com/the-trail/2008/05/29/obamas_doctor_gives_him_clean.html
Pictures: timesonline.com