Looks at some winter soup recipes and lists the health benefits of each soup and also gives stock guidelines.
When it comes to wintertime, comfort food reigns supreme. For many of us, this can mean stodgy and starchy foods and sacrificing vegetable intake. Making nutritious and tasty soups is a great way to stay nourished while still feeling warm and comforted by food.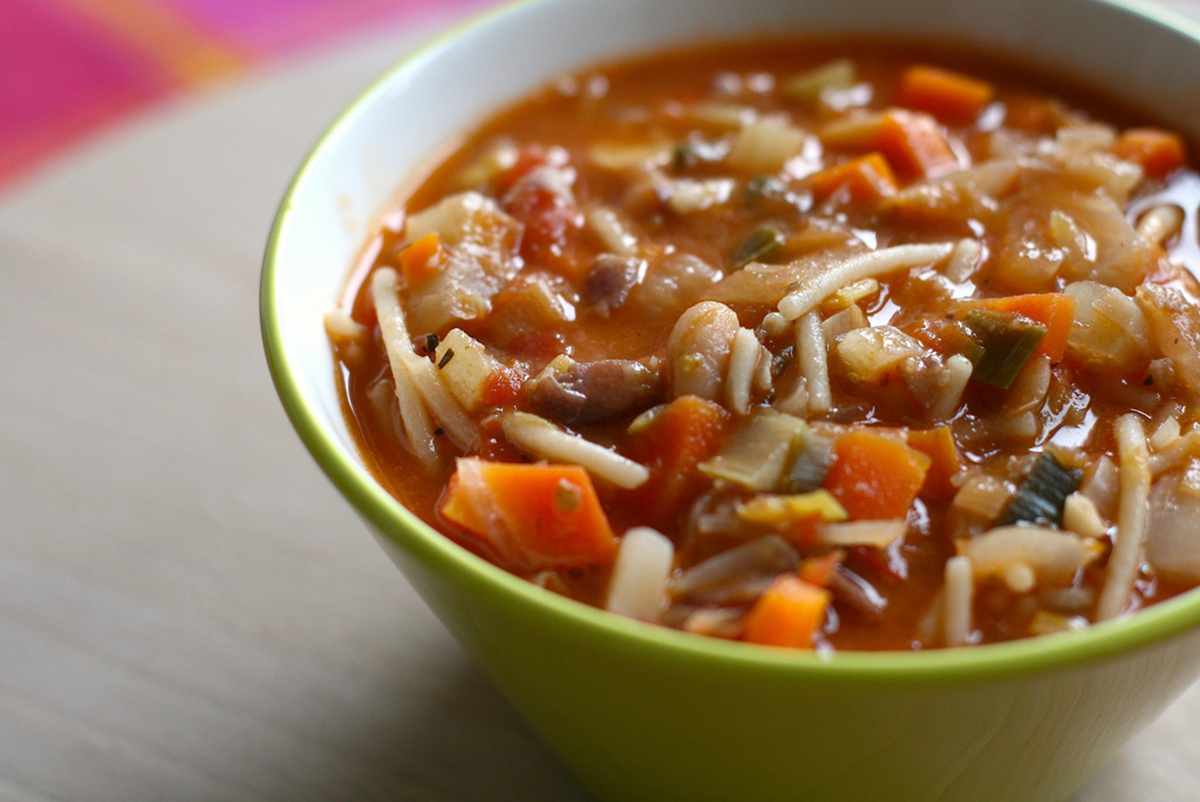 Soups are easy, convenient, and can be enjoyed at any time of the day by the whole family. Here are some delicious winter soups and a brief description of their healthy giving properties.
Lamb And Chickpea Soup (Serves 4)
1 Tbs olive oil
500g lean lamb shoulder, shredded
1 tsp turmeric
1 tsp cinnamon
½ tsp saffron threads
½ cup celery, chopped
½ cup onion, chopped
2 cups tomato, chopped
½ cup dried lentils
1 can chickpeas, drained
Heat the oil in a saucepan over medium heat and add the lamb. Cook for a few minutes. Add the turmeric, cinnamon and saffron and stir to blend. Add the celery and onion, stir and cook for about 5 minutes. Now add the tomatoes and stir. Cook for 15 another minutes. Rinse the lentils and add them to the mixture. Bring to a boil and let simmer for 1 hour. Add the chickpeas and simmer for a further 20 minutes. Serve with a dollop of fresh plain yogurt. 
Beetroot Soup (Serves 4)
1 Tbs olive oil
4 raw beetroots, chopped
1 carrot, grated
1 potato, chopped and peeled
1,5L water
Pinch pepper
Pinch paprika
Handful chopped spinach
¼ tsp dried dill
Heat the oil in a large pan and sauté the celery. Add the bay leaf, beetroot, carrot, potato and water. Cover and simmer for about 45 minutes until beetroot is cooked. Add greens and cook for a further 10 minutes before adding the lemon juice, salt, pepper, paprika and dill. Serve hot, topped with a spoonful of yogurt if desired. 
Pumpkin And Coconut Soup
1 onion, chopped
1 bite of fresh ginger
500g pumpkin, cubed
1 Tbs olive oil
4 cups coconut milk
½ liter vegetable stock
1 tsp curry powder
1 garlic clove
Chop the onion ginger and garlic finely. In a separate saucepan, boil the pumpkin until cooked. In a saucepan, add onion, garlic and ginger and fry, then add curry and stir. Add the cubed pumpkin and let simmer. Then add the liquid components to the soup, stir, add let cook over low heat for at least 30 minutes. Once cooked, puree the soup.
Cauliflower Soup
1 tsp coconut oil
1 onion, chopped
1 garlic cloves, crushed
1 Tbs ginger, grated
1 large green chili, finely chopped
2 Tbs mild curry paste
1 large head cauliflower, cut into florets
1 large potato, peeled, coarsely chopped
4 cups vegetable stock
½ cup curry leaves
1 Tbs olive oil vegetable oil
Heat the oil in a large saucepan over medium-high heat. Add the onion, garlic, ginger and chili and cook, stirring, for 5 minutes. Then add curry paste and cook for a further 1 minute.
Add the cauliflower, potato and stock and bring to the boil. Reduce heat and simmer for 20 minutes, stirring occasionally. Remove from heat and set aside to cool slightly. Transfer the mixture to a food processor and blend until smooth. Return to the saucepan over low heat. Meanwhile in a separate pan, fry the curry leaves until crisp. Top the soup with the fried curry leaves. 
Green Soup (Serves 4)
1 Tbs olive oil
1 small onion, chopped
1 liter vegetable stock
1 head broccoli. Cut into florets
400g baby marrow, sliced
4 cups baby spinach, chopped
1/2 tsp cumin
small handful cilantro, chopped
Salt and black pepper to taste
In a saucepan, sauté the onions in the olive oil. Add the stock, bring to the boil, then add the broccoli and baby marrow. Reduce heat and simmer for 25 minutes. Then add the spinach and spices. Cook on low heat for another 10 minutes. Add the mixture to a food processor and blend well. 
Roasted Tomato Soup (Serves 4)
4 tomatoes, halved
2 cloves garlic, minced
1 small onion, cut into quarters
1 Tbs olive oil
1/3 cup fresh basil, sliced
Salt and pepper to taste
See Also: How To Get Through The Winter Without Becoming Ill
Preheat oven to 400 degrees. Lightly grease a baking dish. Combine the tomato with garlic, onions, olive oil, salt and pepper. Place mixture in the oven and roast for 30 minutes. Remove from oven and let cool slightly then ass the tomato mixture into a blender and blend until smooth. Can be served hot or cold. Add more fresh basil as a garish if desired. 
Continue reading after recommendations