Everybody knows that the best dishes are the side dishes. There is no reason for any vegetarian to go hungry on Thanksgiving, and the dishes made to accommodate vegetarian preferences may become family favorites.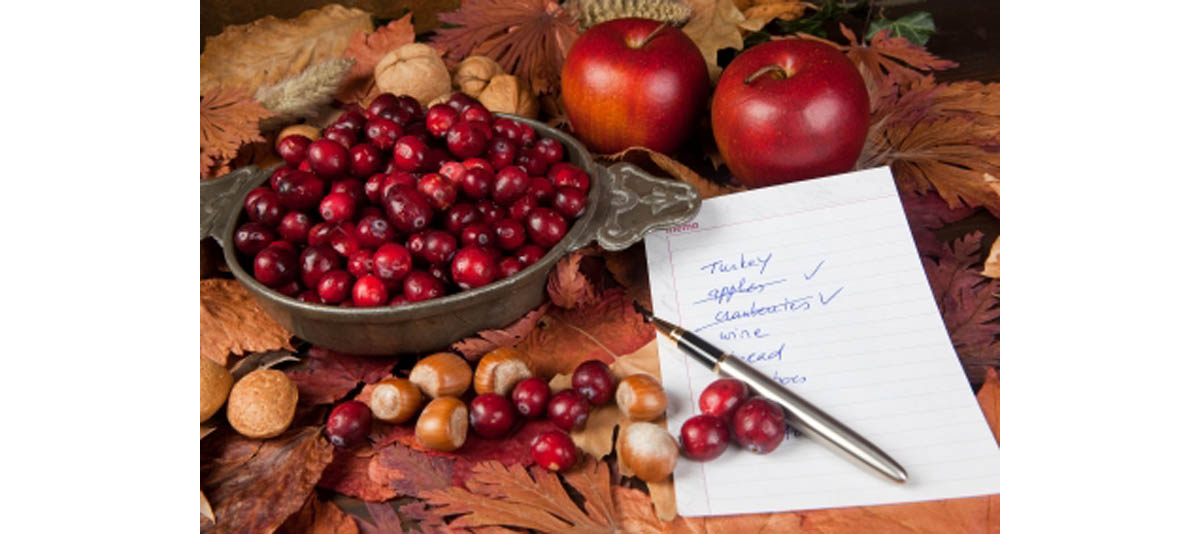 Here are ten main courses and side dishes that will satisfy everyone at your Thanksgiving meal. Some of them are also vegan and gluten-free.
Just don't try to fill up your vegetarian visitors with steamed broccoli and raw leafy greens. Thanksgiving is the time for hearty dishes that even the most finicky food aficionados can learn to love. These dishes are so tasty that even the meat-eaters in your crowd may decide to ditch the turkey altogether.
Try a meat-free lasagna for Thanksgiving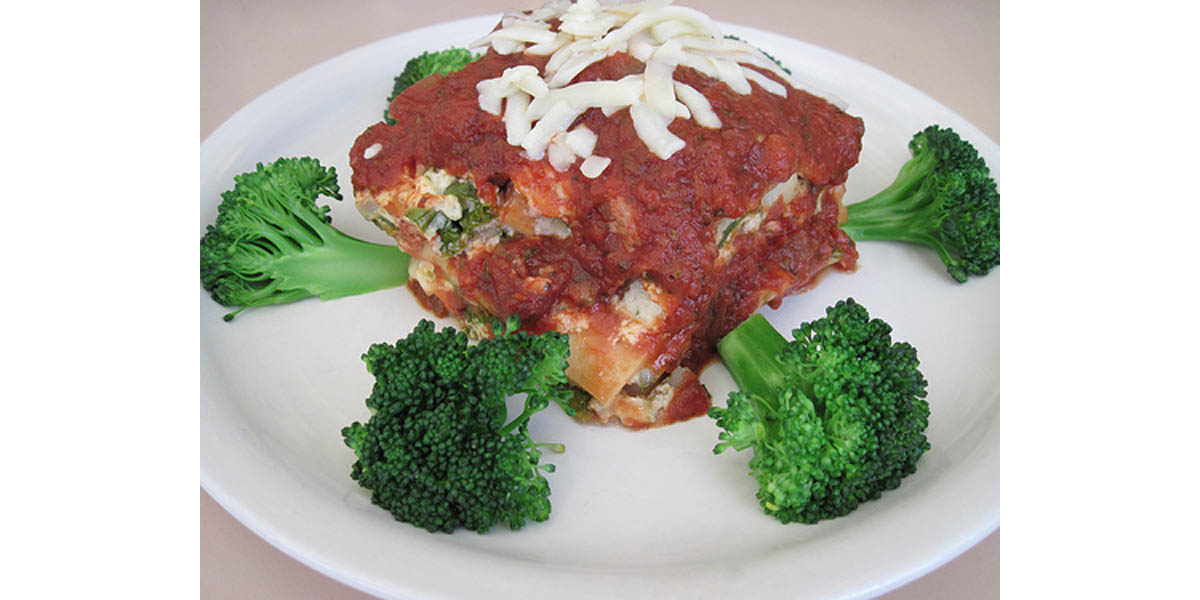 We are not even going to think about tofu-turkey. For a few vegan families, soy doused with chemicals to give it a meat-like flavor, color, and texture is a mainstay, but the most satisfying main courses are made with real food. Instead of a tofu turkey, or a real turkey, why not try a winter greens lasagna, a smoked cheddar souffle, or acorn squash rings with wild rice, nuts, and cranberries?
The great advantage of serving lasagna for Thanksgiving—other than that both vegetarians and carnivores alike will love it—is that it can be made up to two days ahead of time, and the flavors will actually improve while the lasagna is in the refrigerator. Instead of a meat sauce, use wilted Swiss chard and kale that you have sauteed with onions and garlic and chopped coarsely or sent through the food processor. You will probably need to start with about 1 pound (8 to 10 cups, 500 grams) of each. And instead of tomato sauce, layer your lasagne on a base of creme fraiche, saving an equal amount to mix with the cheeses on top. A good wine for vegetarian lasagna is a Sauvignon Blanc, the acid flavor in the wine complementing the fatty flavors in the lasagna.
Two More Meat-Free Entrees for Thanksgiving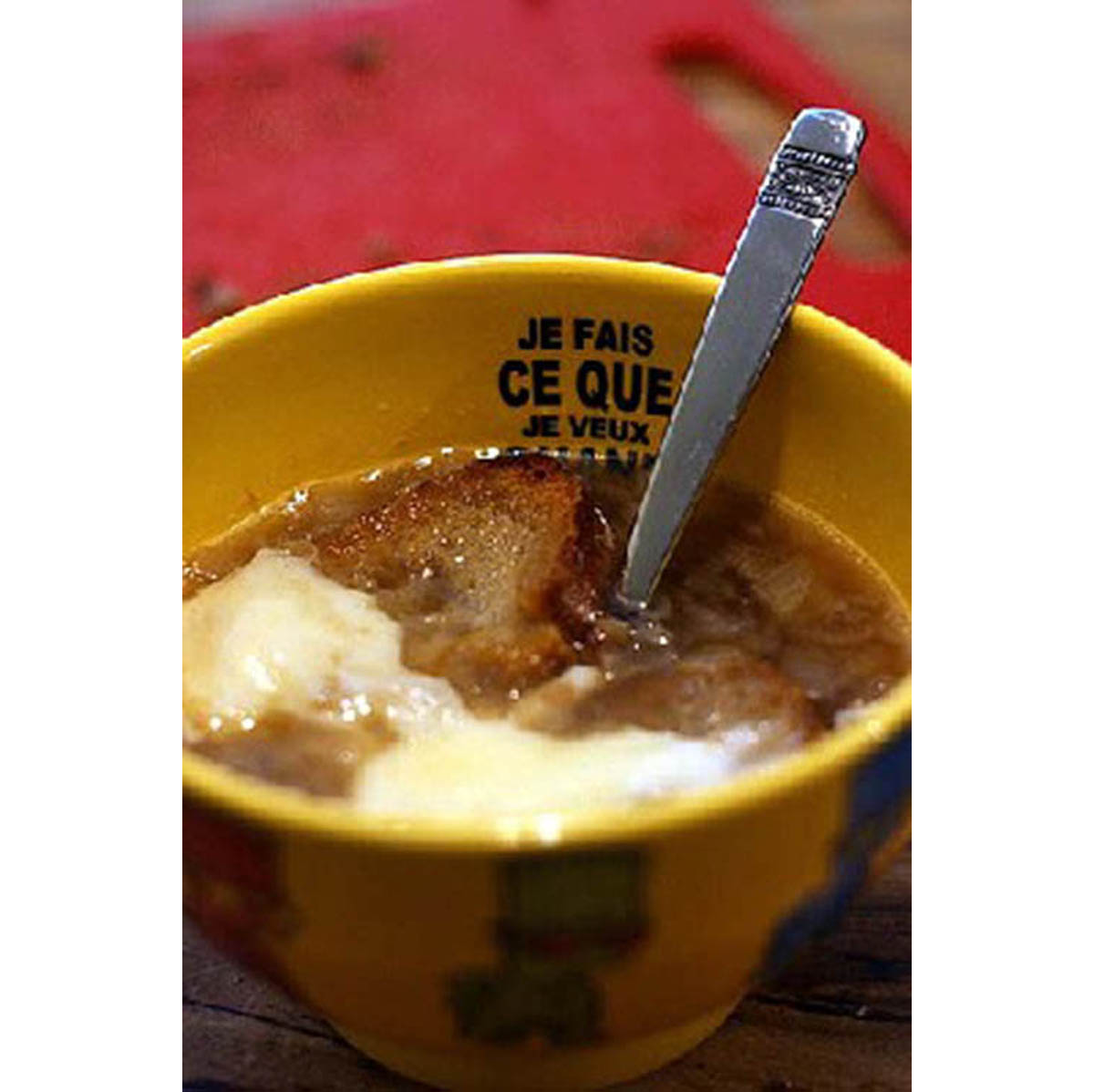 Another interesting entree for Thanksgiving dinner is
French onion soup turned into a tasty tart
. In the easternmost French province of Alsace, this tart is known as a  flammenküche, flavored with bacon and cream. You can find equally delicious flavors without the bacon, relying once again on creme fraiche for flavor.
Saute leeks and onions in butter, cooking until they are caramelized and golden brown. Season with salt and black pepper. Mix one or two teaspoons of finely chopped fresh marjoram, fresh time, and fresh Italian (flat-leaf) parsley into ½ cup (120 ml) of creme fraiche. Set the mixture aside and allow it to cool you prepare your "pie."
You can simply bake your onion and leek mixture in a pie shell without the top crust. But if you have the skills to make a formless tart shell (no pan), all the better. Either way, place the vegetable and cream mixture into a pie shell and bake in a 425° F oven until the crust is golden brown and serve right away. A good wine pairing for this dish is a Pinot Blanc. Or you might serve it with a stout beer.
Or if you are looking for a truly vegan entree, y
ou might try stuffing acorn squash instead
. Cut acorn squashes in half lengthwise, slicing through the middle of the stem, and remove the seeds. Bake them on a baking sheet in a hot oven until they are fork tender.
In the meantime you make their stuffing on the stove top. Saute onion (but not garlic) and celery together, and stir in cooked wild and brown rice, cranberries, a little (less than 1 teaspoon) of thyme, sage, kosher salt, black pepper and chopped pecans to taste, binding the mixture together with either virgin olive oil (for the vegan option) or melted butter. Plop the stuffing into the baked acorn squash and place the stuffed squash back into the oven until the stuffing has set in the squash, usually about 20 to 25 minutes.
Many meat-free Thanksgiving cooks make this squash dish with Trader Joe's brown rice medley. You can cook the rice in vegetable broth for even more flavor. Try adding an eight-inch (200 mm) strip of kombu (available in almost all larger markets) to add a savory umami flavor to the dressing, removing the kombu before stuffing the squash.
A good wine pairing for acorn squash is a Pinot Noir, to complement the sage, or a Chardonnay that is light and not too sweet.
And Seven Meat-Free Side Dishes
For both meat-eaters and vegetarians alike, however, the fun of the Thanksgiving meal is in the side dishes. Here are seven meat-free side dishes that will delight everyone at the table.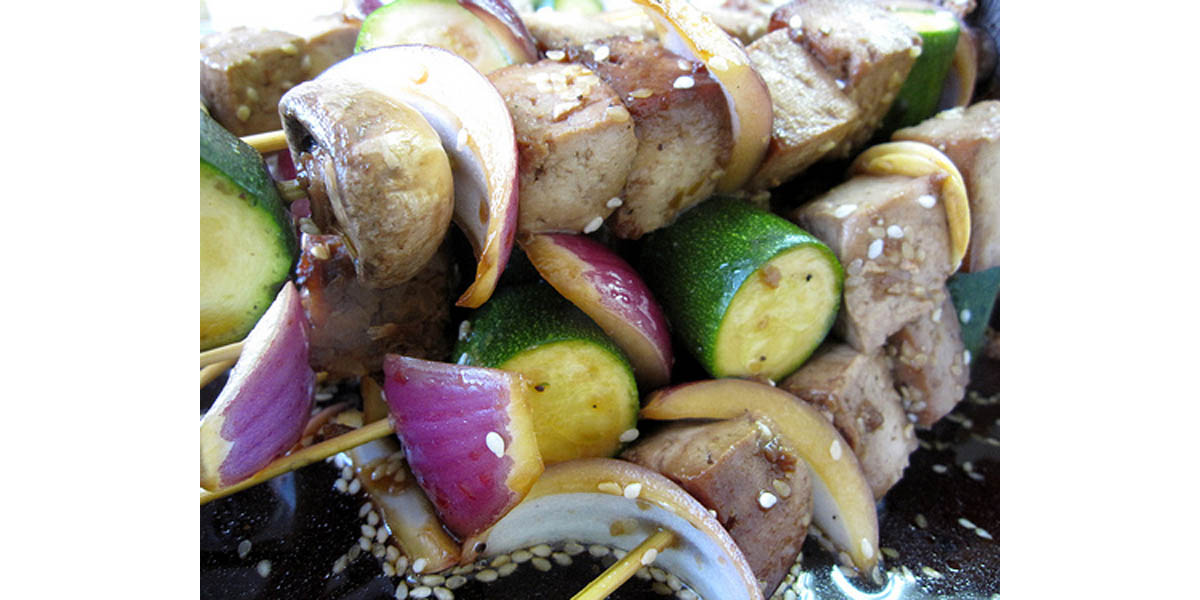 Try a tempeh and wild mushroom fricassee.
Cut 12 ounces (300 grams) of tempeh into bite-size cubes. Coat a Dutch oven with cooking spray, add the tempeh, and dry-fry until golden brown. Flavor with dry white wine and soy sauce. In a separate pan, saute button, cremini, and shiitake mushrooms, about 2 cups of each, until tender. Add vegetable broth and flavor with garlic, celery leaves, thyme, sea salt, and black pepper, thickening with flour or corn starch to make a vegetarian gravy.
Oatmeal isn't just for breakfast any more.
Cook steel cut oats (which have a nutty flavor and interesting texture, never use instant for this dish) according to package directions, with brown sugar, cinnamon, and dried fruit to taste. Serve warm in squares or triangles with fruit compote on top.
Try eggplants with Indian spices.
Cook eggplant as for lasagna or moussaka, sauteing with just a pinch of asafetida, cumin seeds, fennel seeds, nigella seeds, and red pepper, releasing the aromatic oils from the spices. Add chopped onion, a clove of garlic, and tomatoes as desired when simmering the sauteed ingredients until the entire dish is tender.
Stir-fry sweet corn.
Most Americans enjoy sweet corn. For the adults at your table, stir fry kernels of super-sweet corn (usually available frozen this time of year) with cardamom, cloves, bay leaf, cinnamon stick, and green chiles. Seal in the spice flavors by adding cream and butter to make cream corn after you have removed the bay leaves and cinnamon stick.
Start your meal with a winter greens soup.
Make a hearty soup with kale, Swiss chard, carrots, onions, potatoes, garbanzo beans, farro (also known as spelt), tomatoes, parsley, rosemary, thyme, bay leaf (removed before serving), olive oil, salt, pepper, and hearty stock. A few drops of Worcestershire sauce adds interest to the soup, but, vegetarians beware, Worcestershire is made with anchovies.
Serve your pumpkin sweet and sour.
For an interesting flavor, stir fry pumpkin in mustard oil, or if that is not available, olive oil. Flavor with just a little sugar, salt, cilantro, mustard seeds, asafetida, cayenne, and yogurt.
Read More: Protein Rich Foods For Vegetarians
Try roasted cauliflower as a change from potatoes.
When roasted, cauliflower takes on the texture of boiled potatoes and can be used to make a low-carb "mashed potatoes." Or serve with a vegetarian spaghetti sauce and chopped black olives for color and flavor.
A Final Word of Caution for Your Meat-Free Menu
One word of caution for your Thanksgiving menu: Don't try too many new dishes all at once. Add healthy vegetarian dishes one or two at a time to keep your family happy while making new holiday traditions.
Shulman, Martha Rose. Stewed Cauliflower with Onions and Tomatoes. New York Times. 23 February 2010.