Soy is a controversial food source worth hundreds of millions of US dollars annually. Said by some to prevent heart disease, soy has also been linked to cancer and the onset of other diseases. There are many questions, including, Is soy milk really toxic?
There was a time not long ago that soy-based milk formula was the preferred option for infants with allergies, rather than other infant milk formulas based on cow's milk. Soy milk (as opposed to formula) was also generally thought of as a better option to cow's milk, which many believe is not meant for human consumption – not just for children, but for adults too.
I have personally "been there, done that," having had a highly allergic baby that I had to stop breast feeding due to an abscess that had to be surgically drained. We quickly discovered he was cow's milk intolerant, and so opted for a soy-based milk formula. As a child, and until he was in his twenties, he opted for soy milk instead of cow's milk, and became a fan of tofu, which of course is made from soy milk. I have found that his allergies (like mine) come and go, and while he doesn't consume much cow's milk now, he does eat unsweetened dairy yoghurt. He avoids preservatives, particularly sodium benzoate which makes him asthmatic, and is no longer a fan of soy-based products, partly because researchers are now admitting that we don't fully understand "the nature of soy."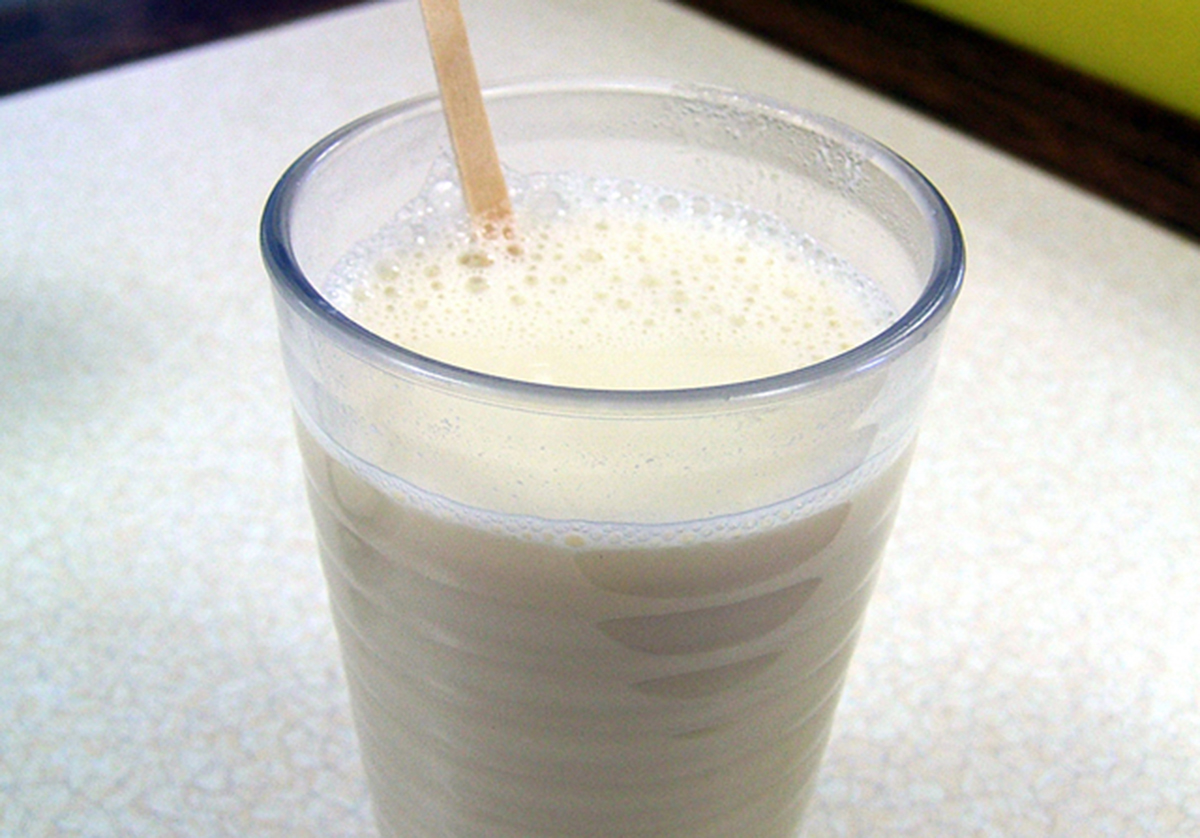 The problem for me, and for many other people, is that while current research is not conclusive, there is evidence that drinking soy milk can harm our health. Luckily I simply don't like the taste of soy milk and I find the texture of tofu unpleasant. I do though use soy sauce for flavoring.
Soya Beans and Soy Food Products
Even though soy beans have been grown for thousands of years they haven't always been used for food. The key appears to be the discovery of fermentation sometime during the Chinese Chou Dynasty 1134 to 246 BCE (before common era, also BC).
According to Solomon H Katz, editor-in-chief of the voluminous Encyclopedia of Food and Culture, soybeans were first mentioned in China during the early Zhou Dynasty, around 2000 BCE centuries after they were first grown. Prior to this, the soy plant was used in crop rotation to "fix" the nitrogen in the soil.
Katz also discusses how heavily dependent Chinese cuisine was on fermented soybean products, including tofu and soy sauce which he believes originated during the later Han Dynasty from 206 BCE to 220 CE or AD. The beans were, and still are, eaten, but usually only once fermented, because this converts the raw beans into a more stable form and aids digestion. 
According to a docket filed in the US Food & Drug Administration (FDA) Office of Human Resources and Management Services (OHRMS), one of the key concerns is that soybeans contain large amounts of "a number of harmful substances." These include:
Enzyme inhibitors that block enzymes, including trypsin, that are required to digest protein
Phytates (phytic acid) that block essential minerals including calcium, iron, magnesium and iron in the intestines
It states that only fermentation over long periods of time reduces the phytate content of soybeans, however the mineral-blocking effect of this acid is said to be reduced when soy products are eaten together with meat. When vegetarians eat tofu in place of meat and drink soy milk instead of dairy products, researchers have found that the risks of severe mineral deficiency is increased.
As the docket points out, one of the main ingredients of soy-based formulas for infants is soy protein isolate that has a high phytate content. It also contains toxic aluminum and often, potent carcinogens in the form of nitrosamines. 
The docket also claims that fermented soy products, which the authors maintain is the other "safe" form of soy, are not nutritionally complete and that soy shouldn't be considered to be a substitute for milk or animal protein.
READ Is Soy Milk Better Than Cow's Milk?
Genetic Modification
Adding to the controversies that revolve around soy and soy-based food products, soybeans are one of many crops that have been genetically modified (GM) in the US since the late 20th century. According to the US Department of Agriculture's National Agricultural Statistics Service 2002 report, farmers were intending to plant GM seed on nearly three quarters (74 percent) of the US soybean acreage. The impact of this is particularly chilling for anti-GM advocates since more than 52 percent of the production of the world's soybeans had already shifted from China to the US. Further, the oil extracted from soya is polyunsaturated and contains linoleic acid – as do corn and safflower oils.
In addition to genetic modification, soybean acreage in the US is also highly contaminated by pesticides – some say even more than other crops. 
Continue reading after recommendations
NTP-CERHR Expert Panel Report on the Reproductive and Developmental Toxicity of Soy Formula Center For The Evaluation Of Risks To Human Reproduction's National Toxicology Program (NTP), North Carolina, USA, 2006
Encyclopedia of Food and Culture Volume 1: Acceptance to Food Politics edited by Solomon H. Katz, Scribner Library of Daily Life, Charles Scribner's Sons, Thomson Gale, New York 2003
Food and Drugs, Chapter 1: Food and Drug Administration Department of Health and Human Services, Subchapter B: Food for Human Consumption Code of Federal Regulations, Revised April 1, 2015 http://www.accessdata.fda.gov/scripts/cdrh/cfdocs/cfcfr/CFRSearch.cfm?fr=101.82
Concerns Regarding Soybeans US FDA docket http://www.fda.gov/ohrms/dockets/dockets/04q0151/04Q-0151-EC520-Attach-1.pdf
Soy milk toxicity: Cause for concern by V Wiwantikit, Journal of Postgraduate Medicine, Mumbai, India 2012 http://www.jpgmonline.com/article.asp?issn=0022-3859
year=2013
volume=59
issue=3
spage=249
epage=250
aulast=Senthilkumaran
Excessive consumption of soybean milk and unexplained hepatitis by S. Senthikumaran, N Elangovan, R G Menezes, P Thirumalaikolundusubramanian, Journal of Postgraduate Medicine, Mumbai, India 2013 http://www.jpgmonline.com/article.asp?issn=0022-3859
year=2012
volume=58
issue=3
spage=226
epage=227
aulast=Wiwanitkit
The Science of Soy: What Do We Really Know? http://www.ncbi.nlm.nih.gov/pmc/articles/PMC1480510/
Straight talk about soy http://www.hsph.harvard.edu/nutritionsource/2014/02/12/straight-talk-about-soy/
Breast Development in the First 2 Years of Life: An Association With Soy-based Infant Formulas http://journals.lww.com/jpgn/Fulltext/2008/02000/Breast_Development_in_the_First_2_Years_of_Life_.11.aspx
Soy protein, isoflavones, and cardiovascular health: an American Heart Association Science Advisory for professionals from the Nutrition Committee http://www.ncbi.nlm.nih.gov/pubmed/16418439
Early life and adult exposure to isoflavones and breast cancer risk http://www.ncbi.nlm.nih.gov/pubmed/18569328
Is Soy Consumption Good or Bad for the Breast? http://www.ncbi.nlm.nih.gov/pmc/articles/PMC2981011/
The pros and cons of phytoestrogens http://www.ncbi.nlm.nih.gov/pmc/articles/PMC3074428/
Photograph of soy milk courtesy of Mr Wabu/Flickr & Wikimedia Commons https://commons.wikimedia.org/wiki/File:Soymilk_flickr_user_mr_wabu.jpg
Photograph of soy beans plant courtesy of WikiHow http://www.wikihow.com/Avoid-Food-Triggered-Seizures
Photo courtesy of
Photo courtesy of
Important notification about information and brand names http://www.steadyhealth.com/polices/terms-of-use#copyright