A new screening test for colorectal cancer has been approved by the FDA, which allows high risk individuals to do the test at home. It offers convenience and a high rate of accuracy, but is just an alternative to colonoscopy, which is the standard test.
The colon and the rectum are parts of the large intestine, which temporarily holds wastes from digested food, before they are eliminated. Colorectal cancer, or cancer of the colon and rectum, is the 3rd and 4th leading cause of cancer among males and females, respectively. After lung cancer, it is the 2nd leading cause of death from cancer in the United States. It is estimated that about 140,000 new cases of the disease will be diagnosed this year.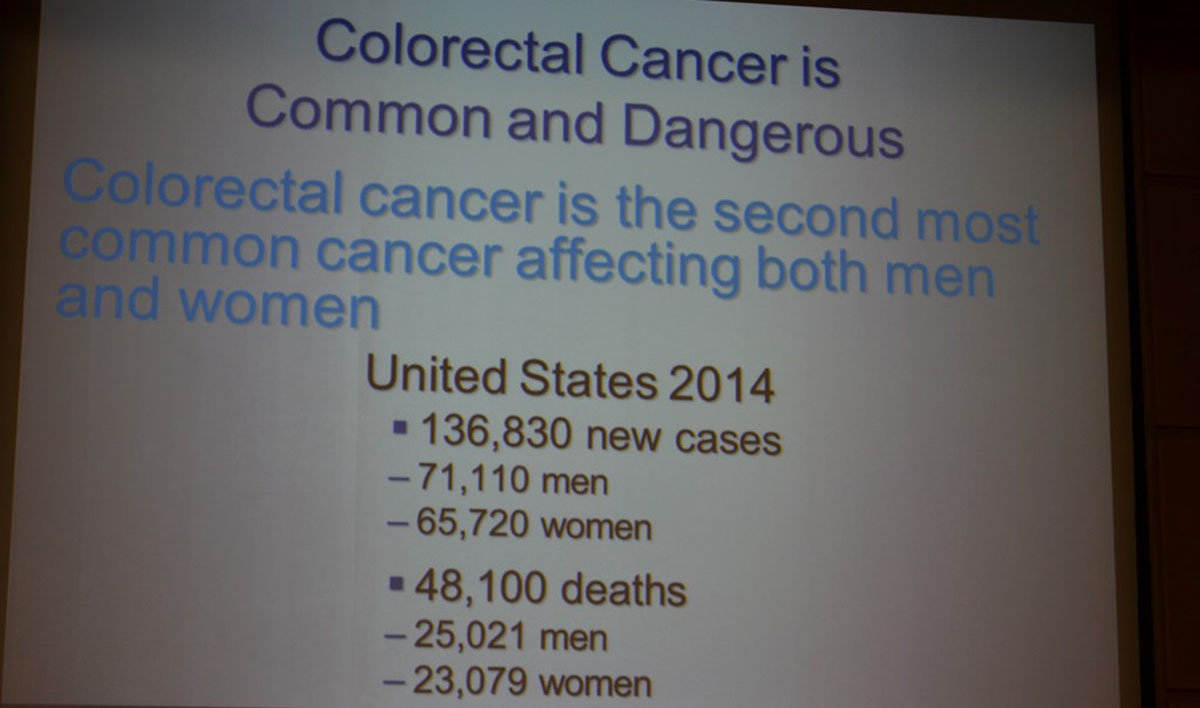 The current data on colorectal cancer may seem ominous, but the good news is that this type of malignancy is preventable and potentially treatable when diagnosed early. This is why it is important to learn more about the risk factors involved in developing the disease to be able to prevent it. Furthermore, it is also advisable to screen for early signs of the disease, especially for those who may be at risk, in order to obtain early diagnosis and treatment before complications occur.
Screening Tests for Colorectal Cancer
Early detection of colon or colorectal cancer may lead to immediate treatment and help reduce deaths from the disease. Aside from finding signs of early stages of cancer, screening tests may also help detect non-malignant (benign) changes that may increase one's risk for developing the disease. These benign changes include the presence of intestinal polyps or new growths that are non-cancerous, and chronic ulcerative colitis, which have been associated with the development of colorectal cancer.
Currently available and medically accepted screening tests for cancer of the colon and rectum include:
Fecal (stool) occult blood test, a noninvasive, stool-based exam that detects the presence of small amounts of blood, which may be associated with lesions in the colon.

Flexible sigmoidoscopy, an endoscopic procedure which uses a fiberoptic device inserted into the anus to view the rectum and the lower portions of the colon.

Screening colonoscopy, which similarly uses a fiberoptic device to view the entire large intestine and last part of the small intestine. These endoscopic procedures also offer the advantage of being able to remove polyps and obtain a biopsy of the polyps or other lesions found in the colon and rectum.

Virtual colonoscopy, a noninvasive technique that uses CT scanning to create two-dimensional images of the colon, as opposed to direct visualization offered by colonoscopy.
See Also: Colorectal (Colon) Cancer: Causes, Symptoms and Treatment
Home Screening Tests
A newly approved screening test for colorectal cancer may help reduce deaths due to the disease because it can be done in the convenience and privacy of one's home, thus increasing acceptance and compliance from the public. This DIY test offers a significant advantage over current screening tests that must be done within a laboratory or hospital setting. It has a high sensitivity rate, since it has been found to pick up more than 90% of positive cases. Furthermore, although it is far more costly than the simplest screening test (fecal occult blood test), expenses for testing once every three years may be covered by Medicare for certain individuals who meet some criteria.
Continue reading after recommendations
CNN. New at-home test may detect colon cancer. http://thechart.blogs.cnn.com/2014/08/14/new-at-home-test-may-detect-colon-cancer/
WebMD. FDA Panel Recommends At-Home Colon Cancer Test. http://www.webmd.com/colorectal-cancer/news/20140328/fda-advisory-panel-recommends-approval-of-at-home-colon-cancer-test
Medscape. FDA Approves Cologuard for Colorectal Cancer Screening. http://www.medscape.com/viewarticle/829757
Medscape. Novel Stool DNA Test May Enhance Colon Cancer Screening http://www.medscape.com/viewarticle/822198
Medscape. Can Cologuard Improve Colon Cancer Screening Rates? http://www.medscape.com/viewarticle/830596
MedicineNet. Colon Cancer. http://www.medicinenet.com/colon_cancer/article.htm
MedicineNet. Colon Cancer Screening. http://www.medicinenet.com/colon_cancer_screening/article.htm
Photo courtesy of A Healthier Michigan by Flickr : www.flickr.com/photos/healthiermi/13266671775
Photo courtesy of Exact Sciences Corporation by : cdn2.hubspot.net/hub/377740/file-1218604503-png/exs-er-Cologuard-MultipleMarkerGraphic-01.png?t=1412178646426
cnn.com
www.webmd.com
www.medscape.com
www.medicinenet.com