What is "squirting", or female ejaculation, really? Where does it come from, from the G-spot or some other place? And can you learn to do it?
Squirting — female ejaculation — has, according to researchers, been a mystery since "antiquity". Recently becoming popular in the "media", first, I'm sure, certain graphic media with folks like us following along later, more and more people have questions about the phenomenon. [1] Is squirting normal? What's this fluid that some women ejaculate made up of, and where exactly does it come from? Can any woman learn to squirt, or is it the domain of a precious few, some of whom may actually be quite embarrassed about it?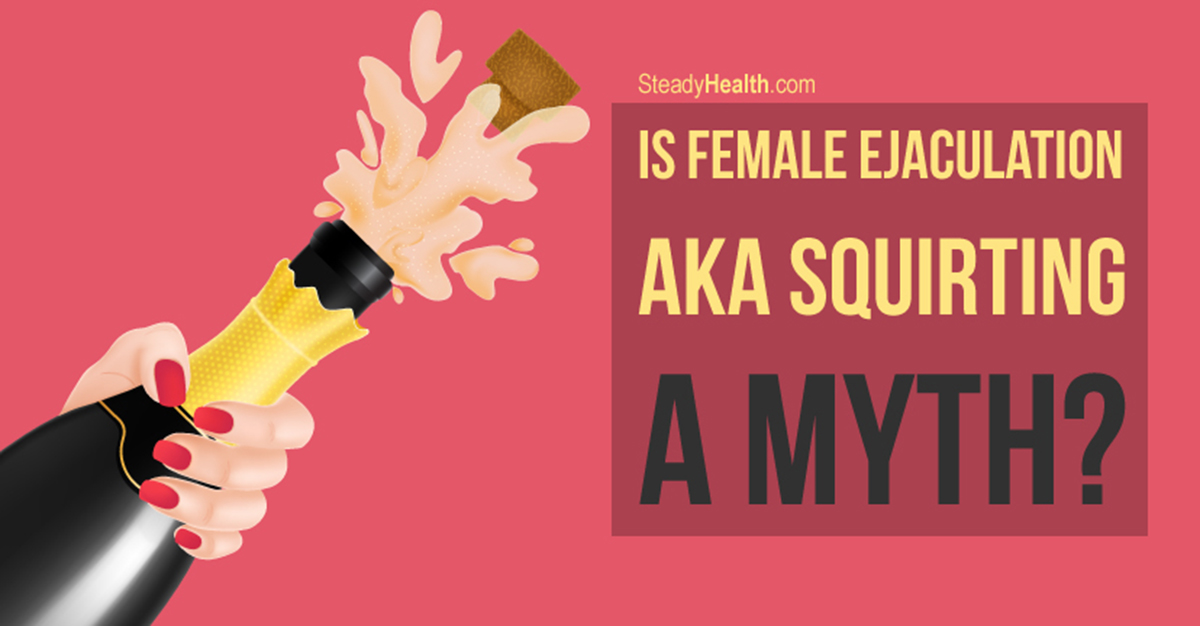 What Is Squirting? How Many Women Squirt?
"Women may expel various kinds of fluids during sexual arousal and at orgasm," one study says, continuing: "Their origins, quantity, compositions, and expulsion mechanisms depend on anatomical and pathophysiological dispositions and the degree of sexual arousal. These are natural sexual responses but may also represent symptoms of urinary incontinence."
The researchers go on to explain that it's hard to get a true picture of how common squirting or female ejaculation is. While noting that "fluid expulsions are not typically a part of female orgasm", subjective research conducted with the help of questionnaires led them to believe that between 10 and 54 percent of females experience female ejaculation. They further explain that the expelled fluids may be made up of "a smaller quantity of whitish secretions from the female prostate or a squirting of a larger amount of diluted and changed urine". Both, they add, can actually happen at the same time. [2]
Another study disagrees, and instead came to the conclusion that "true female ejaculation" and the much talked-about "squirting" or "gushing" are, in fact, two different things. While real female ejaculation is "biochemically comparable to some components of male semen" and comes from the female prostate, squirting features some kind of fluid from the urinary bladder. It's not pee, exactly, since it contains other elements as well, but it also does contain urine. [3]
Female Prostate? What's That?
The so-called Skene's glands, named after the doctor who discovered them, are glands located near the urethra on the anterior wall of the vagina. They produce fluids that help lubricate the vagina during sexual arousal and make prostate-specific antigen, leading some researchers to conclude that they should definitely be referred to as a "female prostate" rather than "glands". [
4
]
Some hold the view that this female prostate is the exact same thing as the so-called G-spot [5], but the idea of the G-spot even existing is still controversial. Yes, papers from the 1980s doubted the existence of the G-spot [6], but even as the organ entered into common vocabulary, even some research from after the millennial turnover describes the G-spot as a "gynecological myth" [7]. 
What is the female prostate, then? What's the G-spot, and does it even exist? The jury's still out. Even those who concluded that the G-spot really isn't a thing did admit that they believe there's an extra-sensitive spot in the anterior vaginal wall that gives many women pleasure [6], but it's connection to female ejaculation or squirting is still up in the air for now. 
In Search Of Female Ejaculation: Can I Learn To Squirt?
Experienced squirters all over the internet do give you some tips on how to try to squirt. These involve finding your (alleged?) G-spot by inserting a few fingers into your vagina and looking around for a dime-sized spongy bit along the wall facing your pubic bone. You or your partner can stimulate this spot with your hands, and you can also experiment with sexual positions that allow your partner to hit it during intercourse. Many women say that G-spot stimulating sex toys and really good vibrators are what truly opens the door to squirting, however. 
To put it succinctly — yeah, you can experiment with things that may make you squirt and that you may enjoy. At the same time, mind you, I'd advise you to think about why you want to squirt. Some women do, and that's fine (or even great, depending on how you feel about it), but do you think squirting would really add to your sexual enjoyment? Maybe it's great orgasms you should be after, not squirting or female ejaculation as such. 
I Squirt And I Think There's Something Wrong With Me
There probably isn't. Squirting, or female ejaculation, is, as we've seen, not all that uncommon — whether it's really mostly pee or prostate fluid. It can also, however, be a form of stress incontinence [8]. That's where you leak urine because you cough or laugh really hard, for instance. When you think about it, orgasm is a form of exertion that isn't really all that dissimilar. If you suspect this is what is happening to you, Kegel exercises to strengthen your pelvic floor may help you out. Also, seeing a doctor won't do you any harm. 
Photo courtesy of SteadyHealth.com