Dr Oz might be trying to cheer you on when he describes coffee beans as a "magic weight loss cure", but that doesn't make his claims true. The Senate's consumer protection panel asked him some questions that should get the rest of us thinking too.
Are you desperate to lose some weight? Most people who have tried to come down to a healthy weight will know that proverbial "magic pill" just doesn't exist. A combination of exercise and a healthy, balanced but calorie-restrictive, diet is the only responsible road to weight loss. Losing weight is a process rather than an event. It is hard work, it often requires an iron will, and results can take longer to show than you'd like.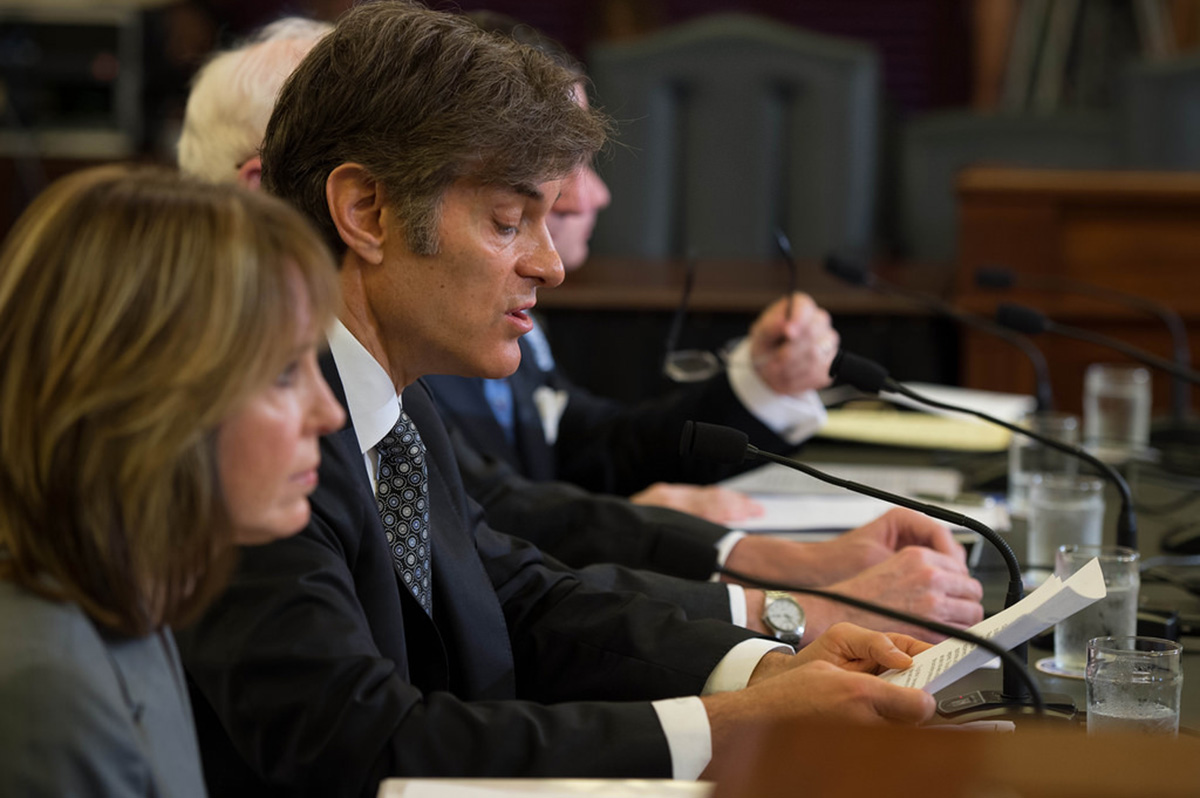 These are simple truths most people — especially those who have lost significant amounts of weight — are all too familiar with. What's more, it is terribly easy to become discouraged when that combined exercise and nutrition plan just don't seem to work for you (yet). Sometimes, more drastic measures are warranted. They may include bariatric surgery or metformin in diabetics or women with Polycystic Ovary Syndrome.
FDA: 'Avoid The Scams'
For people who aren't under the regular care of a doctor or people who are desperate enough to take measures into their own hands, it may also include weight loss pills. That's right; that proverbial magic pill we all question but may put hope in anyway.
What does the Food and drug Administration have to say about these products? A lot, actually, but nothing good. 
The FDA's advice regarding weight loss pills includes: "Before popping an unknown pill or using an unproven or little known treatment, talk to a healthcare professional. Don't take the word of an actor in a lab coat. Avoid the scams. Losing weight is not easy but it can happen with a healthy diet, proper exercise and listening to your doctor."
Why is that last bit of advice so important? The FDA says it found over a 100 different weight loss pills and drops that contain hidden drug ingredients, including blood pressure and seizure meds. The FDA warns that these products aren't approved and adds that they make exaggerated claims and can even be dangerous. That's right — some contain ingredients that were found to increase your risk of cancer or a heart attack. So, the advice to just listen to your doctor seems sound. Unless, perhaps, your doctor is Dr Mehmet Oz from the Dr Oz Show! 
Dr Oz Criticized For Promoting Weight Loss Products
Indeed, Dr Oz's comments about weight loss pills probably belong in the Emerald City:
"You may think magic is make-believe, but this little bean has scientists saying they've found the magic weight loss cure for every body type: It's green coffee extract."

"I've got the number-one miracle in a bottle to burn your fat: It's raspberry ketone."

"Garcinia cambogia: It may be the simple solution you've been looking for to bust your body fat for good."

"When turned into a supplement, this miracle pill can burn fat fast for anyone who wants to lose weight. It's very exciting, and it's breaking news."
It sure sounds like he's promoting these products, doesn't it? His statements were so problematic that the Senate's consumer protection panel felt the need to scold him. Despite the fact that he ensured the consumer protection panel that he isn't receiving any money from companies producing weight loss pills. Senator Claire McCaskill asked him: "I don't know why you need to say this stuff, because you know it's not true. Why—when you have this amazing megaphone and this amazing ability to communicate—would you cheapen your show by saying things like that?"
Dr Oz responded by saying that he sees himself as a kind of cheerleader who simply wants to support his audience. He also claimed that the coffee bean pills he was promoting have several clinical trials behind them. McCaskkill retorted: "The only one I know is 16 people in India, paid for by the company that was, in fact, written up by somebody who was being paid by the company producing it."
See Also: Do Dr. Oz's Nine Favorite Home Remedies Really Work?
While Dr Oz tried to give the words he spoke on his show a new twist, he did say that any weight loss products carrying his name and image were not endorsed by him at all, and the TV show host agreed to make a master list of weight loss products he personally feels comfortable endorsing. We'll wait for that. In the meantime, everyone who would like to lose weight should remember that it's possible. No, it isn't as easy as popping a pill, but it's possible. When done in a responsible manner, working towards weight loss is one of the keys to better health as well as incredibly rewarding.
Perhaps turning the TV off and going for a run is a good start?