Valentine's Day is unarguably one of the most romantic and memorable of all occasions a couple will celebrate each year. Few things say "I love you," as well as a delectable home cooked meal can, using the recipes is sure to have your sweetie
The most romantic holidays of all, Valentine's Day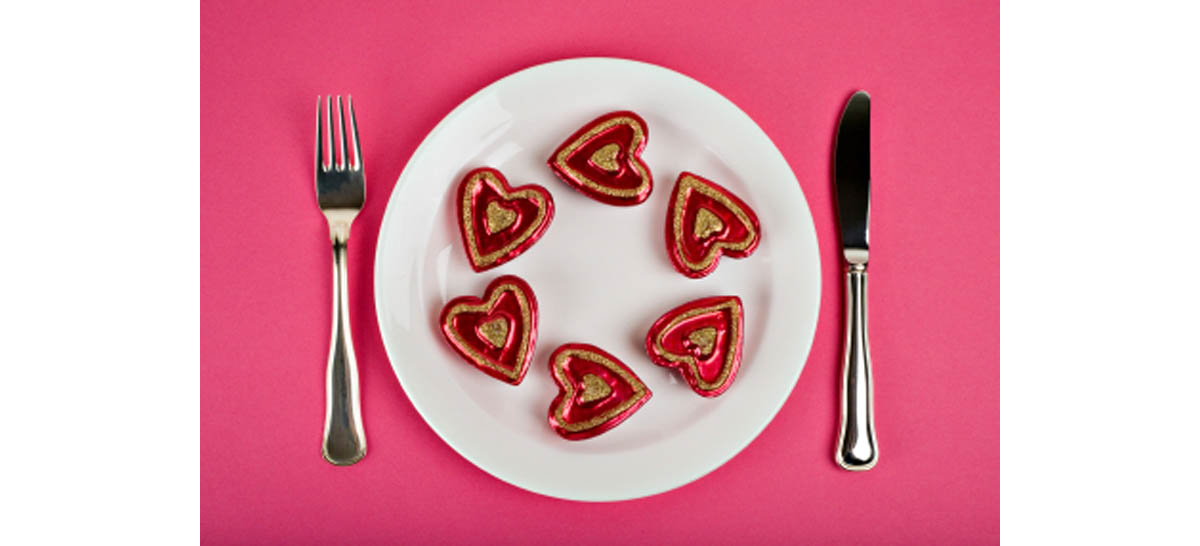 Each year all over the United States, people will get together with their significant other to celebrate one of the most romantic holidays of all, Valentine's Day.  February 14th, is a day which is marked by candy, flowers, love notes and other gestures of affection traded between couples, but have you ever given thought about hosting a romantic dinner at home?  Not only can you concoct a variety of different tasty and healthy recipes in the privacy of your own home, you can impress your sweetheart with your culinary props and save money at the same time. Listed below is a complete menu from appetizer, to main dish to dessert, including delicious wine or non-alcoholic beverage choices which are sure to leave your honey's mouth watering with delight.  The time and effort put into cooking your loved one a special meal is going to be long remembered after the flowers have shriveled and the candy has been eaten, and is sure to be appreciated by him or her.  Treat your partner to a home cooked meal and watch their eyes light up in surprise and joy, it is something that anyone can do and does not have to break the bank.  
Appetizer Recipe for Valentine's Day
Mango Salsa and Baked Tortilla Chips
Prep time: 20 minutes Chill time: 2 hours
Ingredients:
½ cup of chopped and peeled mango, pineapple, peaches or plums (using any fruit desired) ½ cup of chopped red or yellow bell pepper ¼ cup of thinly sliced green onion ¼ cup of fresh cilantro or parsley (chopped) 2 tbsp. lemon or lime juice 1-2 fresh Serrano or jalapeno peppers, seeds removed and chopped finely Preparation Instructions:
In a medium-sized mixing bowl combine the fruit, peppers, green onion, and cilantro and lime juice, stirring.  Mix well and cover for 2 hours prior to serving.  Serve with baked tortilla chips or use as a garnish for fish, chicken, pork or steaks.  Each serving has no sodium, cholesterol or fat and only contains 5 calories.  
Mouthwatering Main Dish for Valentine's Day
Key Lime-Blue Cheese Chicken Prep time:  1 ¾ hours
Ingredients:
4 boneless, skinless chicken breasts 6 oz. blue cheese, crumbled 5 key limes (any lime can be used but key limes are sweeter and more fragrant for this recipe) 8 oz. portabella mushrooms, sliced 1 c. sweet onion, chopped 2 tbsp. minced capers 3 tbsp. unflavored yogurt 2 tbsp. minced, fresh parsley 2 tbsp. margarine Toothpicks  
Cooking instructions:
Marinate the raw chicken breasts in lime juice for approximate 1 hour, or overnight if possible, save marinade.  Place onions in a large skillet and sauté in margarine over medium heat, until caramelized, remove onions but leave drippings in the pan.  Cook chicken breasts on a grill until ½ way done and remove, slice horizontally and fill the pocket with blue cheese crumbles and secure with a toothpick.  Put the chicken into the skillet and add leftover marinade, cook until completely done and cheese is melted.  Prior to serving put the onions back into the pan and add mushrooms, capers, yogurt and parsley, add salt and pepper for more flavor if desired.  When serving the chicken spoon over some of the sauce and remove toothpicks and enjoy.  Recipe makes four servings.
Valentine's Day Side Dish
Spinach with Raisins and Pine Nuts
Prep time: 5 minutes
Ingredients:
1/3 cup raisins (California or golden both work well) 2 lbs. of fresh spinach 3 tbsp. olive oil 1 clove of garlic, chopped finely 3 tbsp. of pine nuts Salt and pepper to taste Croutons (optional)  
Cooking instructions:
Place raisins in a bowl and cover with boiling water, and allow them to soak liberally.  Rinse spinach with water and shake off the excess, but do not dry the leaves.  Place spinach in a large skilled, cover and cook until the leaves wilt, uncover and allow cooking until moisture has evaporated.  Chop the spinach and drain raisins, heat up olive oil in the skillet, add pine nuts and garlic, fry.  Stir the mixture occasionally, add spinach and raisins, season with salt and pepper and continue cooking for about 5 more minutes over low heat.  Remove from heat, spoon onto serving plate with the main dish, garnish with croutons and serve.  
Read More: Diabetic Recipes for Thanksgiving Dinner
Valentine's Day Dessert
Waldorf Astoria Red Velvet Cake
Ingredients:
½ cup of shortening 1 ½ cups of white sugar 2 eggs 2 oz. of red food coloring 2 ¼ cups of all-purpose flour ½ tsp. of salt 1 tsp. vanilla extract 2 tbsp. unsweetened cocoa powder 1 tbsp. distilled white vinegar 1 cup of buttermilk 1 tbsp. baking soda 5 tbsp. all-purpose flour 1 cup of milk 1 cup of confectioners (powdered) sugar 1 cup of butter 1 tsp. vanilla extract  
Cooking instructions:
Cream together the shortening, eggs and sugar in a large mixing bowl, make a paste with food coloring and cocoa powder.  Add the shortening mixture into the food coloring/cocoa powder paste and mix in salt and buttermilk.  Next, add the flour, vanilla, vinegar and baking soda, in this exact order and combine well.  Add the batter to two 8-inch round cake pans which have been greased and floured, bake for 30 minutes at 350°F.  
To make frosting:
Cook five tablespoons of flour and one cup of milk in pan until thick and then cool.  Cream together the confectioners' sugar, 1 cup of butter and 1 teaspoon of vanilla until fluffy and light.  Add to the flour mixture.  Cut the layers of the cake in half lengthwise, spread frosting evenly on each layer and stack and frost the entire cake.  The recipe makes 20 servings, which 287 calories per serving. Celebrate Valentine's Day Valentine's Day is unarguably one of the most romantic and memorable of all occasions a couple will celebrate each year.  Few things say "I love you," as well as a delectable home cooked meal can, using the recipes above is sure to have your sweetie licking their lips with anticipation, as you show the person how much you love them through preparing a wonderful meal.  The menu above is designed by having each dish complement one another and can be paired with a nice champagne, white wine or a sparkling non-alcoholic grape juice or cider.  Eat, drink and enjoy your special Valentine's Day feast!  
www.lowfatlifestyle.com/appetizers/appetizerrecipes/mangosalsa.htm www.recipezaar.com/Spinach-With-Raisins-139573 allrecipes.com/Recipe/Waldorf-Astoria-Red-Cake/Detail.aspx www.recipezaar.com/key-lime-blue-cheese-chicken-410649