Many people feel stuffed after Thanksgiving dinner, but eating too much can make diabetics literally sick. Here are some ways to avoid soaring blood sugars while still enjoying this holiday meal.
Strategies for a Diabetic-Friendly Holiday Meal
Every Thanksgiving tens of millions of American diabetics are admonished to avoid high-carbohydrate foods and sugary treats to avoid a roller coaster of rising and falling blood sugar levels that insulin and medications can't really control. And every Thanksgiving tens of millions of American diabetics eat lots of high-carbohydrate foods and sugary treats anyway, because it's just too hard to be left out of the ritual of holiday eating.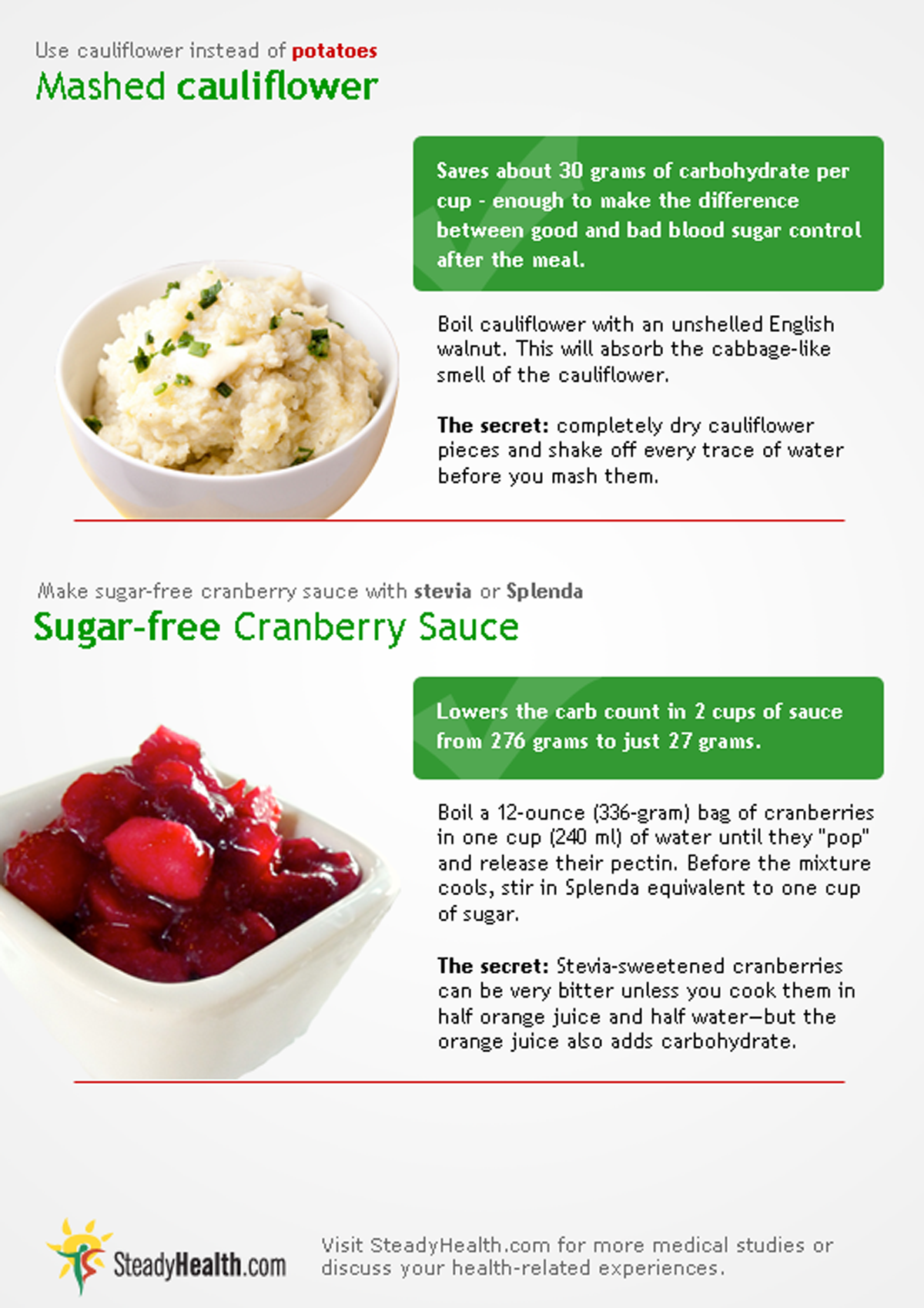 Mashed potatoes. Although mashed potatoes are not the focal point of most Thanksgiving meals, many people serve them as a side dish. Using cauliflower instead of potatoes to make your mashed "potatoes" will save about 30 grams of carbohydrate per cup—enough to make the difference between good blood sugar control and poor blood sugar control after the meal.
The secret to making cauliflower taste like potatoes is boiling your cauliflower with an unshelled English walnut. The walnut will absorb the cabbage-like smell of the cauliflower. And the secret to making your cauliflower mashed potatoes feel like mashed potatoes is getting the cauliflower pieces completely dry before you mash them. Shake off every trace of water in a colander before mashing them.
Stuffing. The combination of carbohydrate and fat in stuffing lowers its glycemic index so released sugars are absorbed much more slowly than they would be from the bread or cornbread or biscuits alone. Unfortunately, the fat also increases you body's need for insulin (as described in the first page of this article). You can offset the "starchiness" of stuffing by using sourdough or rye bread, but if you are diabetic, you just cannot stuff yourself with stuffing.
Cranberry sauce. Make sugar-free cranberry sauce with stevia or Splenda. Boil a 12-ounce (336-gram) bag of cranberries in one cup (240 ml) of water until they "pop" and release their pectin. Before the mixture cools, stir in Splenda equivalent to one cup of sugar. Stevia-sweetened cranberries can be very bitter unless you cook them in half orange juice and half water—but the orange juice also adds carbohydrate. Making cranberry sauce with Splenda, however, lowers the carb count in 2 cups of sauce from 276 grams to just 27 grams.
Sweet potatoes, surprisingly, are lower in sugar than the frequently recommended substitute, acorn squash. But avoid brown sugar glazes.
Sweet corn is 1 to 3% fructose sugar (if you can get fresh or fresh-frozen). It has about twice the carbohydrates as sweet potatoes and ten times the carbohydrate as cauliflower. You can lower its effective glycemic index by adding butter but, for reasons previously discussed, this is not a really good idea. Eat in moderation if at all. There's no way to take the carbs out of sweet corn.
Rolls really can't be made low-carb. Recipes that call for
Green vegetables of all kinds are safe for diabetics—as long as they don't stuff themselves.
READ Gluten-Free Thanksgiving Recipes
The tricky part of any diabetic Thanksgiving is dessert, and in the United States, the traditional  Thanksgiving dessert is pumpkin pie. If you are like most Americans, you'll use a ready-made pie crust. No carbs to be saved there. But using a sugar substitute instead of sugar eliminates about 24 grams of carbohydrate and 120 calories from each slice. Here's an easy recipe.
For each pie, you will need:
A 9-inch unbaked pie crust
A 15-3/4 oz can of pumpkin
Two 6-oz cans of evaporated milk
3 whole eggs
3/4 cup of sugar substitute (such as Splenda—don't use this much stevia!)
1/4 teaspoon each of salt, ginger, cinnamon, ground cloves, and nutmeg
Making the pie couldn't be easier. First preheat your oven to 425° F—you will need to lower the oven setting to 350° F before you put the pie in to bake. Beat the eggs, and then stir them into the pumpkin, milk, eggs, Splenda, and spices. Pour the filling into the pie shell and put into your 350° F oven. Bake for 40 minutes or until a knife inserted into the middle of the pie comes out clean. Serve with sweetened whipped cream.
It's easy to save calories and carbs by making slight changes in your recipes, but if your diabetic guests double up on their servings of favorite foods that have half the carbs, they won't prevent surges in their blood sugars after the meal. Thanksgiving recipes do make a difference, but it's the turkey that should get stuffed, not the diners.
Favorite Brand Name Recipes, Diabetic Holiday Recipes (June 2010).