Mobile apps can help people with food intolerance or allergies identify foods or ingredients to avoid, find substitutions, find food allergy-friendly restaurants, and learn more and educate others about their dietary restrictions.
A food allergy happens when the body's immune system mistakenly recognizes particular proteins found in food as a threat.
These particular proteins that can trigger food allergies are commonly found in shellfish, peanuts, fish, eggs, cow's milk, wheat, and soy, as well as some fruits and vegetables.
Symptoms of food allergy may vary from mild, such as itching or hives, to more severe that can be life-threatening.
The best way to deal with food allergies (if you have one) is to avoid the foods that may trigger your symptoms. 
However, this can be difficult, despite all the efforts, because it requires changing lifestyle, as well as eating habits. 
Luckily, mobile technologies made a lot things easier, including living with food intolerance and allergies. There are many apps that help allergy sufferers get things under control.
Here, we listed some of those apps that can make living with food allergy a bit easier.

AllergyEats App
AllergyEats app is an easy-to-use guide to more than 400,000 food allergy-friendly restaurants across the United States. 
The app provides peer-based feedback through comments of food-allergic and food-intolerant guests about their experience with particular restaurants. 
Besides the ability to quickly and easily find restaurants, users can also share their dining experience with other app users.
AllergyEats app is available for free on Android and iOS.
Our score: N/A
Links: Android, iOS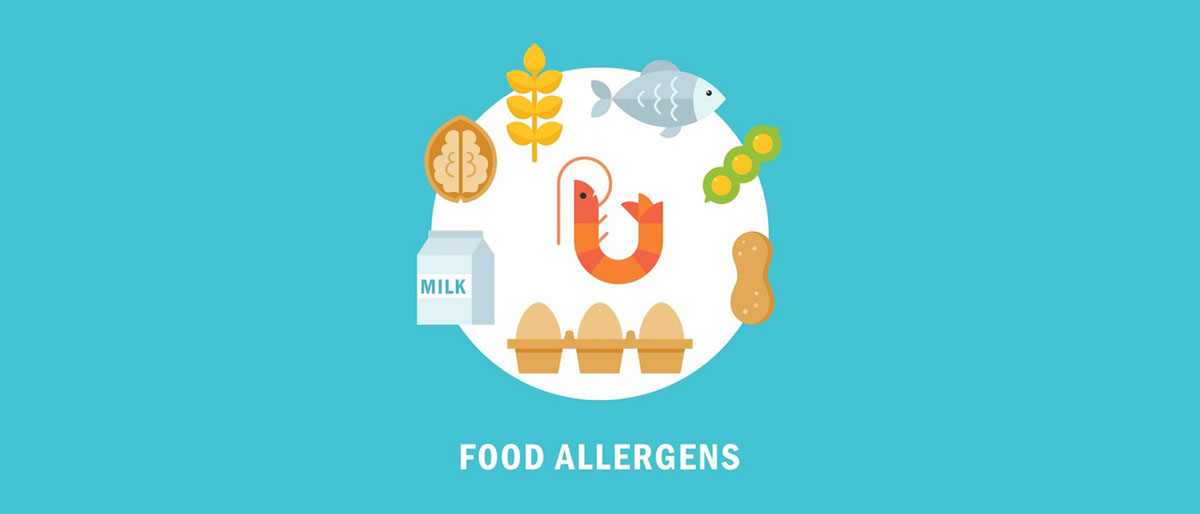 iEatOut Gluten Free & Allergy Free App
This app focuses on ethnic foods and restaurants. It helps people avoid any combination of food allergens, including gluten, wheat, dairy, egg, peanuts, nuts, soy, corn, fish, shellfish, while ordering meals in Chinese, French, Indian, Italian, Mexican, Thai, and other ethnic restaurants.
iEatOut app is available on iOS only for $2.99.
Our score: N/A
Links: iOS

Healthy Pantry & Allergy App
Healthy Pantry & Allergy app works as a personal mobile assistant when shopping for groceries, helping you spot common allergens, additives, artificial ingredients, such as sweeteners, and other chemicals, hidden in many brand-name foods. 
The app utilizes phone camera to allow for scanning a barcode from food package to see specific information about its ingredients. Based on your profile settings, you'll see how each ingredient could possibly affect your health. 
It uses the simple and easy-to-understand color-coded system to suggest if the food is okay to eat, when to eat with caution or when to completely avoid particular food. 
The app also provides a list of healthier alternatives to the foods you scanned.
Healthy Pantry & Allergy app is available on iOS and Android platform for $3.99.
Our score: N/A
Links: Android, iOS

Substitutions App
One of the biggest problems for people with food intolerance or allergy is knowing which items to remove from their diets, and what to replace them with. It could be really difficult to figure out substitutions for some of those ingredients without some sort of help.
Substitutions app provides exactly that type of help. It is basically a long list of ingredients along with their possible substitutions. 
Users can browse through the entire database, or narrow down their search by particular categories.
Substitutions app is available for iPhone and iPad only for a price of $1.99.
Our score: N/A
Links: iOS

Is That Gluten Free? App
Is That Gluten Free? app is designed for people with gluten sensitivities, Celiac disease, or anyone leading a gluten-free lifestyle helping them find more information on gluten-free products.
Currently, the app provides information on over 36,000 verified gluten-free products from over 1,500 brands.
Users can search the app by category, brand, or product Name, and view safe, unsafe and possibly unsafe ingredients.
The app is available for iPhone, iPad, and iPod touch, however, some users might want to look for the alternatives due to the app's price of $7.99.
Our score: N/A
Links: iOS

ipiit App
ipiit app, or as its full name states - Grocery Scanner for Food Allergies & Diets - helps people with food allergies or specific dietary needs check products for food allergy triggers, specific ingredients, and nutrition facts. 
The app utilizes phone camera allowing for barcode scanning. It also allows users to create personalized dietary preferences that can help them find the right food when grocery shopping.
Users can Compare products and ingredients, and find better alternative products that fit their dietary needs and preferences.
ipiit app is available for free on both iOS and Android.
Our score: N/A
Links: Android, iOS
READ Best Apps to Help You Track and Manage Your Seasonal and Food Allergies

FoodFacts App
FoodFacts app shows you all ingredients that are really inside the foods you are eating, explaining how they are affecting your body. 
This 'Seeing what you're eating' approach helps people find their way out of bad diet habits and lose weight by eating healthy diet.
The app is also suitable to people with food intolerance and allergies, because it provides a detailed product view of each food with all the allergens in it.
FoodFacts app is free to download on iOS. However, it requires users to choose one of the subscription methods, ranging from $7.99 to $19.99.
Our score: N/A
Links: iOS

ShopWell App
Similar to the other apps in this list, ShopWell app allows users to scan any item in the grocery store to provide them with detailed information about a particular product and personalized food recommendations.
The app is suitable not only for people with food allergies, but also for patients suffering from various different conditions, such as Type1 and 2 diabetes, prediabetes, osteoporosis, high cholesterol, and anemia, helping them find foods that fit with their lifestyle.
ShopWell app is available for free on Android and iOS.
Our score: N/A
Links: Android, iOS

HealthyOut App
People with food intolerance and allergies must follow strict dietary regimens, which can be problematic if they like eating out.
HealthyOut app is designed as a restaurant finder app which helps users find healthy dishes at local restaurants that match their dietary restrictions and nutritional preferences.
Although primarily made for those who want to lose some weight and maintain the healthy eating habit, the app could be also useful to people suffering from food intolerances and allergies, mostly because it provides detailed nutrition facts and information about selected dishes, helping avoid allergens and other culprits in restaurant food.
HealthyOut app is available for free on iOS and Android devices.