This article reviews two of the most important things you must do in order to score highly on the MCAT examination. I break down some of the things that worked for me and what techniques you should implement to allow your body to adapt to such a test.
After the fun and excitement of high school graduation, you start the countdown for the next big chapter of your life.  For most people, that is going to an in-state university and being away from home for the first prolonged period of time in your life.  You meet with the guidance counselors during Orientation Week and they help you pick a major and try to decide your life's path; a very useful exercise in the 15 minutes most have set aside for you during this week.  A large portion of the new student body has their sights set on becoming doctors and do some version of Pre-Med tracks in order to make that happen.  As freshmen transition to sophomores, the numbers drastically diminish as students realize Physics, or Organic Chemistry, or Biochemistry is not their cup of tea and switch majors to something less demanding.  
Those who survive the "weed out" classes eventually become Juniors and then they realize that their days of undergraduate studies are numbered and the stress of preparing for Medical School starts to create some anxiety. As the days pass, this anxiety blossoms into a full-fledged panic attack.
Students question their credentials and start to volunteer and find research in as many places as they can in order to make themselves as competitive as possible.  Although extracurriculars are a bonus to differentiate between strong candidates, one of the largest differentials that an Admissions Board will consider is your scores on the MCAT Exam.  
Medical schools are very subjective on the criteria they are interested in; some prefer publications and research experience, some stress volunteering and humanitarian efforts, but none of that matters if you don't score well on the MCAT.  
You may have just had another shot of epinephrine after reading this and felt that stress all over again.  The aim of this article is to not freak you out but to help you systematically prepare for "the biggest exam of your life," so far.  Here are the top 6 essential tips to make sure that you are as relaxed and prepared for as possible on Test Day.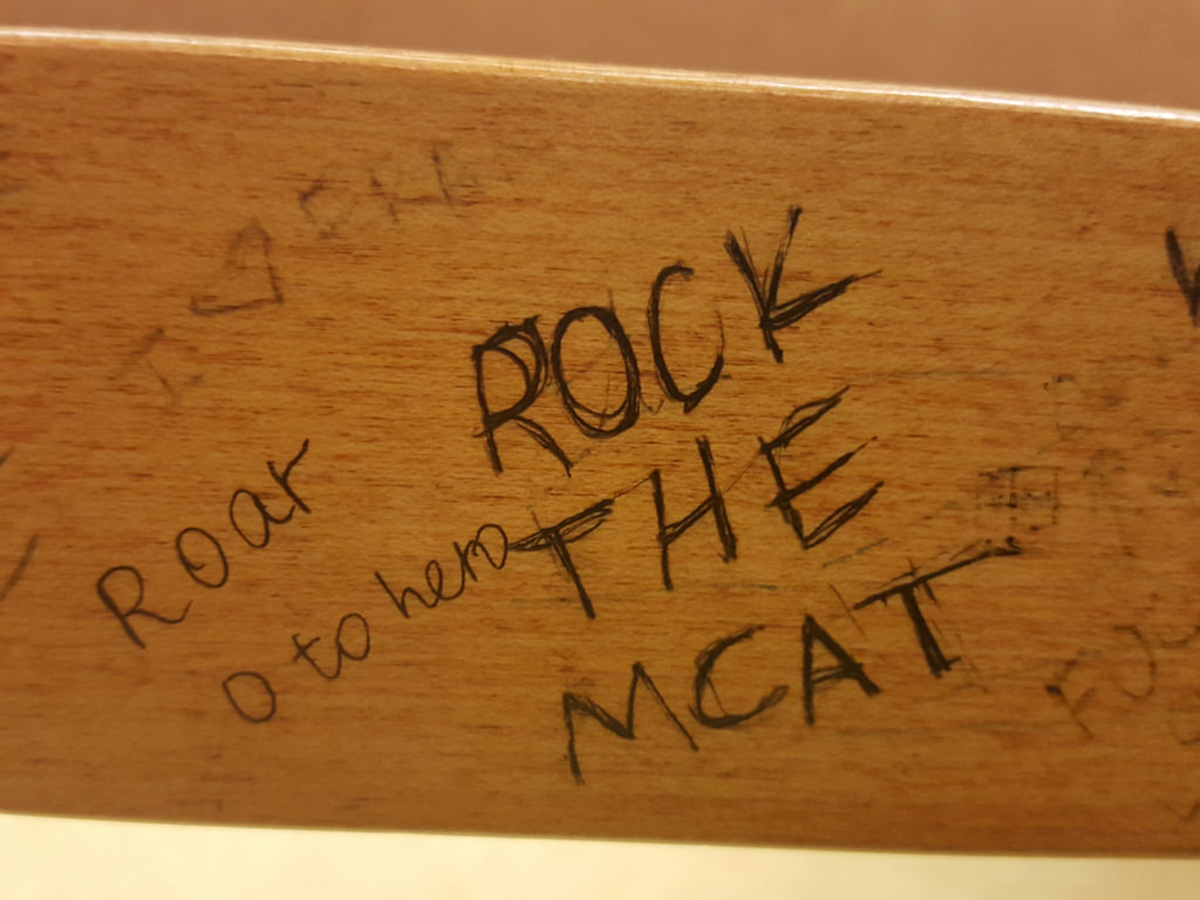 Number 1:  Set Aside 6-12 months just for Exam Preparation
This is the single most important thing that you can do for yourself.  There is no point in trying to lie to yourself and say "it is just another exam, no need to worry about it."  This may help you calm down for the moment, but it will always cause of tidal wave of panic later on.  The point of having adequate time is to paralyze the panic so you are not unnerved in your methodology.  
You have to approach studying for the MCAT like it is your job, literally.  You should be studying for at least 6-8 hours a day with minimum interruptions to prepare you for the large amount of material that you are expected to know.  This is not the Biology mid-term where you can cram the week before an expect to do well.  
If you want to be a doctor, this is the first dose of what you will be experiencing for the next 8 years at least. It is your job to know and understand the material so you can use that information to treat patients responsibly and correctly.  
You should also try to follow a study routine every day while making this schedule.  The MCAT is the longest exam you will take (so far) and it is important to build up endurance for the test.  If you schedule the exam for a morning slot, wake up every day as if it were exam day.  Have your breakfast, have your coffee, and then get into reviewing material that you covered the previous day.  It is no good to start new material right out of the gate because there is so much to get through.  If you try to finish Biology as quickly as possible, when you move to Organic Chemistry, you forget all the material you learned in Biology.  Our brains can only process so much information at a time so it is important to keep reviewing material to allow the neurons in your brain time to process the information and create memory pathways to help you recall the facts faster.  
You should review previous material for at least an hour and then spend the next 3 learning new material until lunch break.  
Take an hour off just to give you some reprieve from the computer screen or textbook print but then it is important to get right back into the notes after an hour.  Even if you are tired and tell yourself "I'll make up the time tomorrow," believe me, you will not have the endurance you need to survive this test.  You have to train your mind to respond to small intervals of breaks and work even when you're tired.  If this sounds miserable, just wait until residency.  
Number 2:  Buy an MCAT Review Series
This is not the time to save money.  You spent the last 3 years buying cheap food, cheap beer, and doing whatever it takes to stretch that scholarship money or financial aid as long as possible.  You can memorize all the structures of the amino acids in your textbook, you can remember all the physics formulas you've ever used, but the MCAT is not a test designed to test your fact recall.  
It is written by test writers already assuming that you know it and have mastered all those basic components in undergraduate studies and instead, it is testing your ability to apply it to medical concepts.
Resistance and Parallel Circuits covered into Physics can easily transform into blood flow throughout vasculature so the key thing is to be familiar with it so you can use it in a more practical setting.  Although these MCAT Prep Courses can be expensive, consider it an investment in your future and it is much easier to depreciate it in your mind after that.  Material from ExamKrackers 101 and Kaplan Review were two resources that I used during my preparation and I believe they are some of the best materials out on the market.  They cover only the high-yield topics that are on the MCAT and breakdown practice questions and concepts to basic levels in order for you to master it. The one nice thing that you start to notice during all this preparation for not only MCAT, but also USMLE STEP exams if the MCAT goes well, is that the test writers love to repeat specific styles of questions so instead of learning 300 different concepts to cover all the questions you may face, it is much easier to learn how to solve the 5-10 different styles of questions you will experience so it is more manageable for you to process.  If you use these study aids, you will repeat the same styles of questions over and over again so by the time you get around to finally starting to use practice questions, it is second-nature for you.  
Continue reading after recommendations