The National Benchmark Tests are assessments done to measure a learner's academic readiness for university. When applying to study medicine, these evaluations are requested by the institution where the application is being made.
What are the NBTs
The NBTs were set up as an initiative by Higher Education South Africa (HESA). 9 South African universities require that learners are assessed using the NBT examinations, together with the National Senior Certificate (NSC) which is written at the end of the Matric/Garde 12 year, to determine access of learners to tertiary institutions. 10 of these tertiary establishments use the NBTs to determine what kind of academic support a student will need during their studies.
Which assessments are evaluated
When applying to study medicine, the requirement of all the medical schools is to write both the Academic and Quantitative Literacy (AQL) and the Mathematics (MAT) assessments. Both these papers are 3 hour long multiple choice examinations which need to be completed before the admission dates close.
What if I haven't written my Matric/Grade 12 exams yet
If you are applying to study medicine in South Africa in a particular year, then you have to complete the NBT assessments in the year prior to that. This would mean that you would write your examinations in your Matric/Grade 12 year.
There may be the issue that the learner might feel that they are not ready to perform the assessment because the curriculum hasn't been covered yet. The best way to avoid this is to start preparing for the NBTs at the beginning of the Matric/Grade 12 year. Discuss this with your English/Afrikaans and Mathematics teachers that you need to do these assessments for your medical school application, and they will help you prepare for these assessments.
Students who are applying to study medicine need to have their application in at the institutions by the end of May of their Grade 12 year. The NBT exam then needs to be completed by the latest at the beginning of June, according to the requirements by the medical schools. This means that prospective medical students have 1 chance of writing the exams since they are only made available from the end of May.
Are previous exams available
Unfortunately, previous examination are not available for viewing or purchase, but there are example of questions that are available online.
You can click on the following links for access to these sample questions:
For AQL click here.
For MAT click here.
How to interpret your NBT results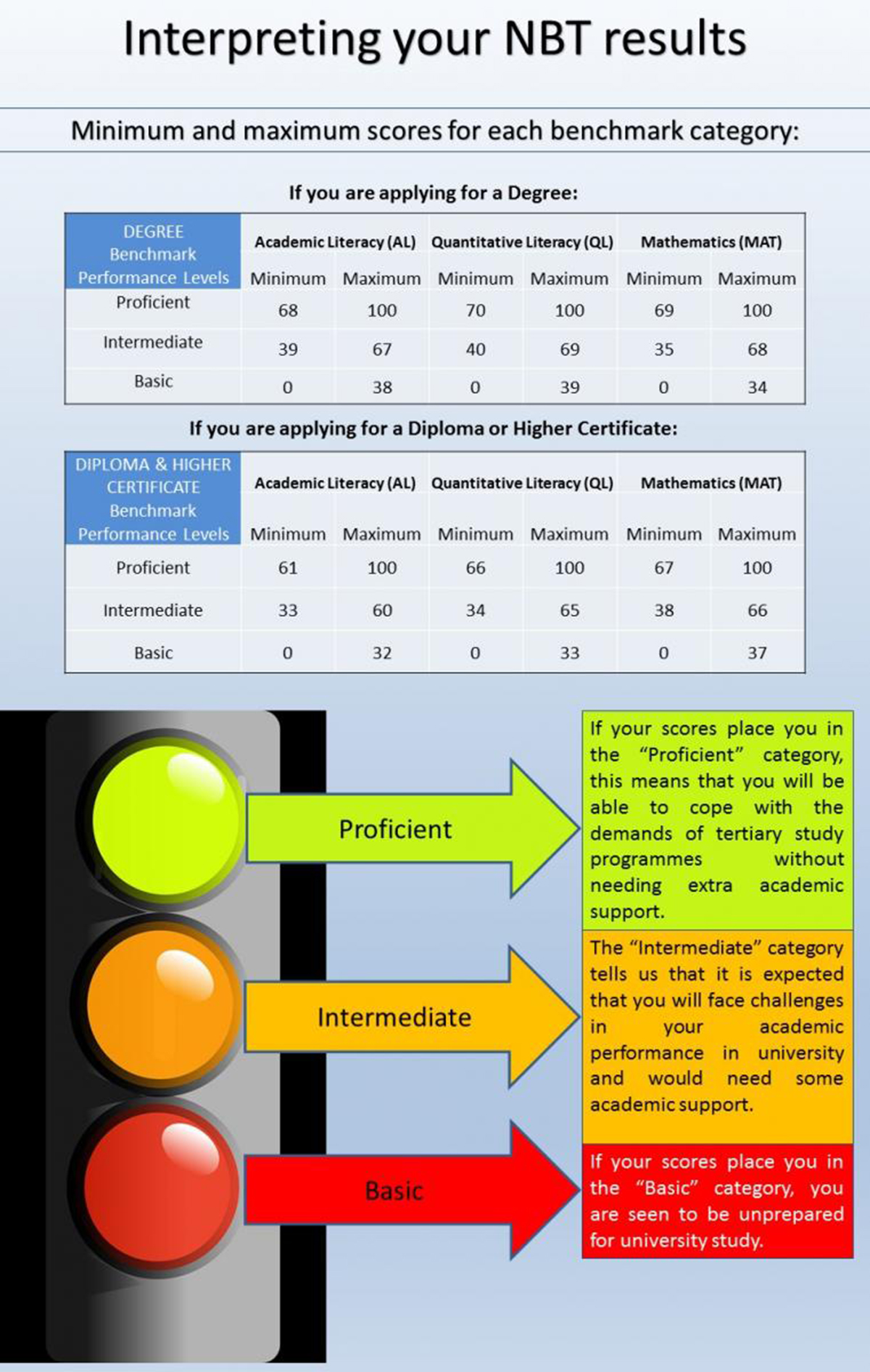 Writing a second NBT exam
If you want to write a second NBT evaluation, then you need to register again. Just enter your log in details and follow the directions to select the date and test centre. DO NOT start a new application.
Some institutions might not accept a second result regarding NBT exams, so you just need to make sure with the medical school you're applying to if this is the case or not. You don't want to pay unnecessary fees and waste time if they aren't even going to consider looking at a new set of results.
Some institutions will accept the better results of your NBT assessments, so it might not be a bad idea to write them a second time around if you haven't achieved the proficient score, or if you feel that you could achieve better results. Just remember to make sure with the medical institution and that all the assessments are done before the medical school's closing date for applications and assessment reviews.
Continue reading after recommendations