Cloth diapers are making a comeback, but they are nothing like what your grandmother used back in the day or at least, most of them are not. Are you even vaguely considering giving cloth diapers a try for your baby? This guide may help you.
Fitted diapers are, like prefold diapers, made only out of absorbant fabrics without a water resistant layer. But these diapers are shaped and essentially look very much like Pampers or other disposable diapers. Instead of the stickers that seal pampers shut, fitted cloth diapers come with snaps or velcro. They need a water-proof cover, and come in one-size, adjustable edition, or in various sizes, and in a variety of different materials. They're convenient, but many users do find velcro wears out prematurely.
3. All-in-one diapers
Also known simply as AIO's in "diaper jargon", this is the cloth diaper that is most like disposable diapers in the way it is used. It looks very similar, and includes a water-resistant layer as well as absorbant fabrics. Like fitted diapers, AIO's can come in sizes (newborn, 3-6 months, etc) or can be one-sized, and adjustable with snaps to become smaller or larger. Though most people who are new to cloth diapers prefer the sound of all-in-one diapers, my experience tells me that you should not use them if you plan to line-dry your diapers. AIOs simply take too long to dry.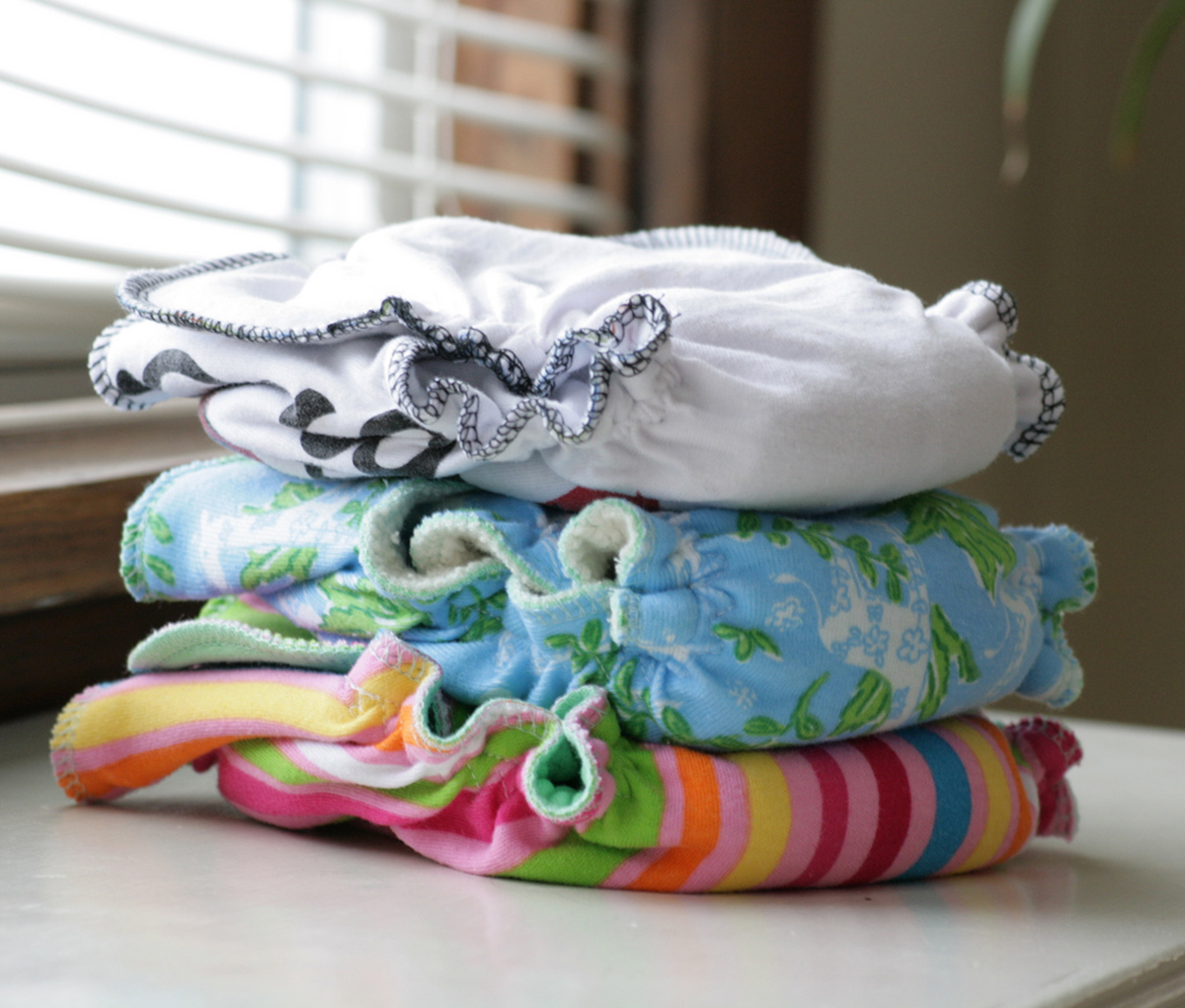 4. Pocket diapers
Pocket diapers are my favorite cloth diapers. They have an inner stay-dry layer next to the baby's skin and they also have a water absorbant layer on the outside. In the middle, there is a "pocket" where you place inserts. These inserts are the absorbant part. You can take them out for laundry, and also decide what kind of insert you use depending on the occasion or time of day (you'll benefit from thicker inserts at night).
Advice for new cloth users
There's a lot of choice, and buying cloth diapers can definitely be intimidating. It's best to start researching cloth diapers while you're still handling pregnancy signs and symptoms, rather than a newborn. There are several forums on the web devoted to cloth diapers, where experienced mothers will be willing to assist you in choosing. Those who don't want to launder their own diapers have the choice of using a diaper service. These services use prefolds, which they deliver to your door step. They pick your dirty diapers up, and give you diapers in new sizes when your baby needs them. This is more expensive, and less environmentally friendly because of the use of cars in transporting the diapers to and from you all the time. But the option is there. Those who want to launder their own diapers can do it every day, but I found that every two or thee days was fine.
READ A Non-Parent Guide To Baby Shower Gifts
Many diapers don't do well with fabric softeners, and there are special diaper detergents on the market. We never used those, and our diapers are still in fine condition. Do buy several types of diapers to try out which you like best. For a newborn, you'll need a minimum of 24 diapers if you use cloth full-time. We had 36 diapers the one-size pocket variety that lasts from birth till potty training and never worried about running out of clean diapers. If you'd like to try cloth and have any questions, feel free to ask and I'll do my best to help you. If you're already a seasoned cloth diapering parent, do share your experiences and suggestions!