Would you like better abs, a healthier spine, and more stamina? You might think you need an expensive personal trainer or at least a gym membership. You're wrong. The 'Ab Workouts for Men and Women' app is all you need to get started.
The Nutrition Plan
Blah! Small portions, foods I don't particularly like, and lots of meat. That sucks, because I am a vegetarian. Thankfully, the meat suggestions can be replaced with vegetarian options. Cottage cheese, eggs, tofu and low-fat bean and lentil burgers are now responsible for getting me the protein that is so important to the success of this nutrition plan.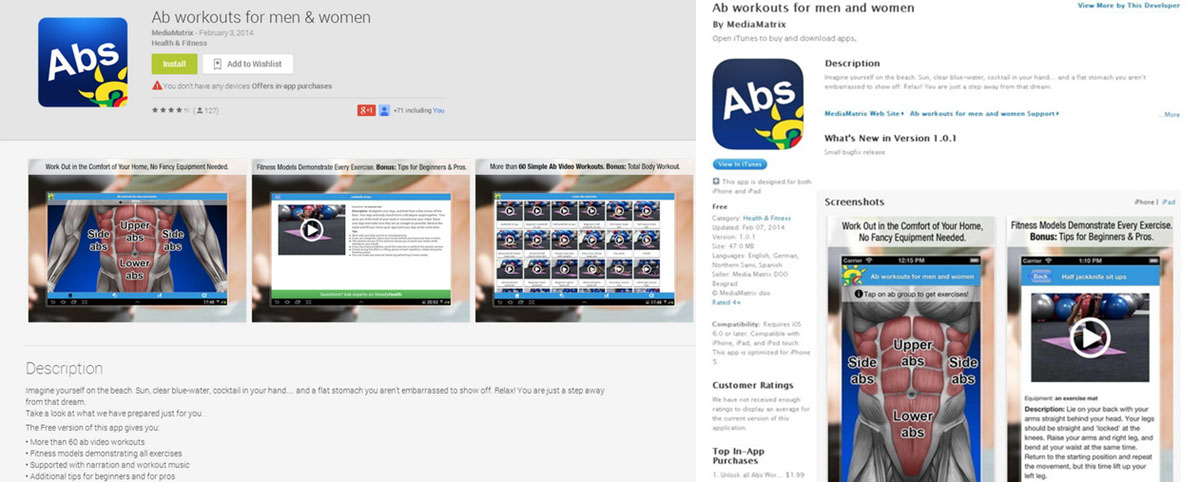 Grab your Ab Workouts For Men & Women on iTunes ... or on Google Play
 No rich sauces? No bread? No pasta? Go easy on the peanuts? Again, blah. This is not easy for me. I have been on this plan for a few weeks now, and I fully admit to not following it fully by any stretch of the imagination. I am cutting down on carbs and adding more proteins, as well as making sure I actually eat breakfast. That is a great start, isn't it?
Thanks to this app, I realized that I wasn't getting enough protein and ate far too many carbohydrates. I haven't given my home-made bread up altogether and still enjoy baking with my kids way too much to say no to cakes and cookies, but I have been bettering my life.
The nutrition plan SteadyHealth offers those who want to feel and look better is rigorous. It will bring you fantastic results. It is not, however, for the faint-hearted. If you don't truly commit to the plan but do take inspiration from it, you will still see some improvement, but for the best results you're going to have to suck it up and just do what the plan says.
I honestly believe that foodies are going to have a big problem following rigorous plans that don't just limit calories but also eliminate the most tasty foods from their diet completely. Is it worth it? I believe so, because though my ab muscles are much stronger now, I still have that horrible flab. I think it will go away eventually, but let's be honest and admit that achieving six-pack abs will be more like a marathon than a sprint for those who don't want to stick to the nutrition plan rigorously. Do you want better results, more quickly? Don't be a wimp — like me — and commit to following the plan completely.
In Conclusion...
The free version of the Ab Workouts For Men And Women app will give you a bunch of really great exercises that come with narration and workout music. You'll both hear and see how to perform these exercises correctly. Using the free version will help you get off on the right start. 
Those who want more can get the premium version for a ridiculously small fee. They'll be able to choose from various exercise plans that get their abs ready for summer, improve their stamina, and strengthen their backs.
The price is well worth it if you prefer more guidance. It's certainly cheaper than a gym membership or a personal trainer, but offers good results. You'll also get nutritional guidance. This is incredibly valuable, but not unless you actually have the mental strength to stick with it. 
I also want to say that the SteadyHealth boards can be essential for a person's success. If you don't like a particular meal suggestion or want some guidance, the users of the app can ask whatever the want on the boards, and are guaranteed to get replies. That is so important.
At the beginning of my workout adventure, I started a thread with questions and got the support I needed. If it wasn't for the suggestions I got, I would not have been able to replace the meat suggestions with vegetarian ones nearly as easily. So if you are using this app and are a little lost, do post your questions. The answers you'll get will get you through the tough times and ensure you won't want to give up.
Photo by steadyhealth.com
Photo by steadyhealth.com