I have long strait hair. I would like to make it curly. I've tried to curl it with an iron but I've damaged it and it lasted only for a few hours.
Does anyone know how I could curl my hair without damaging it and make it last for at least one day?
I would like my hair to look like this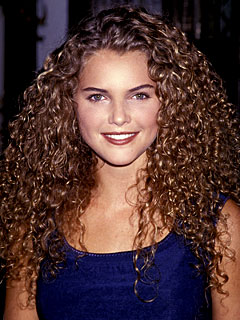 That is a beautiful head of hair for sure, but i think the only way your going to get that is to have a perm.
You may be able to sort of get this look if you use hot rollers, the small ones, or the twisy curlers which are spongy. Your going to have to use a lot of product as well. Fructis puts out a nice styling gel.
The spongy curlers come in packets of 20, you probably need at least 60 of them so that you can roll a thin bunch of hair at a time. Just roll your hair up and twist the rollers and snap them into place. I would spray my hair with rollers in place then use a hair dryer on low setting to set the spray. Un roll each curl and spray again. Don't use a brush or a comb on the curls once you have them all out, you will break the spirals, sort of finger comb it just so you have no clumps of hair any where. The spray it again. Panteen puts out a nice after spray that doesn't make your hair crunchy, but holds pretty good. This is a lot of work, but it's okay for a special occasion or may a once a week thing.
Perms aren't as bad as they used to be. Find a reputable salon and tell them exactly what you want, bring the photo. I have hair past my shoulders and it's a tad on the thin side. I wanted a slightly curly perm. The salonist did a wonderful job and the perm lasted for about 4 months. The more hair the less time the perm will live.
put hot rollers 1 hour before you go to sleep so after they cool off sleep with them ,or put normal rollers on and sleep with them and add some hairpray then in the morning take them off and put a little bit more hairspray if needed.
have you ever tried curling your hair with ribbons? Wet it all over, and when its still damp tie small sections (like REALLy small) with thin ribbon-- the width of the ribbon will somewhat determine how tight your curls are. start at the end and roll up the strand around the ribbon, then tie at the root. Do this to your whole head obviously. Let the hair completely dry, then untie it all and you should be uber-kerri russell!
hey! i have really curly hair, but my cousin has pin straight hair, and her hair is so hard to curl! but this is what she does:



wash your hair, and then comb it out and put in a leave in conditioner

and then braid all your hair. Make the braid's tiny, and do it all over your head, now get gel and put it all over the braid's, and some hair spray, either let your hair air dry, sleep on it, or blow dry it, make sure it's all dry, then take them out (:
who is that actress i think i have seen her ina movie