Choosing the right red lip color for your skin tone is more important than you might think. Too blue and you'll look washed out, too orange and it'll clash with your skin. Pick the perfect red for your skin tone with these tips.
The key to choosing the perfect red lip color for your skin tone is to look for something that's going to complement your skin tone, bringing out the natural undertones in your skin, making you look brighter and more radiant.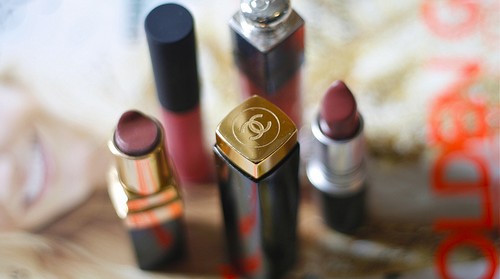 In general, all you need to know is:
Warm skin tones suit yellow or orange reds, such as poppy red, tomato red, fire-engine red and maroon. Corals look great, too.
Cool skin tones suit blue or pink reds, such as crimson, berry, cherry red, ruby and strawberry.
The color of your skin also has a huge impact on which shade of red best suits your skin tone. 
Those with fair skin with a warm skin tone suit corals and brick reds that warm up the complexion, while those with fair skin and cool skin tones suit pinky corals and true red hues with a hint of blue.
Those with medium/olive skin are very lucky - they can get away with wearing hundreds of different red lip hues. Most shades will work with olive and medium skin coloring, so experiment until you find a color that you really love. True reds, cranberries, pinky reds and tomato reds can look fabulous with your coloring - but remember to always choose shades that suit your skin tone above anything else.
Those with darker skin tones and cooler undertones really suit deep berry reds like jam, fig and dark cherry. If you have darker skin and a warmer skin tone, bright orange reds and corals can really pop against your skin, and they're particularly beautiful in the summertime.
Applying Your Red Lipstick
Once you've chosen your red lipstick, you need to know how to apply it! For a stained look that's perfect for everyday wear, simply blot the lipstick onto your finger and dab it onto the lips, concentrating the color at the center of the lips.
For a look that'll last through dinner, drinks and beyond, you will need to spend a little more time - but it'll most definitely be worth it. Exfoliate lips using a toothbrush and then smooth on some lip balm. Let the lip balm completely sink in, then blot with a tissue paper. Using a lip liner that matches your lipstick, line the lips and then fill in.
Next, use a lip brush to brush the lipstick onto the lips. Apply two or three times, blotting your lips on tissue paper in between each application - this'll mean that it lasts for hours and hours. Finish with a coat of lip sealant to lock in color.
It's easier than you'd think to get the perfect red lip color for your complexion, but we don't want to restrict your makeup looks - experiment with colors that you love and you'll look a million dollars, regardless of your skin tone.