Recently I noticed that my right eyelid is slightly puffy. I am a contact lens wearer, but have not been wearing them for the past few weeks just to be safe. I had been feeling as if something were caught in my eye for days and had difficulty getting my contacts in. A few days later, an eyelash and some sort of fine, but slightly coarse fiber came out of my eye - I'm not sure how long either of these were lost in there, could have just been thirty seconds, but I did not feel anything go IN. As I was looking at my eye, I pulled back the corner of my right eyelid and discovered a dark, black-ish looking bump on the inside of my lid. It is not visible from the outside, as it tucks a little bit into my skull, if you know what I mean. But when I stretch my eyelid (see picture below), it is very apparent.
I have googled this to DEATH and cannot find anything. I have had a chalazion in the past and know that they can be very tender and sensitive. They also tend to be whiteish in color due to pus build-up. This bump is dark and does not hurt at all. It is just a little bothersome and curious. I am going to the opthamologist within the next few weeks, but I was just curious what anyone thought this could be. Thank you.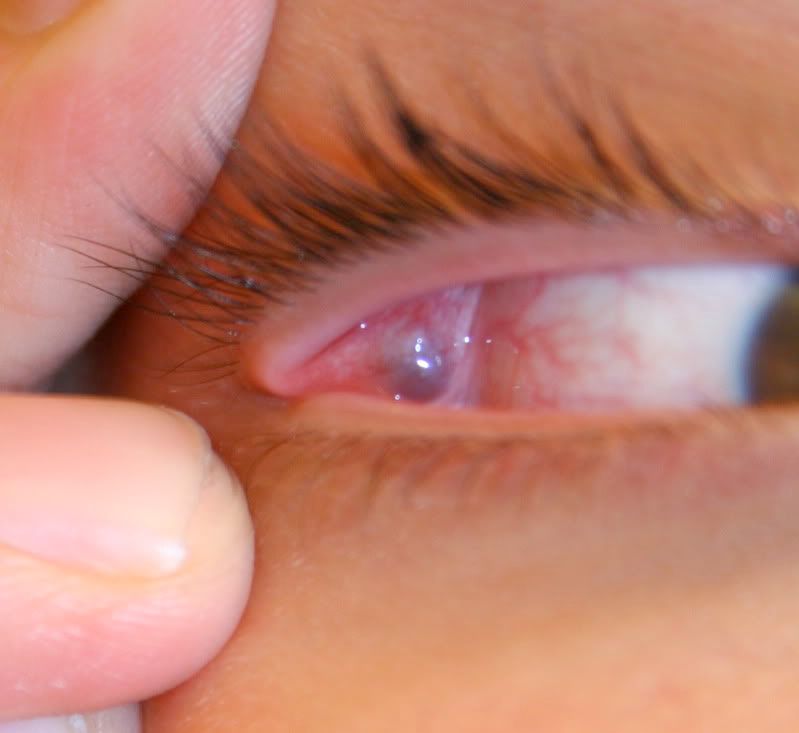 [/img]
I'm sorry to hear about what you're dealing with but it doesn't look like it's a big issue. I think the opthamalogist should be able to help you. In the meantime, try doing a compress with lavender tea bags. I heard that it does help a lot with a swollen eyelid.
I too have a spot in the same place inside my upper eyelid.
I am concerned but can't seem to find any info.
And am wondering if the person who posted this ever figured out what it was.
i also have a dark blue-ish spot inside my upper eyelid. I have had it for years now and althugh i never had a doctor examine it, i think it may be a vein.
Did anyone ever figure out what this is? I just discovered that I have one too.
I have this EXACT SAME lump and color in my eye - please tell me what the optomologist told you???  Very concerned - Dawn
I have the same 1 like the dark one but several clear bubbles! it started years ago now i'm freaking.

I have the same thing except mine is not dark.  It just looks like a clear bubble in the corner of my eye.  I saw an eye lid specilist yesterday and was told that i need to have surgery to have it removed by a laser.  He told me its a cyst thats filled with liquid but no medicine will make it go away.  But he also said that it may come back after the surgery. 

About 2 weeks ago I felt like my eyeball was bruised, like I had been poked...My eyeball was pretty red, I went to the MD thinking possible pink eye was given a Rx...took it for 7 days.....It's been about 2 weeks and wore more makeup last night then normal.....my eye was bugging me today when I woke up and WOW, I now see that I have the same thing, It is very annoying....Going to call the eye md tomorrow
hi, someone now know what it is?? I have the exact same thing than in the picture but can fin any information. If someone know please help... Thank you!

my doctor told me its bcoz of some infection due dust particles no need to worry, if you pork it ,a fluid will come out,, mainly consisting of tears.
My  doctor told  me , the main reason for this  is the dust particles, which leads to infection, if you pork it a fluid comes out which mainly consists of tears..............no need to worry.
Hey I have the same exact thing. I have never had anything wrong with my eyes before except a few styes in childhood (25 now). Mine is slightly visible from the outside as its gotten a little bigger over the past 6 months. It started very tiny like a tiny black pearl and sloooowly got bigger to the point where, like you, I have googled it and cant find anything for the life of me. I have never had a chalazion ever in my life and I know it is not that. And mine hides in the little corner of my skull as well in the corner of my left upper lid. Unfortunately I don't have insurance to see a doctor, but it is finally reassuring to know others are dealing with this, not in the sense as I'm happy anyone else is dealing with it, but to know I have somewhere to look

I posted below-- I thought about this but was scared. my boyfriend suggested a needle, but I am skeptical about the location being it literally lays in the tissue that connects the eye and the lid.
 Does anyone answer our questions? where can we get medical advice? I asked my GPractitioner, allot he did, like more visits more looking ($).   
  I wont go to dr. unless I have a direction. anyone have a real answer?  I feel for us.
Les